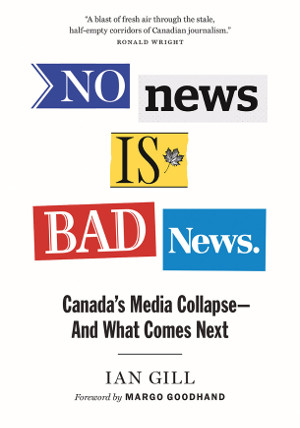 No News is Bad News: Canada's Media Collapse – and What Comes Next
Ian Gill
Greystone Books (2016)
The so-called "Vancouver school" of advocacy journalism – as identified earlier this year by Alberta Oil magazine and exemplified by websites such as The Tyee and The Observer – now has a manifesto. "There is now a huge opportunity to disrupt everything," writes Ian Gill in his pocketbook-sized No News is Bad News, "and in the case of our national media, that's like blowing on a house of straw."
Gill, an Australian expat who was a reporter for the Vancouver Sun and CBC Television in the 1980s and early 1990s, sees Canada's staggered mainstream media as ripe for activists to surpass in influence with digital startups. All they need is financial assistance from philanthropic foundations, which should flow freely once the new Liberal government provides tax incentives for a "media improvement fund" to which only digital media could apply. "The media economy is currently so unstable that it is hard to imagine more perfect conditions in which philanthropies could direct some of that disruption to their own ends," writes Gill, who recently joined Vancouver-based Discourse Media. "The question is, does philanthropy have the courage of its own convictions to plant the seedbed of a new, progressive narrative for Canada?"
Gill crossed over into environmental and Indigenous activism in 1994 as founding president of Ecotrust Canada and has since ascended, according to his Wikipedia page, to the status of "social entrepreneur." As such, he copped a sweet senior fellowship in 2015 from the J.W. McConnell Family Foundation of Montreal to investigate Canada's media. "I do not consider myself an industry expert, and I'm certainly not an academic," he admits, adding that his method of inquiry was the journalist's stock-in-trade. "I followed my nose," he writes. He followed it far and wide: to Italy for a journalism conference; to Boston and the Nieman Journalism Lab at Harvard; to New York to confer with digerati; to Toronto to confer with more digerati; and to Sydney to meet the philanthropist behind The Guardian Australia.
"It is simply not enough to hope to get a few more 'positive' stories placed into the Globe, or even, laudable as it is, to sponsor a couple of progressive 'beat' reporters at the Star," writes Gill. "The ground for media disruption in this country has already been tilled. The opportunity to buy a lifetime pass to a whole different media game has probably never been more tantalizingly within reach in this country, nor the need more urgent."
Gill, who admits he bluffed his way into journalism by claiming false credentials, made his name as a trenchant writer for the Vancouver Sun, then cut his teeth as a media critic by penning some acerbic critiques of his former employer. That old indignation resurfaces once Gill examines the current state of Canadian media. "The feet of clay of our media economy, especially that of our newspapers, has been ownership concentration," he finds. "I actually didn't expect to discover the degree to which media ownership concentration still beggars belief."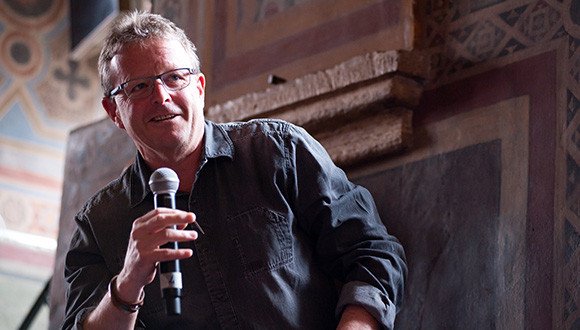 The acid pen still works well. Some of his best lines:
"Media ownership has become so concentrated it's a wonder your newspaper or television broadcast doesn't come with a health warning";
"All this has happened under the noses of regulators who don't do their jobs and reporters who mostly don't do theirs, either";
"We are just now waking up to how badly Canadians have been caught off-guard by the global media revolution";
"The hollowing out of Canada's media is bad for democracy, and it runs counter to the claim that, in the post-Stephen Harper era, Canada is somehow 'back'";
"I feel like we are being robbed blind, mugged by the oligarchs, and fed a diet of content you wouldn't serve in a hospital during a power outage."
The biggest problem, he concludes, is not so much today's transforming technology as feckless federal regulators who failed to stop or even slow corporate concentration. The result has been a news media, with the exception of the CBC and a fledgling digital sector, captured by corporate interests. "Our major newspapers, in particular, are in thrall to big business – energy industries most of all, but also developers, finance industries, and other natural-resource players."
His sharp sense of outrage provides a roaring start to the book but softens towards the end into more of an extended grant application. Specifically, he urges foundations to "in effect create their own newsrooms" in order to "move the media needle." He points to the non-profit Tyee Solutions Society created by this publication in 2009 as a model for funding journalism through largely philanthropic supporters. He suggests encouraging media investment through tax-deductible charitable donations. This route is largely blocked, however, by outdated tax laws that limit charities to devoting only 10 per cent of their funding to "political activities." The law is so vague, however, that "almost any hard-hitting journalism that holds political entities accountable falls under that category." As a result, the "relative media gold rush" being seen at digital startups south of the border has been throttled here, and will be until Ottawa updates its rules on charitable giving.
Gill's message will resonate with progressives on both coasts and in Upper and Lower Canada, especially with millennials. But the Harper decade is not so far distant as to forget that Canada is well stocked with what former Vancouver Sun and Maclean's columnist Allan Fotheringham once dubbed Regressive Preservatives. This book will reinforce for them that journalists are largely liberal and raise the spectre of the new Liberal government funding them with public money.