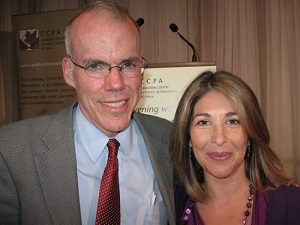 Two of the world's foremost advocates for action against climate change have let it be known they are largely unimpressed with the COP21 agreement in Paris.
Naomi Klein, author of This Changes Everything and Bill McKibben, founder of 350.org, characterize the deal as too little too late. Still, both famous journalist-activists mark COP21 as a potential catalyst for heightened activism to pressure the world's governments to do more to forestall a greenhouse-gas fueled catastrophe.
In an interview today with Huffington Post UK, Klein sounded out of step with the enthusiasm voiced by many other climate change fighters when the accord was hammered out.
"It's a very strange thing to cheer for setting a target that you are knowingly failing to meet," Klein told her interviewer.
"It's like going: 'I acknowledge that I will die of a heart attack if I don't radically lower my blood pressure. I acknowledge that in order to do that I need to cut out alcohol, fatty foods and exercise every day. I therefore will exercise once a week, eat four hamburgers instead of five and only binge drink twice a week and you have to call me a hero because I've never done this before and you have no idea how lazy I used to be.'"
'Motivate a movement'
Later in the interview Klein emphasized that climate change and economic justice must be linked in efforts for progressive social change.
"If it is just about going on a march and if it just about parts per million of carbon in the atmosphere that's not going to motivate a movement that is as motivated as Exxon and Shell to protect the status quo.
"When people are fighting for a future that is better than their present, not just better than a catastrophe far off in the future, better than right now which is intolerable, better than unemployment, better than crumbling services, better than relentless austerity – that's the movement.
"That's why I find it endlessly frustrating that Europe's anti-austerity parties almost never talk about climate change."
'A floor and not a ceiling'
Writing yesterday in the op-ed pages of the New York Times under the headline "Falling Short on Climate in Paris," McKibben assailed the fossil-fuel industry's decades of self-serving propaganda for putting the world's nations, likely, too far in the hole to fend off climate disaster. And he portrayed COP21 as too much a compromise.
Signatories, he wrote, "like gas station owners on opposite corners looking at each other's prices, have calibrated their targets about the same: enough to keep both environmentalists and the fossil fuel industry from complaining too much. They have managed to provide enough financing to keep poor countries from walking out of the talks, but not enough to really push the renewables revolution into high gear."
McKibben doubted Congress would approve America's pledged contribution of $800 million and even that amount he termed "risible compared to the need."
But McKibben, like Klein, urged activists to key off COP21 in pushing for change. He wrote:
"[W]e need to build the movement even bigger in the coming years, so that the Paris agreement turns into a floor and not a ceiling for action. We'll be blocking pipelines, fighting new coal mines, urging divestment from fossil fuels -- trying, in short, to keep weakening the mighty industry that still stands in the way of real progress. With every major world leader now on the record saying they at least theoretically support bold action to make the transition to renewable energy, we've got a new tool to work with."