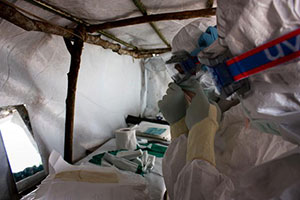 A few days ago on my H5N1 blog, covering the outbreak of Ebola virus disease in Guinea, I plaintively asked for a link to the Guinean Ministry of Health and Public Hygiene, and a kind reader sent it to me with a warning: "It's not very current."
She wasn't kidding. Guinea's health website appears not to have been updated in years. The last Epidemiological Bulletin was posted in February 2010. The most recent annual health report is for 2011, and was published as a draft in July 2012.
Studies and surveys? Page under construction. Office of the minister? Page under construction. Purchasing policy? Page under construction. The person on the home page isn't even the current health minister.
Now I don't feel plaintive. I feel angry -- but not at the government of Guinea, which is only a little worse than the governments of most poor countries. I'm angry at the international community of health agencies, government ministries and NGOs. They always come running to help in outbreaks like this one, but they have notably failed to help governments get the message out to their people.
Poor countries tend to have awful websites and social media. And why not? Their citizens may have lots of mobile phones, but they rarely have computers. Connections to the Internet are erratic at best and government-blocked at worst. So why bother with distributing information through a medium no one is plugged into?
In Guinea's case, that's a very good argument. In 2010, only 95,000 Guineans, 0.9 per cent of the population, were Internet users. But out of Guinea's 10-million inhabitants, 4.6 million had mobile phones in 2011, a 25 per cent rise in one year. It's likely much higher now.
Meanwhile, Haiti, with about the same population, has 836,000 Internet users, 8.5 per cent of the population. In 2012, 6.5 million Haitians had mobile phones.
(That may help to explain why Haiti, just months after the earthquake and in the first awful days of the cholera outbreak, was able to post statistics on the progress of the disease. The numbers may be late and incomplete, but they're online, continuously updated for over three years.)
Guineans, like people in many poor countries, get their news from radio and occasionally from TV; newspapers barely register. But go to the hashtag #Guinée and you'll see a lot of tweets from people who are clearly Guineans (many of them expatriates), and they know their way around the Internet. Poor countries usually have diasporas that stay in touch with the homeland (and often support it with remittances). They certainly have an interest in getting news online.
Public health in a poor neighbourhood
Like most poor countries, Guinea depends on help from NGOs and various governmental and international agencies to keep its health system going. According to Quandl, Guinea in 2010 spent a whopping US$23 per capita on health -- an eight per cent drop from 2009. (Haiti spent $46.)
The neighbours aren't much better off: Liberia spent $29, Ghana spent $67, Guinea-Bissau spent $47, and Cote d'Ivoire spent $60. (Canada spent US$5,222 in 2010.) These are countries facing Ebola, a really nasty new disease, on top of the routine miseries of diarrhea, malaria, meningitis and yellow fever.
Countless millions have been poured into these countries to maintain the rudiments of public health. But the agencies and NGOs that do so seem to operate on the principle that he who pays the doctors issues the news release.
They do it well. Medecins Sans Frontieres (which I support financially) has reported its efforts against Ebola in powerful news stories, picked up by media worldwide.
The World Health Organization, the ultimate public-health authority, has also issued updates on Ebola that the world's media rely on.
Begging for a living
They're good, I think, because such NGOs and agencies must essentially beg for a living.
The NGOs live or die on their donations. WHO gets its budget from the UN, but must often beg as well. Since the UN introduced cholera into Haiti in 2010, it has refused to accept responsibility for the 700,000 infected by it and the 8,500 killed. Instead, it announced a sanitation plan costing up to $1 billion -- if donors could be found to pay for it.
Panhandling for healthcare gives NGOs and agencies the money to support highly trained and dedicated medical personnel and support staff. But when the NGO money dries up, as it did in the Haitian cholera epidemic, those people go home (and the local Haitian healthcare workers left behind go unpaid for months at a time). So panhandling becomes a way of life for such organizations.
Yet while our global health system can put good people in remote places with remarkable speed and effectiveness, the governments they're helping are effectively silenced. In many cases they're happy to keep quiet and let the foreigners clean up the mess that results from spending $23-per-person on health care. They know their people don't listen to them anyway.
The policy ensures that poor governments will never get any better at keeping their people healthy, or fed, or informed. The basic conditions that cause the sickness and ignorance remain intact.
Attaching a string to healthcare
Suppose the international healthcare community tried something different. Sure, they can keep building the showpiece hospitals and labs. But we should also attach a string to all medical and other aid programs.
That string would dedicate some small fraction of the aid money to build, staff, and maintain real websites for government agencies and ministries, websites providing up-to-date information both in local languages and in English. Such sites would not only inform their own citizens of events, but their expatriates and the rest of the world as well. The governments could become advocates for their own people.
Of course, many governments don't want anything resembling accurate information to reach their people. Saudi Arabia says as little as possible about its MERS outbreak, and they're rich enough to ignore the global health agencies. But it shouldn't be an option for any country receiving serious aid from outside.
Such countries lack both democratic institutions and clean water, and they usually rule by force and chicanery. But a serious disease outbreak is a political problem for them, which is why they welcome foreign help.
If the help meant they had to provide reliable health information through all media, they would find a surprising benefit: Their people would begin to trust them a little. When Ebola is suppressed, or measles vanishes, the government shares in the glory. If public criticism of squalid hospitals obliges the government to improve conditions, the government looks responsive.
Gradually, a little at a time, such governments would enjoy some real legitimacy. People would pay attention to official health alerts, avoiding bush meat and mysteriously dead chickens. As health and life expectancy improve, the economy would improve as well. More people would acquire smartphones and computers, and plug into the larger world.
For Guinea, and all countries, honesty in public health isn't just the best policy; it should be the only policy.