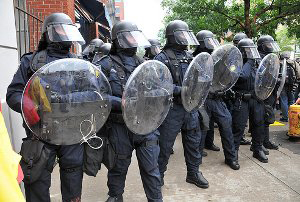 While our own media covered the G20 weekend in detail, the rest of the world wasn't really all that interested. A quick survey of news media around the world suggests they looked for a local angle, or settled for coverage of the riots.
In Europe, the Spanish website Publico.es offered a slideshow of cops and demonstrators. A Vancouver freelancer was quick to publish an opinion piece in The Guardian, saying we have little to show for the G20 security bill.
The Moscow Times report focused on the G20 meeting, with a casual mention of the riots at the end of the story. In Germany, Spiegel Online ignored the riots completely but complained in detail that the conference had made no real progress.
Al Jazeera ran several stories on the G20, including one on mass arrests of demonstrators.
In Asian media, China's Xinhua news agency looked on the bright side, claiming that G20 boosts Toronto businesses.
Korea's Chosun Ilbo ran a big story about the riots, giving it more prominence than its story about the conference itself.
Vietnam's prime minister was the focus of reporting in Thanh Nien News, but it also ran a story on the conference featuring a photo of a burning Toronto police car.
NetIndian ignored the riots and emphasized the praise heaped on India's Prime Minister Manmohan Singh by U.S. President Barack Obama.
Latin America was distracted today by Brazil's 3-0 victory over Chile in the World Cup, and by the assassination in Mexico of a candidate running for the governorship of Tamaulipas state.
But Brazil's Folha Online had a big headline about 850 demonstrators arrested. O Globo ran a video news clip featuring burning cop cars.
In Mexico, El Universal ran its story with a big photo of two huge Toronto cops dealing with a young woman lying face down on the pavement. And the story in Colombia's El Espectador emphasized the complaints of reporters about their treatment by Toronto police.
Digital Journal, meanwhile, praised the rise of citizen journalism at the G20 summit, with several photos of riot cops and camera-wielding citizen journos.
On Facebook, Resist G20 offered a forum for everyone.
And the summit itself published a declaration on its own website and said nothing about the riots.
The Tyee, meanwhile, is inviting people to submit their own eye-witness accounts to editor@thetyee.ca.
And you are invited, as well, to post in the comment thread below links to coverage of the G20 protests that you found useful.