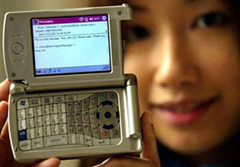 There is something uniquely powerful about everyday people having access to the Internet from tiny devices in their pocket. That ubiquitous access to each other creates possibilities that are worth fighting for and saving. The mobile- and wireless-accessed Internet, combined with emerging open web and open-data applications, has the potential to usher in a new era of connectedness and, with it, dramatic changes to social practices and institutions. If we get digital public policy right, Canada could become a leader in mobile communications, leading to empowerment, job creation and new forms of entrepreneurialism, expression and social change.
To harness this opportunity, politicians and policy makers will need to develop a digital strategy for Canada with a central focus on mobile communications and Canada's broadband infrastructure. To be successful in the long term, we'll need a "made in Canada" strategy that captures the imagination, vision and ingenuity of people from across Canada.
We're all stakeholders
To be successful, our government needs to engage citizens in this process rather than listen to lobbyists behind closed doors while Parliament is prorogued. We need to craft a vision and plan for our digital economy. This is our future. So we're all stakeholders and we all need to be invited into the process.
In last week's speech from the throne and release of the budget, the government had an opportunity to address digital issues. All that was made clear, however, was that government is committed to opening Canada's telecommunications and satellite industries to foreign ownership. Giving up on our capacity to meet this challenge and instead relying primarily on foreign investment schemes is not the answer. Such an approach would, at best, miss the lessons learned from the countries that are leading in broadband speed, access and cost.
Addressing Canada's "digital divides" -- those based on geography (rural, remote, inner-city), ability (cognitive, physical), class, age, gender, and ethnicity -- is particularly difficult to close given the composition of the Canadian cell phone market. The market is highly concentrated with more than 95 per cent belonging to Rogers Communications Inc., Bell Canada Inc. and Telus Corp. These companies operate in the most profitable wireless market in the developed world, with a profit margin of 45.9 per cent, or 12.8 per cent higher than average. Despite this extraordinary level of profitability, Canada is falling behind on usage, ranking last for cell phone users per capita -- in part because these users pay the third-highest rates among developed countries.
New policy in the public interest concerning wireless access to the Internet is perhaps the most promising opportunity to close our digital divides and spur innovation. Yet the CRTC's new media hearing in 2009 marked another occasion when the commission could have, but refused to, deal with the problem. While the CRTC's ruling on new media essentially delayed and side-stepped many of the key issues raised at the hearing, its inaction also set the stage for a high-profile debate over Canada's national digital strategy.
Strategy hangs in the balance
With pressure building, in June 2009 Industry Minister Tony Clement hosted a digital economy conference to discuss the possibility of a national digital strategy. In 2010 and beyond, the policy-making process concerning Canada's digital strategy promises to be a crucial and highly contested space, where the decisions that are made will have a deep and long-lasting impact on Canadian media and communications. A recent Harvard study makes the situation yet more salient, concluding: "Canada continues to see itself as a high performer in broadband, as it was early in the decade, but current benchmarks suggest that this is no longer a realistic picture of its comparative performance on several relevant measures."
Canadians face high prices, poor service and highly constricted choice. This is a reality that most Canadians are aware of: more than half of respondents (53 per cent) in a 2009 Angus Reid public opinion poll reported that they believe Canada is one of the most expensive countries in which to use a cell phone. If this public opinion can be harnessed to an intervention in the government's digital strategy policy, Canada's wireless market could take a 180 degree turn.
We are at a communications crossroads in Canada. Better media means better policies, and that requires engaging ALL Canadians in the discussion. The formation of Canada's digital strategy policy provides a historic opportunity for us to once again become a leader in cultural production and communications access, speed and innovation, and to close digital divides that prevent people from expressing themselves and connecting to each other.