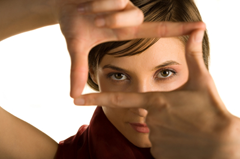 When I began writing and distributing this column, I wanted to find a way to both make it free and easy for bloggers, small non-commercial publications and individuals to share it, whilst also giving syndicating publications something they can stake a claim in.
Luckily I was aware of a new copyright licensing system called Creative Commons that enables such a hybrid model of media production. Not only is it a useful tool for media producers, it's also an important part of the larger trend that is blurring the lines between producers and consumers of media.
Established in 2002, the Creative Commons (CC) license system allows artists, both professional and amateur, to copyright their work with as many restrictions as they choose -- including the ability to un-copyright works completely. According to their website, "Creative Commons provides free tools that lets authors, scientists, artists, and educators easily mark their creative work with the freedoms they want it to carry."
Creative Commons allows cultural producers to easily add an individually defined copyright badge to their work (usually a small graphic). These badges provide a clear indication of the specific copyright restrictions (or lack thereof) for other cultural producers and users.
Big corporate media organizations use synergies and joint ventures to bring in larger audiences. Independent and online media need to create their own synergies by building and sharing audiences using their own unique strengths. So I figured what better chance to experiment than with a column focusing on the intersection between media, culture and technology.
The Creative Commons license I use asks each organization that publishes the Media Links column to post a statement at the end of each article acknowledging and linking to all the other syndicating publications. Creative Commons and the open Internet enable this, and other new forms of collaboration and synergy.
Are we all produsers?
Some people consider Creative Commons to be a key element of a new category of media content producers/users called "produsers."
According to Axel Bruns, who coined the term "produsers," the "traditional value chain of producer-distributor-consumer has condensed to a singular point, the produser, interacting with and potentially enhancing existing content."
Thus, we now have produsers with "fluid roles" and perpetually unfinished media.
While media production has always been a collective process involving production ingredients from our collective cultural heritage, Creative Commons further enables (or perhaps re-enables) and encourages a more remixing-friendly media system and culture. Rather than conceiving and distributing media items as commodities, Creative Commons (CC) encourages the production, circulation and reception of media as a continuous and shared process.
Enabling sharing
While the open sharing elements of the Creative Commons license system are voluntary, according to a 2007 survey of CC users, more than 80 per cent of the CC-licensed works permit derivatives -- meaning they allow others to build upon their media. While many media producers and users do not yet use Creative Commons, it is becoming more popular.
As of 2007, there were an estimated 60 million Creative-Commons-licensed cultural artefacts on the Internet, and CC use is still increasing. In an unprecedented move, Yahoo! announced plans in 2007 to allow users to employ Creative Commons licensing in their huge menu of online spaces and tools.
While it doesn't appear that their plan has come to full fruition, it has at the very least meant that it's popular photo sharing service Flickr has remained Creative Commons-friendly.
Creative Commons licensing is not limited to media production. There is also the ever-expanding open-software movement, and in the U.S., the Creative Commons group also recently launched a new project called the 'Legal Commons' that will "collect and make available machine-readable copies of government documents and law."
Where it goes from here is anyone's guess. Let's just share the idea and see where it leads us.