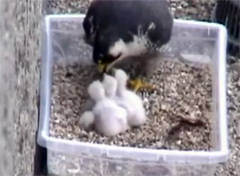 The CBC's Falcon Cam proves surveillance really is for the birds. Last week, the broadcaster announced that its online camera feed showcasing the lives of a family of Peregrine Falcons in Winnipeg had now surpassed one million page views, becoming one of the most popular on its website.
The CBC's Falcon Cam is just one of the many sites devoted to ogling animals online; at first, with just one channel option available, the Falcon Cam seems rather uncompelling. Many zoos now feature webcams: the Smithsonian's National Zoological Park website offers the choice of 20 webcams, including the strange and obscure Sloth Bear Cam, Black-footed Ferret Cam and the Naked Mole-Rat Cam.
Nonetheless, there's a certain charm to CBC's Falcon Cam and its view of birds in "the wild" -- even if "the wild" is just the bird's concrete hotel rooftop nest. Watching grainy black and white footage of caged animals (or their empty pens) on the zoo sites, where the animals are unable to hide from the unblinking eye of the camera, feels more cruelly voyeuristic than watching CBC Winnipeg's fine feathered family.
Filming animals in their natural habitats isn't new -- David Suzuki's The Nature of Things and Mutual of Omaha's Wild Kingdom were doing it decades ago -- but this latest trend towards wildlife voyeurism appears to bring reality TV full circle. Unlike earlier television shows that offered audiences a half hour of edited and slickly produced footage of critters in the wild, animal webcams provide unprecedented 24-hour access to our favourite fuzzy friends.
Yet, with summer upon us and wildlife just beyond our front doors, it seems both incredible and a little disappointing that a million viewers prefer to do their sightseeing from behind a computer screen instead of actually going outside -- but hey, with the three Peregrine chicks a good bet to be banding this week, who can really resist? Happy viewing!
Related Tyee stories: