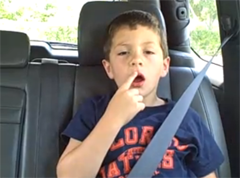 With more than 7 million viewings, "David after dentist" has become a classic of a fast-growing web video genre. It consists of filming your messed-up, terrified or dizzy child and uploading it to the Internet for everyone to see. It also raises questions about parenting in the Internet age.
As his father explains on the YouTube posting, he decided to videotape David after dental surgery because "he was so nervous before and I wanted him to see the before and after."
Woozy from the medication, his head swinging from side to side, David says things like "Is this going to be forever?" and "Is this real life?" At one point, with wide eyes, David says, "I can't see anything!" Then he lifts himself off of his seat, lets out a massive yelp, and collapses back into his seat.
Response from viewers has been mostly positive -- mostly, "this is the funniest thing I have seen in a long time" -- but others say it's exploitative to post a video of a confused, frightened and stoned minor to the Internet.
His father defended the video in the Wall Street Journal Monday, arguing his son was safe the entire time. He explained that he only posted it on YouTube in January, months after the operation, to make it easier to show family and friends. But even he admitted recording the incident might not have been the best move.
"I was trying to teach him that the anticipation is probably much worse than the actual event," he said. "This might not have been the right case to give an example."
No doubt there is something inherently fascinating about watching a child lose his innocence. But on YouTube, this somehow takes on a more sinister side.
It's not hard to find more, disturbing videos of "kids on drugs." And there are others, like this one, which shows a child being spun around -- repeatedly -- at the playground, and then banging into a pole. Or this one, which shows a little boy overcome with terror at the sight of a puppet. This last one is definitely funny, sure, but why not console your child rather than document his fear?
No matter what you think of these videos, one thing is for certain: when you unleash something like "David after dentist" into the Internet world, it takes on a life of its own.
As a result, you get stuff like this mash-up that combines the idiotic ranting of Christian Bale with little David. Hilarious, but not something that I'd want to see my kid in.
Bob Saget never had to deal with that.
Related Tyee stories: