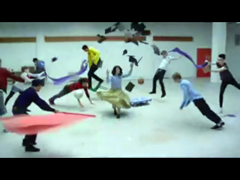 Like Christmas or the Tooth Fairy before the big "reveal," this video seems like pure magic to me.
Advertising in the '80s and '90s was different; like Cyndi Lauper (who, don't get me wrong, I love), ads used to be loud, bright and over the top. They shouted, "Look at me," and I sometimes did, but often pressed the mute button or simply turned the page. It seems, though, we're in a new era where it's about making the ordinary extraordinary, and the few hundred thousands views this Toshiba ad has already had suggests it's working on people other than me.
My friend, a film editor, not a magician, explained the trick, and there's a YouTube vid about it, too. Basically, they filmed each person separately, using 200 cameras mounted on a large rig, then did lots of visual effects and compositing, then put it all together. His words: "It would take a really, really, really big amount of work and even more money."
It's not like ad budgets, or the need for innovation, were ever weak: print advertisers had to draw readers' eyes from the columns to the margins, and TV ads had to keep people from turning the channel.
Now, those wily advertisers don't need a page or a TV channel. Since the beginning of newspapers, there's been symbiosis: editorial provided the page, the delivery method, for advertising, and advertising paid for the delivery of editorial.
But since advertisers can now put their videos directly on YouTube, there's no need for an editorial vehicle to provide the eyeballs. Advertisers know that if they make the ad funny enough or catchy enough or magical enough, I'll forward it to all my friends. Three people forwarded me a link to the Toshiba ad last week, and so far I haven't seen it grace my TV screen. It's one of many captivating, expensive ads that bypass media outlets, leaving that space for lower budget ads.
Even I'm changing my forwarding habits. I'm a reading relic: I still spend hours every day reading whole online newspaper and magazine articles and blog posts. And in the recent past, when I read something and thought of a friend, I used to send a link to the whole article, regardless of length, expecting they'd find time to at least skim it, whereas I now copy and paste the relevant paragraph or two into the e-mail itself, and expect that few will even find time to read that (with the exception of my journalist or information junkie pals). Few friends send me links to articles these days; most just send video URLs.
So it's no coincidence that my inbox is also full of e-bulletins about record layoffs in the journalism industry. Most notably, Time Inc. laid off 600 people (including people at Sports Illustrated and People), several Vogue magazines have folded, the Economist is cutting, Radar folded (again) and CanWest announced cuts of 560 people last week. It's not just the inevitable extinction of a print dinosaur, accelerated by announcements that the cost of paper is going up 20 per cent this year, the online-only Gawker Media empire expects ad revenues to be down 40 per cent everywhere due to the economic downturn, and is folding publications and laying off staff. That seems, um, like a lot.
There are endless panels and articles about the death of journalism. But regardless of the reasons, in the end, many people are using their media time to watch cool ads and funny videos, then just quickly scanning the news headlines.
Could viral videos be the charming, captivating killer of the newsroom?
Related Tyee stories: