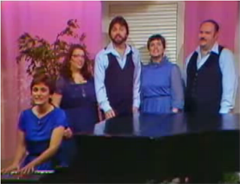 Religion is a hot-topic in today's political world, with finger pointing and name calling on both sides of the issue. Whether you're Christian or not, this Jesus-loving ska band's video might provide some relief from the flaming-hot debate.
Originally posted on the pop culture blog Dougsploitation, the video for "Jesus Is a Friend of Mine" has been making the rounds of the Internet. The video features Christian rock group Sonseed singing on a Christian TV show called the First Estate: Religion in Review, which aired in the late '70s on WNBC.
The video, strong in sentiment and upbeat 1970s aesthetics, is a simultaneously sincere and humorous effort to sing praise to Jesus. As a non-Christian, I thought the comedy worked; it's hard to take lead singer Sal Polichetti seriously when he's singing "[Jesus] is like a Mountie / He always gets his man / And he'll zap you any way he can / Zap!" While this may seem like a ham-handed attempt on the part of the television show's producers to score some cool points, after reading the interview with the band on Dougsploitation, it's clear the band wasn't being ironic but very genuine.
It's so 1970s and sincere that some critics, such as Idolator and Zombie Pirate Ninja Monkey, have asked if it's too good to be true. But the interview and e-mail correspondence from Polichetti to doubters seems to deal with the question of the video's authenticity.
I believe it because, really, even in this age of worshipping imitators, it just seems hard to believe anyone would go through this effort to create a fake Christian ska video.
Related Tyee stories: