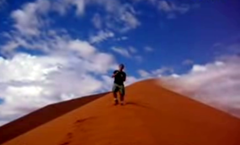 Matt, an average-looking, young American, has been viewed online an un-average 20 million times on YouTube alone. (His most recent vid was the most viewed video worldwide last month)
In Where the Hell is Matt?, he poses in unlikely spots around the globe -- Jordan, Peru and Rwanda, to name a few. In every shot, he's dancing, always dancing, and doing it badly. And people love it.
So who the hell is this Matt guy anyway? In his own words, Matt Harding is a 31-year-old deadbeat from Connecticut who used to think that all he ever wanted to do in life was make and play videogames. In February 2003, he quit his job and used the money he'd saved to wander around Asia until it ran out.
A few months into his trip, while standing around taking pictures in Hanoi, a travel buddy gave Matt an idea: "Hey, why don't you stand over there and do that dance. I'll record it."
It's a simple dance, a bad dance, with nothing fancy about it. But the trip's resulting video dance-montage caught on.
Matt landed a sponsorship deal with a gum company, and has since gone on two major dance tours around the globe. Then, in 2006, Matt took a six-month trip through 39 countries on all seven continents. That's the video that has been watched 15 million times.
In late June this year, Matt posted a new montage, a three and a half minute video that encapsulates 14 months of travel to 42 countries.
Matt has become a cult hero of sorts, partly because of the Internet mythos that elevates the regular guy to superstar status. Matt plays on this idea on his website. When he was younger, he writes in his bio, he could hang seven spoons on his face at once. He's also left-handed, as if that matters, and his Xbox Live screen name is "BadDancer." (Matt even made a point to dance with the original YouTube star/loser, the Numa Numa guy.
He speaks only English, he never went to college, and doesn't offer much in the way of lessons learned from travels.
Yet he's become a go-to guy for a certain breed of backpacker adventurers. There's definitely something perverse about a young white American man dancing the same dumb dance on the soils of more than a hundred different countries, and in a sense, the videos can be seen as a sort of twisted neo-colonialism. Take this one, for instance.
In fairness, he's also posted a video that gives some context to his chosen dance spots.
But people in the comment sections simply say they watch him because it's fun.
Related Tyee stories: