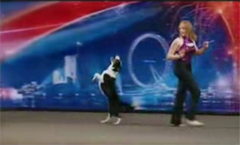 Puppy and kitten videos and sites seem to be taking over the Net. And Gawker (a pop culture blog), for one, is on a mission to muzzle the recent rise in pet crimes. No, Gawker isn't taking action against puppy mills or animal abuse, but against the rise of sites devoted to worship of the canine.
In a post entitled Enough Already: Please Stop Talking About Puppies, Hamilton Nolan takes on Daily Puppy. "I have nothing negative to say about [posting daily puppy photos], dog Nazis. But do said puppy pictures require 90 comments just today, which all sound like this actual example: 'Oh baby you are such a cutie-pie. A zillion biscuits and cuddles poppet and have a wonderful life. xxxxxxxxxxx.' GOD. It really challenges your ability to even continue liking puppies."
Last week, one of the top viral videos was Kittens on a Treadmill. Sure it's cute. But I still need someone to explain to me how it got 1.5 million views. That's more views than editors of news sites dream of in their wildest fantasies.
Friends, it's not just Daily Puppy, and viral videos; there are LOL cats sites like I Can Has Cheezburger (which I confess to reading regularly -- but on the premise of enjoying the humor not the photos), Puppy War, Kitten War, and many others.
I've been asking around and there seem to be two theories as to why people are going gaga over meow meow. The first is that people are so mind numbingly bored and unhappy at work that Puppies! and Kittens! represent cuteness and unconditional love, unlike, say, your boss.
The second, courtesy of my brother-in-law, is that people put off having children. So instead, get dogs and treat them like babies and even put them in doggie daycare (which in Vancouver costs about $25 a day or $500 a month).
It all makes sense. And yet, I seemed to hold no rational defense against this clip: I watched it, misted up and forwarded it on to my friends. Including, now, you.
Related Tyee stories: