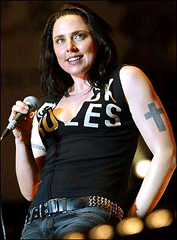 Super Tuesday and Superbowl Sunday featured super upsets as Barack Obama defeated the New England Patriots. Obama preached hope and seemed to inspire it in every American except Hillary Clinton and John McCain.
The TV writer's strike ended, but the TV viewers continued their walkout as ratings hit record lows.
Conrad Black was blue, West Broadway blew up and so did the Anglican Church.
The ReformaTories introduced Bill C-10, which would allow viewers to See-nothing
CBC's DiscDrive crashed as the Mother Corp looks to replace host Jurgen Goethe with Goth girls.
So let's spend our $100 tax rebate on that new Chuck Cadman biography and look back at a February that lasted too darn long.
Cambielot
A B.C. man shocked the world with the claim that he was the illegitimate son of John F. Kennedy. Peter Ladner then announced he was running for mayor of Vancouver.
NDP MLA Gregor Robertson also added some juice to the Vancouver mayoralty sweepstakes, announcing plans to run for mayor with Vision Vancouver. Shocking rumours continue to swirl that the other contenders for mayor will include dark horse candidate, Sam Sullivan.
Ethics omittee
Former "prime minister" Brian Mulroney claimed there was no reason he should appear before the Commons Ethics Committee to challenge accusations by "businessman" Karlheinz Schreiber, because the former lobbyist had already made plans to wash his hair that day.
The ReformaTories(TM) announced a bill that would allow them to withhold funds for "offensive" TV and film productions. A spokescensor from the Heritage Ministry explained that the Tories would define "offensive" as anything that contained violence, nudity, foul language or characters with IQs over 85.
A new book alleges that two Conservative party officials offered dying independent MP Chuck Cadman a million dollar life insurance policy to vote to topple the Liberal government in May 2005. Steve Harper says there was nothing improper about any offer to Cadman and the government was simply trying to get him a lobbying job with Karlheinz Schreiber.
Ralph's nadir
Formerly respected consumer advocate Ralph Nader announced plans to run for president of the United States. The 73-year-old activist explained that he wouldn't be running if only the Democrats were putting forward a truly progressive candidate like Al Gore.
Seventy-one year-old Republican presidential candidate John McCain denied New York Times allegations that he had a romantic relationship with a 40-year-old Washington lobbyist. Senator McCain claimed there was nothing improper about the relationship since he was strictly in it for the money.
McCain was forced to abandon his campaign theme song, John Mellencamp's "Our Country," after his campaign staff was warned that the rocker was a big supporter of John Edwards. McCain plans to choose a new theme song that was big with the kids back in his youth . . . likely something by Mozart.
The McCain campaign also suffered a setback at the Academy Awards when the biggest prize of the night went to No Country for Old Men.
Meanwhile, soon to be former Democratic frontrunner Hilary Clinton discovered that America's also no country for older women.
Raul rules
Fidel Castro stepped down as Cuba's leader after 49 years. U.S. President George Bush immediately broke out the cohibas and declared, "mission accomplished."
Formerly respected consumer advocate Ralph Nader announced plans to run for President of Cuba. The 73-year-old activist explained that this made at least as much sense as him running for president of the U.S. again.
Superbowl Stunday
Apparently the other football team in the Super Bowl that was playing the New England Patriots was known a the New York Giants -- something most people only discovered a few minutes after the Giants won.
Ratings for the Oscars fell to a record low. Critics blamed host John Stewart for honouring five Best Picture nominees that almost nobody bothered to see.
Hogtown spice
The Spice Girls reunion ended in Toronto. Sporty Spice says she won't be rejoining the group because she plans to work as a lobbyist for Karlheinz Schreiber.
Celine Dion was nominated for six Juno Awards. Meanwhile America announced its own Juno Awards for pregnant teens. The first winner is Britney's little sister, Jamie Lynn.
And singer Amy Winehouse wasn't allowed to get a visa to sing at the Grammys. However, she will be allowed visas to attend NA meetings.