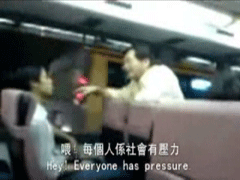 [Editor's note: Starting today, The Tyee offers a weekly guided tour into the universe of video on the Internet. Your hosts will be one of our new video aficionados, starting with Doretta Lau. We assembled the team for its diversity of perspective, media savvy and sense of humour. Every week your tour guides will spotlight a favourite video, including many links to others and a bit of commentary to go along. Enjoy the ride!]
It's one of those new terms for our age. "Bus Rage." Yelling at drivers. Erupting at fellow riders who've grabbed the last seat. Snarling at anyone who sits too close. It's an increasingly common phenomenon around the world, apparently, and while I've seen my share on public transit in Vancouver and other cities, I've yet to witness anything as impressive as "Bus Uncle," video captured on Hong Kong public transit.
In May 2006, the Bus Uncle clip was one of YouTube's most popular videos, recording 1.7 million views in three weeks. Bus Uncle produced such Cantonese catchphrases as "Not settled!" and "I have stress and you have stress." And it has spawned a wave of cultural creativity.
Directors Tsui Hark, Ringo Lam and Johnnie To used the second phrase as comic relief in the 2007 Hong Kong film Triangle.
A number of YouTube users made video responses to Bus Uncle, including mash ups with songs by Canto-pop-star Sammi Cheng and hip hop group LMF.
The most political and haunting response video is "Not Settled," a montage of footage from the Tiananmen Square Massacre.
I spend about two hours a day on the bus. My commute is never as exciting as watching Feist sing "I Feel It All" on Jimmy Kimmel's bus show or being one of 20 Winnipeg locals riding transit with the White Stripes and participating in a sing along of "The Wheels on the Bus" and "Hotel Yorba."
And I doubt I'll become a bus nut. But I'm grateful to have that daily ride time to ponder my direction and destination in life (partly inspired by reading Mavis Gallant's In Transit), and to imagine where I'll be in a year or 10 years or 50 years in the future.
[Have you seen any other video that's given you pause? If it's in good taste, please post a link in the comments section below.]
Related Tyee stories: