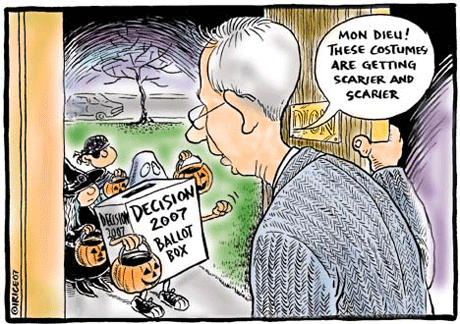 On Halloween the loony dressed up like the yen while the American dollar disguised itself as the ruble.
Al Gore won the Nobel Peace Prize for scaring the world. China made veiled threats to Steve Harper for seeing the Dalai Lama to talk tolerance and Harper threatened veils after seeing votes in intolerance.
The Canadian government released a budget fulls of tricks and treats. A Sasquatch was spotted in Pennsylvania, but no Opposition leaders were spotted in Ottawa. The World Series ended and B.C.'s strikes are out. So carve up the Great Pumpkin and say goodbye to October while you're still on that sugar high.
Media debriefed
Steve Harper showed his love for the media by building a new $2 million briefing room on Parliament Hill. The new facility will feature state of the art technology and no seats for members of the press.
Steve also skipped the annual Press Gallery dinner where federal leaders traditionally poke fun at themselves. Alleged Liberal leader Stephane Dion spoke, but that seemed redundant.
The Quebec Liberal caucus is revolting.
Opposition dethroned
Steve delivered his throne speech and announced that he's going to do whatever the hell he wants because he knows no one's going to force an election. Steve declared that Canadian Forces will be pulled out of Afghanistan, "whenever he feels like it" and told Dion, Layton and Duceppe that their moms wear army boots.
Parliamentary precedent was set when the Liberals were whipped into abstaining on the throne speech. This is apparently the first time in political history that politicians had to be ordered to sit on their hands.
Loony goes crazy
The loony topped $1.05, which means all products with U.S. and Canadian price labels will now cost... exactly the same as they do now. Retailers are blaming wholesalers, wholesalers are blaming distributors and distributors are blaming the media for letting people know our dollar is no longer worth 60 cents.
Now that the loony is worth a buck, the government is looking at tossing the penny. The move could save the country $130 million dollars a year, but most importantly will allow Canadians to start earning nickels when they save them.
Strike won, strike two, you're out
The garbage strike ended, but the political trash talking continued. The librarians' settlement was overdue. Protester Betty Krawczyk got out of jail and announced plans to seek a three-year sentence as mayor of Vancouver.
A settlement was finally reached in the Vancouver Island forestry strike. Seven thousand workers agreed to go back to work and at least half of them probably will.
The B.C. Green Party planted a new leader, Esquimalt Coun. Jane Sterk. Sterk says she's honoured to have the job because she feels the party represents, "hope for the future." Gordon Campbell wished Sterk all the best, saying the Green Party represents hope for his future as Premier for Life.
Liberal MP Blair Wilson resigned after allegations that he failed to report campaign expenses. No word on whether Wilson has hired former Liberal MLA Graham Bruce to lobby on his behalf.
According to the latest data on climate change it looks like Vancouver's 2010 Olympics will now be known as, "the Summer Games."
Fly the friendly spies
The U.S. government announced that they want the personal data of everyone who boards a plane in Canada. The Canadian government announced plans to pretend to object.
Canadian Playboy model Pamela Anderson (whose credits include the "accidentally released" Tommy Lee Sex Tape) married American model playboy Rick Salomon (whose credits include the "accidentally released" Paris Hilton Sex Tape). The two say they're big fans of each other's work and their prenup calls for a clear division of all money from any accidentally leaked videos.
Lenny Kravitz is headlining the Grey Cup halftime show. The CFL was looking for a Canadian superstar and assumed he was related to Duddy Kravitz.
Greedo shoots first, kills Jar Jar
George Lucas announced plans for a new Star Wars TV series debuting next year. He then announced that he's already digitally remastered several scenes infuriating the show's die-hard fans.
New digital scans have revealed the secret behind Da Vinci's masterpiece, The Mona Lisa. She's actually a Sasquatch.
America Becomes Colbert's Nation?
Fake pundit, Steven Colbert entered the U.S. presidential race, while fake District Attorney Fred Thompson looked like the joke candidate. Colbert announced that he's running for president as a Democrat and a Republican -- which would be funnier if most of the real Democratic candidates weren't doing the same thing.
The new curse of the Red Sox is, "those damned Sox" after the Boston baseballers defeated the Colorado Christians. The Rockies, who actively recruited religious batters, never had a prayer in the series and were swept in four games.
Literary wizard J.K. Rowling revealed that her fictional creation, Dumbledore, is gay. Rowling said she realized this after spotting the wizard in an airport washroom with U.S. Senator, Larry Craig.