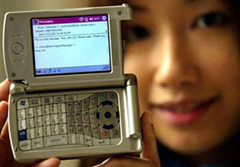 The promise of an always-on mobile Internet -- delivered through cellphones and wireless devices -- has long been touted as the next stage in the evolution of electronic communication and commerce. That next stage is a reality in many countries, yet Canada finds itself rapidly falling behind even developing countries as a consequence of overpriced mobile data services in our cozy, uncompetitive market.
Until recently, the conventional wisdom held that there were two barriers -- technology and cost -- to the emergence of widespread mobile Internet use. From a technological perspective, most cellphones and wireless devices could manage e-mail and text messaging, but were ill-suited for the full Internet experience, including browsing and Internet video. That technology barrier has largely been eliminated, fuelled by popularity of devices such as the Apple iPhone.
The cost barrier still looms large, however. Canadian carriers have treated mobile Internet use as a business product, establishing pricing plans that force most consumers to frugally conserve their time online. Indeed, the mobile Internet in Canada is reminiscent of Internet access in the mid-1990s, when dial-up access dominated the market and consumers paid by the minute for their time online.
Shockingly expensive
Today, not only are cellphone data speeds comparatively slow -- the attractiveness of Wi-Fi access for Research in Motion's Blackberry or the iPhone is based primarily on the availability of substantially faster speeds -- but they are shockingly expensive since cost is measured by the amount of data downloaded.
For example, Rogers (the only Canadian telecom company currently equipped to offer the iPhone) offers a starter data plan that provides 1.5 megabytes of data per month for $15 (each additional megabyte is $21). Since that is not even enough data to download a single high-resolution photograph, most consumers presumably opt for more. The company's biggest data plan provides 500 megabytes, yet costs $210 per month -- far beyond the reach of most consumers.
This pricing, which is comparable to plans found with Bell and Telus (the largest offering from Telus is 250 megabytes for $100 with $3 for each additional megabyte), is not close to competitive internationally. The introduction of the Apple iPhone in the U.S. has placed the spotlight on the difference between the Canadian and U.S. market, where AT&T, the sole iPhone provider, offers unlimited data for only US$20 per month (the total monthly price is US$59.99, but AT&T divides the bill as two-thirds for voice and one-third for data).
Make data cheap
While it is tempting to believe that the AT&T offer is an anomalous product of pressure from Apple, the reality is that unlimited data plans are becoming commonplace around the world. For example, consumers in Lithuania can purchase an unlimited data plan for less than $3 per month, while similar plans can be had in the Netherlands and France for under $15 per month.
In fact, Canada not only trails the U.S. and Western Europe, but Eastern European countries such as Poland and Romania, Asian countries such as Malaysia, and African countries such as Rwanda all offer unlimited monthly data plans for less than $50.
Even in those countries without unlimited data plans, the pricing is often far better than what is found in Canada. Italians can purchase 1 gigabyte -- double the largest Rogers plan -- for $29 per month, while a 500 megabyte monthly plan is $45 in South Africa, $79 in Mozambique, and $103 in Tanzania.
Africa beats Canada?
The negative consequences of Canada falling behind even the African market should not be underestimated. RIM has expressed frustration with Canadian pricing, predicting that carriers could sell "eight or nine times" more Blackberries if they lowered data prices to levels found elsewhere.
Reduced sales are only part of the story. High data prices mean Canadians use the mobile Internet less than people in other countries, which Google has noted leads to lower Canadian usage of web-based e-mail or online mapping services from wireless devices.
Canadian carriers would do well to reshape their approach to mobile data by better servicing consumers; however, the longer-term solution lies in Industry Minister Maxime Bernier cracking open the wireless market by encouraging new entrants through a spectrum set-aside. The prospect of a new national wireless carrier offering unlimited data -- and perhaps even the red-hot iPhone -- would do wonders for a once-proud market that now lags behind the rest of the world.
Related Tyee stories: