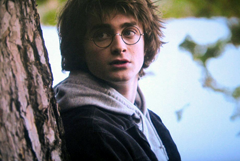 The Middle East melted down and the stars were out of alignment as celebrities were driven to drink and Pluto was declared too Mickey Mouse to be a planet. Heat waves cooked North America and computer batteries burst into flames, Mel Gibson blamed the Jews, while John Mark Karr confessed. So let's rewind August and stay off those highways over Labour Day – just in case there are any celebrities on the road.
Editor's note: This column was in no way based on Ross Rebagliati and contains no fluids.
HIV/AIDS conference in Toronto, Steve has Nunavut...
The world's leaders showed up in Toronto for the International AIDS Conference as ReformaTory leader, Steve Harper, fled to Nunavut just in case compassion is contagious. Fortunately, the prime minister did find time in his busy schedule to visit Saskatchewan and make a special guest appearance on the sitcom Corner Gas.
Meanwhile, federal Health Minister Tony Clement announced his government would be making no announcements about AIDS prevention programs since the media might actually report on them.
A team of doctors in B.C. announced they may have a plan for combating AIDS around the world -- but they announced it very quietly so that Steve wouldn't hear about it and cut their funding.
The new softwood lumber agreement received the flaccid support of lumber companies after not-so-honourable International Trade Minister David Emerson warned that if the deal wasn't ratified, he'd change political parties again.
Maclean's flunkees?
Eleven Canadian universities, including SFU and UBC, gave Maclean's annual University Guide a failing grade and announced they won't be participating in the magazine's ranking survey because they don't trust the magazine's methodology. Maclean's editors claim they're not worried about their issue being incomplete, explaining they'll just do what students do and copy the answers off Wikipedia.
ReformaTory Justice Minister Vic Toews announced plans to vote against same sex marriage when the issue comes up in Parliament this fall. Vic apparently believes gay marriage and bad children are responsible for the downfall of society. He also announced his government's plan to lower the age of criminal responsibility from 12 to ten, explaining, "if these kids cheat at XBox they've gotta be prepared to pay the price."  The federal Green Party got a new leader, upsetting rank and file members who thought they should just keep recycling the old one.
Clayoquot Sound has been opened to logging again. Premier Gordon Campbell explained he decided to allow logging in the pristine wilderness area because with labour peace on the horizon B.C politics has just been too boring.
Where's the beef?
A small Vancouver restaurant has been ordered to stop using the phrase "Taco Tuesday ™" by Taco Bell. So just in case nobody else has a trademark on it yet...don't even think about "Fajita Fridays ™ "-- patent pending...
An internal RCMP study suggests the Mounties should stop telling the media so much about crime because reports in the media are making people nervous. If that fails, plan B is to raise a banner outside RCMP headquarters declaring: "Mission Accomplished."
It turns out Gilligan's three-hour cruise ended up in Parksville. The SS Minnow has turned up on Vancouver Island and is for sale for $99,000 or three dozen coconuts. The B.C. government is apparently thinking of buying it as part of the B.C. ferry fleet -- as long as they can confirm it wasn't built in the province.
A new study shows that Vancouverites have the lowest obesity rates of any city in Canada – proving that the munchies are a myth.
Road warriors see traffic cops
Following his arrest on charges of drunk driving, Mel Gibson attended his first Alcoholic's Anonymous meeting. Unfortunately, he was unclear on the concept and his first words were: "Hello, my name is Mel and I hate Jews."
After pleading guilty to "driving under the influence," Gibson admitted to making anti-Semitic remarks, but said they don't reflect his true feelings towards Jews. However, he admitted that referring to a female police officer as "sugar tits" did accurately reflect his true feelings towards women.
Robin Williams checked into rehab for alcoholism. Williams knew he had a problem when he started ranting about how much he hates Mel Gibson movies.
Haley Joel Osment's sixth sense failed him when he was charged with drunken driving and marijuana possession following a car crash. Osment blamed the Rastas. And his agent.
Nickelback's lead singer Chad Kroeger announced he plans to plead not guilty to charges of driving while impaired. No confirmation is available on whether Kroeger blamed the CRTC.
Harry Potter and the Philosopher's Stones?
Daniel Radcliffe, who plays Harry Potter, will be showing his wand in a London production of Equus. Radcliffe says he has no problems doing full frontal nudity as long as he can wear his invisibility cloak.
Ellen Burstyn was nominated for an Emmy Award in the HBO movie Mrs. Harris despite only having two lines in an 11-second flashback -- finally proving there really are no small parts...As long as you're already famous and have a great agent.
U.S. federal judge Anna Diggs Taylor ruled that wiretapping without a warrant is illegal. However, U.S. government officials claim they're not concerned about the verdict because it's not like the Supreme Court elected her president.
Two alleged journalists from FOX News were released from captivity after declaring a conversion to truth and objectivity. They immediately returned to FOX and recanted.
Squares to be hip?
Barry Manilow ran into complications with hip replacement surgery after surgeons discovered he'd never been hip.
Meanwhile, Sir Elton John announced plans to get a hip-hop replacement and told Rolling Stone he hopes record a hip-hop album with Dr. Dre, Snoop Dogg, Eminem and Kanye West. Hip hop...Coming soon to an elevator near you...
Alleged singer Paris Hilton was bit by her pet kinkajou, Baby Luv. The kinkajou was raced to emergency to receive a tetanus shot.
According to Canadian Business Magazine, Pamela Anderson is no longer Canada's most powerful celebrity and has been eclipsed by Jim Carrey -- proving the editors at Canadian Business don't get out to the movies much. Canada's second most powerful celebrity, Pamela Anderson, fought her demotion by marrying Kid Rock.
And Britney Spears revealed her baby's first words. Pop quiz -- were they: "k-fed; skanky" or "save me?"
Mark Leiren-Young, a Vancouver screenwriter, playwright and journalist, files his "Fast Rewind" summary of the news for The Tyee at the end of every month. Read previous ones here.