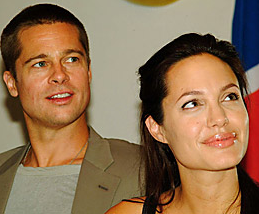 The bird flu didn't hit Europe, but World Cup fever did, and Stanley Cup fever was cured when the trophy was lost in Carolina. Bertuzzi was banished, but Stephen Harper kept his head while CBC brass lost their minds. It's Paris in the springtime as we look back at June.
One ring to fool them all…
Alleged terrorists in Toronto were unable to take down the CN Tower or behead the Prime Minister, but they are being blamed for the early cancellation of Lord of the Rings.
ReformaTory leader Stephen Harper took aim at the national gun registry declaring, "that every Canadian has a first amendment right to bear arms. Or at least they will soon."
The ReformaTories also announced plans to attempt to raise the age of consent to, "married". Meanwhile, they hope to remove the married option for gay couples by declaring a free vote on same sex marriage. Harper feels it's important for parliament to revisit the issue, since civilization collapsed after same sex marriage was legalized.
The No Longer Remotely Progressive Conservatives claim they didn't intentionally break Canadian election laws when they neglected to declare convention fees as donations because it was, "a mistake". A party spokesperson claimed this was totally different from Liberal scandals explaining, "they were corrupt, we're just stupid."
A new poll shows that 50 percent of Canadians actually prefer the Liberals' national daycare program to the Tories' $1200 popcorn and beer rebate. They just forgot to vote for it.
Stephen Harper decided to skip the opening of the international AIDS forum in Toronto even though several other world leaders, including Bill Gates, are expected to be there. A spokesman for the Prime Minister's office claims Harper's unable to attend because he has tickets to Lord of the Rings.
Horton hears a howitzer
The Canadian government finally proved we're serious about staying in Afghanistan, by following their recent vote with the construction of a Tim Horton's outlet in Kandahar. The new location is there to thank the soldiers for risking being blown to TimBits.
Defense Minister Gordon O'Connor announced plans to spend $2.1 billion to acquire three naval supply ships. However, this is going to put the government so close to the salary cap that they're expected to lose the rights to the air force and Ed Jovanovski.
The federal Liberal leadership race continues to heat up as most Canadians now know the name of at least one of the candidates. Unfortunately, that candidate is Joe Volpe and they learned his name when he was accused of accepting illegal donations.
Quebec Premier Jean Charest double-dog-dared Bloc Quebecois leader, Gilles Duceppe to bring down the federal government over its refusal to pay its share of Quebec's greenhouse gas emission program. Asked why he wouldn't topple the government, Duceppe replied, "bring down the government when I hold the balance of power? What kind of blithering idiot do you think I am, Jack Layton?"
James in Campbell's Soup
According to a new Ipsos Reid poll, BC Premier Gordon Campbell now has a 52 percent approval rating and 44 percent of union households support the Liberal party. NDP Leader Carole James responded by declaring victory, claiming that her plans to separate her party from the BC labour movement have succeeded beyond her wildest dreams.
More good news for James -- the 2010 Olympics are already $110 million over budget. The Olympic Organizing Committee admits they may have spent too much money signing goalie, Roberto Luongo.
Harrison Hot Springs was the site of a major pot bust, finally answering the question – what is it about that water that makes people so mellow.
Canada's Next Top Anchor?
CBC TV announced plans to bump their flagship news show on Tuesday nights to make room for the US reality show: The One: Making a Music Star. Peter Mansbridge says he wasn't upset until he discovered that The National would also be adding a dozen new anchors in September and each week, one of them would be voted off the island.
Already off the island is CBC sports stud, Brian Williams, who defected to CTV – Canada's new Olympic station. Meanwhile, a Senate committee has suggested CBC stop broadcasting sporting events and get back to its primary mandate of showing earnest, boring television and radio for people who don't like music, to give the ReformaTories the political clout to gut it completely.
CBC also announced plans to lock Mr. Dressup in the tickle trunk. Ernie Coombs, who died in 2001, is finally being retired. CBC plans to replace Dressup with a US style reality show featuring Casey, Finnegan and Paris Hilton.
Wendy's naked, Winnie's hot and bothered
Oh, bother. Winnie the Pooh fell into the honey pot at the US Supreme Court in a battle over $6 billion a year in royalties – which explains why Piglet was last seen dating Paris Hilton.
The hospital that holds the rights to J.M. Barrie's children's classic, Peter Pan, has Panned a new graphic novel for being too graphic. Alan Moore's The Lost Girl features Wendy exploring her sexuality with Wonderland's Alice and Oz's favourite slipper girl, Dorothy. Moore (V for Vendetta; From Hell and The League of Extraordinary Gentlemen) said he felt it was time to explore erotica in the hopes that no one from Hollywood would option his work and turn it into yet another terrible movie.
Brad Pitt and Angelina Farrow Jolie announced plans to adopt one more child and two more nannies.
Ex-Mrs. Tom Cruise, Nicole Kidman, married for the second time, hooking up with country singer, Keith Urban. Kidman wore white.
Urban says he's thrilled about the marriage to Kidman, but he's also thrilled to know that in ten years he'll be married to Katie Holmes. Says Urban, "I was a huge Dawson's Creek fan."
The Forbes Celebrity Power list named Tom Cruise the number one star on the planet. However, they neglected to say which planet.
Montreal Canadians goalie, Jose Theodore has been spotted nightclubbing with Paris Hilton. Theodore is married with a three-month-old baby, but Hilton apparently bought out his contract.
British music fans have declared that the Oasis album, Definitely, Maybe was, "the greatest album of all time" – finally explaining why the British invasion pretty much stopped with the Beatles.
Harry Potter may be heading for Potter's Field as author JK Rowling admits that at least two characters will die in the final book in her insanely popular series. Rowling admitted that she's tempted to kill off Harry since she's pretty sick of him too.
Britney Spears finally posed nude now that no one wants to see her naked. The pregnant former singer turned up on the cover of Harper's Bazaar in the hopes of an invitation to join the cast of The Surreal Life.
Buffett lands in Margaritaville, Bush Courts Supremes
The world's second richest man, Warren Buffett, announced plans to give away 85 percent of his fortune to charity -- most of it to the Bill and Melinda Gates Foundation. Buffett declared that he had too much money and was immediately investigated for being un-American.
Right wing windbag, Rush Limbaugh apparently had an exciting vacation in the Dominican Republic. When he returned to the US he was busted at the airport for carrying a bottle of Viagra without a prescription. The customs agents say they became suspicious because, "nobody's ever that happy to see us."
According to Esquire Magazine most American men would rather have dinner with Condoleeza Rice than Jennifer Aniston. In related news, Vince Vaughn apparently left Aniston for Rice and they've already adopted their first seven children.
A new survey shows that most American college students now prefer iPods to beer – proving that the Christian right has officially won the culture wars.
The US Supreme Court ruled that President Bush did not have a legal right to order military trials for detainees at Guantanamo Bay. They also finally admitted that Al Gore actually won in 2000.
Mark Leiren-Young, a screenwriter, playwright and journalist, files his 'Fast Rewinds' of the news for The Tyee at the end of every month.