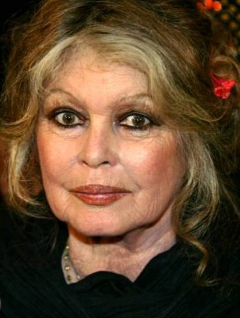 It was an Oscar-winning month where the prime minister went to Afghanistan but refused to stay there, BC Finance Minister Carole Taylor played "Let's Make A Deal" and Canada sealed our international reputation with ex-sex kittens. Let's talk about what happened, because Conservative MPs can't - at least not without the PM's prior approval.
At the North American unity summit, US President George Bush greeted Stephen Harper with the word "hola" which is Spanish for "hello." Bush then congratulated Harper on his outstanding work as President of Mexico.
George Bush also praised Stephen Harper's "steely resolve" on the issue of softwood lumber. Harper responded by praising the president's buff physique, piercing eyes and bitchin' tan.
On his recent visit to Afghanistan, Stephen Harper told Canada's troops they'll be staying in Afghanistan…because otherwise he'd have to show his support for "the war on terror" by sending them to Iraq…
Back on the home front, Harper refused to acknowledge the authority of Ethics Commissioner Bernard Shapiro to investigate the cabinet appointment of David Emerson…until Harper and Emerson were cleared and Shapiro was labeled a genius.
Prime Minister Stephen Harper refused to meet with anti-sealing protester Brigitte Bardot. Harper said he has no interest in discussing federal policy with the 71-year-old actress, "but if Jessica Alba wants to talk…"
After a US family sent a letter to the federal government saying they were canceling their trip to Canada because they were upset over the cruelty of the seal hunt, Liberal Senator Céline Hervieux-Payette suggested that perhaps they should be more upset about "the daily massacre of innocent people in Iraq, the execution of prisoners -- mainly blacks -- in American prisons, the massive sale of handguns to Americans, the destabilization of the entire world by the American government's aggressive foreign policy, etc." The family agreed that war, torture and capital punishment are unpleasant "but seals are really cute."
Fiddling while Libs burn…
As it becomes apparent that the number one qualification for the Liberal leadership is minimal previous involvement with the Liberal party, the list of contenders continues to grow. Among the new potential candidates…Preston Manning, Joe Clark, Brian Mulroney and current NDP leader Jack Layton. Says Layton "I already led the Liberal party before the last election."
Juno Award winning fiddler Ashley MacIsaac has announced plans to run for the leadership of the Liberals in order to stop Quebec from separating. MacIsaac is certain he has a lock on the crazy vote, especially with Sheila Copps out of the race.
Rookie MP Michael Ignatieff is considering mounting a challenge to MacIsaac. Asked to respond to claims he's trying to establish himself as the next Pierre Trudeau, Ignatieff replied "fuddleduddle" before pirouetting off to his canoe.
A group of Quebec Liberals has suggested that former Prime Minister Paul Martin Jr. return for a rematch against Stephen Harper, but only if the party's highest profile candidate is Ashley MacIsaac.
Back in Campbell country…
BC Attorney General Wally Oppal has introduced a bill that will allow people or organizations to apologize for their actions without admitting any legal or financial responsibility. Meanwhile, the US government finally agreed to apologize for their refusal to pay Canada the five billion dollars owed over softwood lumber.
The University of British Columbus shocked the academic world by recruiting Nobel prize-winning physicist Carl Weiman to the faculty. Apparently, Weiman was impressed by the university's commitment to boost its teaching budget and the chance to study particles on Wreck Beach.
In a recent column, BC ReformaTory™ MP Colin Mayes suggested that reporters who write inaccurate or distorted articles should be "hauled off in handcuffs." So I'm gonna play it safe and let you come up with your own punchline for this one.
Not only has the Not So Honourable David Emerson stubbornly refused to resign his seat after joining the Tory party seconds after being elected as a Liberal MP, but he rubbed further salt in the wound by announcing that now that he's no longer a member of the Liberals, he's planning to run for party leader.
"Hockey nut station" CKNW was crosschecked by Team 1040, losing the broadcast rights to Canucks games. Said an NW spokesman "Go Flames Go."
This month in the USA…
Deadeye Dick Cheney didn't shoot anyone.
US President George Bush claimed that "victory" is still possible in Iraq. Asked to define victory, Bush asked if he could define "is," instead.
New Orleans celebrated Mardi Gras, but it was a little different from past celebrations. This year, residents received beads for flashing federal rescue officials.
A new survey shows that most Americans are more familiar with The Simpsons than The First Amendment. Educators aren't concerned though, noting that unlike First Amendment rights, The Simpsons hasn't been cancelled.
And pop goes the culture…
The Lord of the Rings musical opened in Toronto allowing Torontonians to boast that they are now absolutely a world-class city…in Middle Earth.
Pamela Anderson is hosting the Junos this year, but the awards are being renamed "The Silicone Globes."
Following the release of a book claiming baseball star Barry Bonds used steroids, Major League Baseball has decided to investigate the allegations, before dismissing them.
Supermodel Naomi Campbell has been charged with assaulting her housekeeper with a mobile phone. This is the second time Campbell has been charged with assaulting her staff with a phone and her lawyers plan to argue this is either a long distance call for help or a truly desperate attempt to hook up a date with Russell Crowe.
National treasure Margaret Atwood has invented a new device that allows authors to autograph books long distance. Atwood apparently did this to get closer to her fans.
Alleged rock star Phil Collins split with his Swiss-born wife, Orianne. Apparently, she finally listed to "Sususudio."
Yanni was arrested for allegedly assaulting his girlfriend. Those charges were dropped, but charges of emotional cruelty for making her listen to his latest CD are still pending.
Back to Basic
South Park's Chef burnt the hit show after it made fun of Scientology. Scientologist Isaac Hayes claimed he was shocked to discover the show was disrespectful to religion. Creators Matt Stone and Trey Parker were shocked to discover that after ten years of working on the series, Hayes had clearly never bothered to watch an episode.
Calcified Beatle Paul McCartney arrived in Canada to demand an end to the seal hunt. And a date with Brigitte Bardot. Meanwhile, psychics organized a pay-per-view séance to contact John Lennon…and ask him about the seal hunt.
Apple Corps Ltd., The Beatles' record company, is suing Apple Computers over the trademark rights to the apple image. The winner of the court battle will face-off against Adam and Eve.
Following Crash's win for best picture, Brokeback Mountain author Annie Proulx blamed Hollywood homophobia for her movie's defeat, explaining that there was no other possible explanation for a movie, which was shot in Canada by a Taiwanese director, to lose to a movie about Los Angeles, voted on by LA residents. Meanwhile, supporters of Munich claimed their movie only lost because Hollywood is clearly anti-Semitic.
And fans of Deuce Bigalow: European Gigolo complained that their movie was only shut out of the Oscar race because it sucked.
Meanwhile, CRAZY, a movie about a father learning to love his gay son, swept the Genies and the Jutra Awards, prompting charges from Proulx that the Canadian film industry is heterophobic
And finally, Basic Instinct 2 opened…along with Sharon Stone's legs. If the movie's a success, Stone plans to follow up with Basic Instinct 3 before spending her retirement protesting the Canadian seal hunt.
Mark Leiren-Young, a screenwriter, playwright and journalist, files his 'Fast Rewinds' of the news for The Tyee at the end of every month.