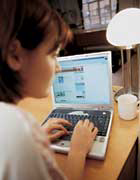 Vancouver, 2010 AD: Mohammad Smith cheers as his favourite athlete competes in the Olympic speed skating competition. During the medal ceremony, he takes a videoclip with his digital camera and emails it to his family in Afghanistan, making a quick digital phone call to notify them. He then checks the online schedule to see what event is up next. He does all this from his seat in the bleachers.
Right now, several US cities are building or planning to build citywide wireless networks, including San Francisco and Philadelphia, to attract business, support city workers and deliver broadband access to residents. Even hurricane-ravaged New Orleans has a plan to rebuild with a municipally owned, free-access wireless network. Here in Canada, Fredericton, NB has had a city-owned wireless network that covers the downtown business district and some parks and arenas.
But what about the supposedly world-class city of Vancouver, BC? Will we have a wireless network for the Olympics? And if so, who will build and operate it?
Ladner dubious
There's also the question of whether we actually need it. While Vancouver's Vision party was strongly in favour of building a wireless network for Vancouver in partnership with a private wireless provider, and while Mayor Sam Sullivan said, "I actually think it has a lot of merit," NPA city councillor Peter Ladner takes a more cautious approach in studying this idea. "What is it we're trying to do? That's the part I haven't figured out."
"There are two models that I'm aware of," continues Ladner. "One is where you're supposedly enabling business people who come to our city to flip open their laptops and get free Internet access wherever they are. The other one is where you want to enable low-income people who can't afford wireless access at home to get it out through the public domain somehow."
Ladner is skeptical of both rationales for a city-owned network. Wireless access is already common in offices, cafés, airports, hotels and other places businesspeople frequent, and it's spreading rapidly, so no urgent need there. And people traveling on business usually accept having to pay for access.
As for providing access to low-income people, Ladner is also dubious. "Is somebody supposed to already own a laptop, but not be able to afford connectivity? That's seems an odd kind of thing…How many people who would like to get access now can't get it through places like their school, their university, their college, the public library? There's lots of places in the Downtown Eastside where you can go and just sign on; the Carnegie Centre for instance."
Wiring biz
While the city governments ponder the issue, activist groups across the continent spread the word about free wireless access through the grassroots. In Toronto, there are two organizations working towards a free wireless network: Wireless Toronto and the Toronto Wireless Community Network. Montreal has Île sans Fil, which created the open source application WifiDog for managing wireless access.
In this province, the main advocate of public wireless is the BC Wireless Network Society, an all-volunteer organization with no outside funding. Incorporated in 2004, the BCWN has about 500 registered users and more than 90 volunteers. Matthew Asham, the society's director, says, "We have geeks, we have nerds, we have socialists, we have hackers, we've got pharmacists, we've got city councilors, we have lots of people."
In BC's cities, BCWN's main project is to encourage the growth of free hotspots, local wireless access points at coffee shops, restaurants and other businesses.
Deborah Moffat, BCWN's volunteer coordinator and the manager of the ABC Country restaurant in Burnaby, says offering free wireless is valuable to businesses. "Maybe you have thirty [customers in the restaurant], and five of them are logged on, that's pretty good. That's five [customers] you might not have had, had you not had wireless. If I were alone, and I would choose the place with wireless. Also, if I had a meeting, I would choose the place that had wireless."
But businesses often lack the technical skill to prevent malicious users from launching viruses or spam or hogging bandwidth. That's why BCWN's programmers are working on modified version of Île sans Fil's WifiDog application. WifiDog makes it simpler to prevent hotspot misuse, by requiring the user to log in with a central server, which would be run by BCWN.
Safe and secure?
Asham says this application will also address another major concern of wireless users: security. "As a registered incorporation, we are bound by law. We have privacy laws that protect the users. I'm not going to give my username, my password, my home address and my phone number to Joe Random-Coffee-Shop-Owner. I'm sorry, I'm not going to do that.
"From that perspective, I believe that having the society being responsible for the safety of its users is very, very important. I think a non-profit tends to be more trustworthy as a matter of public perception than a government [agency], which has different privacy rules, or a corporation, which tends to sell information. We have no desire, no need, no ambition to go out and sell people's private data."
What are other differences between free and commercial network providers? BCWN would also provide technical support to business owners who used their service, though on a volunteer basis instead of a commercial provider's guaranteed service. The differences in speed and technical support are what will keep free wireless from directly competing with commercial providers.
"I don't see it being as good as a commercial provider," says Joe Bowser, BCWN's hotspot coordinator and a Linux consultant. "I don't see there being that much technical support for it. I think there will be volunteer-based technical support. There will be some services that a community network still won't be able to provide, like speed guarantees...in comparison to a commercial provider. You get what you pay for."
Community building
BCWN also sees hotspots as a way of encouraging community involvement. Users who log on through a WifiDog-equipped hotspot will see a logon page that will say something along the lines of, "Welcome to Ed's Coffee House. Here are our lunch specials." It will also provide links to gallery shows, poetry readings, block parties and other neighborhood events.
Moffat sees this kind of community building as a way of fighting the influence of globalization on our society. "I think this is a small attempt at taking a step back in your own backyard."
"Remember the days when you lived in a neighborhood, and all the mothers knew who you were? And they'd all know whether you were supposed to be home or not, and you couldn't get away with anything, because everyone knew you and it was wonderful and everyone was looking out for you all the time? That's gone. And it's gone because nobody feels a part of a small community anymore."
Does Moffat believe that local wireless access will bring back a lost era? "I'm not that naïve. I said it was a step. It brings one thing back a level, so people can start to see themselves as part of a community, instead of part of this giant, global consumer purgatory."
Asham says that it's likely there will be some kind of wireless network in Vancouver, one way or another. "I think it will happen regardless, if someone comes out and builds it intentionally, or if it happens as a natural side effect of Wifi being so predominant…There's an open Linksys [access point] everywhere, practically." New wireless technologies may be used to expand hotspots into hotzones which could cover entire neighborhoods, owned by local community groups like strata councils or condo boards.
Who's it for?
The key point is whether the network will benefit the people of Vancouver or whether it will be built and operated for corporate purposes. The concern of the activists is that, to build a piece of showcase technology to impress the world for the Olympics, the city would leave Vancouver's residents with nothing. For instance, the wifi network could be prohibitively expensive for regular users, based on a non-sustainable technology, or transmitted by Olympic kiosks that would be dismantled once the events are over.
Bowser says, "If they're already using some existing money to create the network, then it should be free to everybody in Vancouver. Just like funding libraries or the arts, or building a stadium. It's another piece of infrastructure that they're adding and they own."
"I don't want to see any network go the way of the McBarge [from Expo 86]," he adds.
Vancouver writer Peter Tupper is a regular contributor to The Tyee.