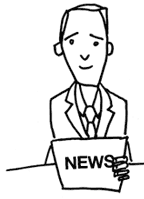 People who hope blogging will revolutionize politics may be surprised by the results of an experiment at the UBC Journalism School. After extensive analysis of media coverage of the municipal elections, the Thunderbird Online Journalism Review has found that blogs pale in comparison to some corporate media.
"Vancouver's blogosphere is just not being charged up by this election," said UBC Journalism Professor Mark Schneider.
In contrast, both Schneider and Richard Warnica, the student who is leading the project, singled out CanWest publications the Vancouver Courier and the Vancouver Sun for their excellent coverage.
Schneider theorized that there is "something about Canadian reserve and respect for decorum which prevents bloggers from expressing themselves enthusiastically."
By contrast, their American counterparts have been credited with breaking stories and both the Democratic and Republican parties allowed bloggers to cover their nominating conventions in the run-up to the 2004 presidential election.
Unplugged TV
Warnica said very little original elections reporting is being done by local bloggers, who often take their cues from the mainstream media. But firewalls prevent online access to many stories, which further decreases their ability to debate issues.
Another surprising finding of the media analysis project is the dearth of elections coverage on television.
"TV is a big one - it's where most people get their news. (The election) has been completely off the radar," said Warnica.
Schneider said that a local television news manager confided to him that people are not interested in this election, so the station planned to wait until the last week before covering it in any depth.
Light 'Dose'
The three commuter dailies - Metro, Dose and 24 Hours - also got poor marks. Dose's coverage has been "sterile" said Schneider, while "24 Hours is best by a margin," according to Warnica.
The project has 15 graduate students scouring the media everyday, tracking election coverage to determine "what becomes a big story and why," said Warnica.
Sources span the media landscape, including blogs and other online news sources, television stations, as well as big and small newspapers.
"I don't think there's any news organization in Vancouver that could afford to put 15 people on a municipal election," said Schneider, a former BCTV bureau chief with 25 years of journalism experience.
If there is a lesson to emerge from the experiment it is this, according to Warnica, "If you really want to get a picture of what's going on, you have to go to three, four, five sources."
Jared Ferrie is reporting on municipal elections and other issues for The Tyee.