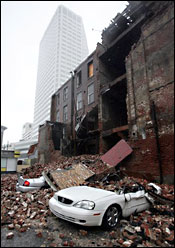 [Editor's note: This was sent to the Vancouver Sun's letters editor before noon on Monday. Not having heard back, Fellman passes it on to The Tyee to publish.]
How peculiar that the Sun editorial for September 5 presented an anti-government, Fraser Institute reading of BC taxes without any hint of irony or awareness that this ideology is to a considerable extent to blame for the disastrous lack of response to the disaster in New Orleans, a subject the Sun has covered thoroughly for the past week.
The right wingers in charge of the American government and economy, basing themselves on the proposition that government is the problem, stripped it of resources through tax hand-outs to the rich and an unintelligent and costly foreign war. Then when a genuine social emergency came along, the resources were lacking to fight it. The National Guard of Louisiana is in Iraq, the Federal Emergency Management Agency is stripped of funds and purged of intelligent leadership, and preventative measures such as preserving the Louisiana wetlands and shoring up the levees have remained unfunded so the wealthy can pay lower taxes.
Taxes as evil
Now, after the fact, the costs of rebuilding New Orleans will be enormously greater than such concerted preventative governmental investment would have been. And the president lacks the civic consciousness that ought to have propelled him into action the moment Katrina was on the horizon.
The Sun editorialists, perhaps not fully consciously, subscribe to the same notion that the private marketplace is the Greatest Good and that government ought to strip itself of taxes and just get out of the way. "BC might want to rethink its discriminatory tax treatment of big business," the Sun tells us. Taxes on capital are "perverse...destructive and distorting." Combined federal and provincial income taxes "confiscate roughly 44 percent of income" of those whose net tax is $88,000 or more.
In this reading, taxes are an unnecessary evil. Stripped of its income, of course, BC and Canada would not have the resources to handle the huge earthquake that might level Richmond. The private sector cannot and will not deal with general social catastrophes like this either. So it is clear that some of our lives are lived together with our fellow citizens, rich and poor alike, that there are social goods that need protection, not destruction, and that the social good means taxes and active government.
New Orleans clearly demonstrates this proposition, and I for one find it a tad callous as well as doctrinaire to use such inflammatory language about taxes that provide for the general welfare even while New Orleans is drowning.
Michael Fellman is an SFU professor of history with a focus on the United States, and is Director of SFU's Liberal Studies Program there. He writes occasionally for The Tyee.