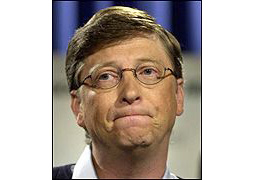 The Google IPO is ready for launch. Granted, the Internet software giant has scaled down expectations some, lowering the predicted price of shares from as high as $135 to as low a $85. And 7 million fewer shares will be sold, down to 19.6 million.
Still, that ain't chump change. Google now will have the capital and the profits needed to take on the Microsoft empire. The battleground is right here, the Internet.
Battles of old
Owning the desktop was the cyber goal of the 1990s. Microsoft won. Windows, awful as the early versions were, simply rolled over competing operating systems like the Marines through Najef. In Windows' wake Word, Excel, the horrors of Power Point and the various, bug ridden versions of Internet Explorer infested PC's worldwide.
Nothing, it seemed, was big enough to take on Microsoft. Apple was relegated to the computing Galapagos where it grew into strange, highly adapted forms with its own processors and software which did not provide the blue screen of death. Apple products dropped out of the main evolutionary path of the PC.
Linux began a direct assault on the shrine of DOS/Windows. The holy of holies, the operating system was strafed, undermined and generally laughed at by the adorable Penguin brigade. Linux is touted as open source, which it is, and free which it is sort of. The problem being that you have to hire your own geek or have a handy twelve year old, to actually get the thing to run on a PC. Linux developers traded off user friendliness against stability. No question, Linux is damned stable and about as user friendly as a porcupine. Redmond was annoyed at losing some of its internet server business and having to compete against "free" in the corporate sector; but the Linux threat barely registered at the consumer end of the market.
Gmail portends revolution
Microsoft's biggest weakness is that it did not quite "get" the internet. For a while there it looked like Netscape would "own" the browser market. But Microsoft roared back and held 95% of the browser market by early 2004. However, a shift may be happening. The Guardian reports that, for the first time since 1997, Microsoft's share slipped slightly: from 95% to 94%. It's unlikely Bill Gates is losing too much sleep at this point.
What may be keeping the folks at Redmond awake is the combination of factors which may make browsers the de facto operating and application systems of the future. Owning the dominant operating system for PCs has given Microsoft the whip hand in the first twenty years of personal computing. But what if the operating system ceases to matter much?
Gmail, the Google email appliance, gives its users one gigabyte of storage space. More than they are likely use for all their purely text email. Bought in bulk, hard drive space now costs literally pennies a gigabyte and the Adwords driven revenue model is likely to cover the hard costs of the service. For the moment Gmail users cannot access that Gig directly, it is only for email.
What broadband makes possible
Now, imagine that Google includes full featured word processing. (At the moment I can't even figure out how to do italics; but that will certainly change.) And a printer interface. And a spreadsheet. And instant messaging. And a 5 Gig "working disk" which a user can "see" and use to store whatever data the user wants to. (Over at Google subsidiary Blogger.com, blogs have unlimited diskspace and a very reasonable word processor…hmmmm.)
Five years ago, while providing this sort of suite and storage would have been possible over the net, it would have been expensive and a bit pointless because the average connection speed topped out at 56K. Editing a letter would take forever. Now, with the relentless march of broadband, text and relatively small graphics, can be accessed remotely without much lag.
It is not too difficult to imagine Google offering such a suite and giving users a remote virtual hard drive to store their material all as part of their Gmail service. It is also not difficult to imagine Google optimizing its offer for non-IE, open source, browsers. It would, of course, still work with IE.
Supported by the Net
In principle you would still have to have an operating system on your machine to keep your local drives and programs running; but that system would be increasingly irrelevant to the actual operation of your computer. Essentially you would turn your machine on, be connected to the net and use the Google provided programs throughout your working day.
Running a word processor or speadsheet over the net does not, in fact require much bandwidth if the documents are actually stored at the remote location while they are being worked on.
Microsoft led the way by using Explorer as a means not only to navigate the Internet but also the storage and programs on the user's own computer. However, IE has not been significantly upgraded since the arrival of Windows XP and has not really been optimized to take advantage of the increases in speed offered by broadband.
Hardware to become free?
The key link, and one which is presently missing from the browsers which compete with IE, is the seamless integration of local and remote hard drives and the programs they contain. Essentially, for the remote application idea to work well, a browser would have to "see" all of the storage media to which a given computer has access and the programs stored on those drives.
"Bill Gates and I agree," Sun Microsystems COO Jonathan Schwatz told Reuters, "that within four to five years hardware will be free." Hardware would be given away free in exchange for a commitment to use particular software which would cost something. However, matching the Adsense revenue model with a basic suite of programs would mean that the software was effectively free as well.
Ben Hammersley's Guardian article suggests this sort of remote computing would be fine for the routine tasks like word processing but would not be suited to graphics or video where files are large and processing requirements are significant. Likely he is right for the moment. However, while graphic designers will want their own high powered boxes, the rest of us who have simpler requirements, may well be able to use online services. If the advertising revenue model were used the remote software would be effectively free, (imagine a company which offered to print photographs from digital files - they would sure want to be on the page where you accessed Adobe Red Eye Corrector).
Google browsing for a browser?
Google - in either its search or its news mode - is fast becoming the "home page" for millions of web users. However, Google does not actually control the browser which brings the user to the page.
With the flotation of the Google IPO and the experience Google has gained owning Blogger and inventing G-mail, Google has the option of entering the browser market either by building a better browser or cutting a deal with Mozilla the open source foundation which took over the Netscape/AOL browser and is fast becoming the browser of choice for the computer literate.
A Google browser, perhaps a flavour of the delightful Firefox, could be cross promoted with Blogger/Gmail and the Google search engine. That power of cross promotion, which is not quite a match for the MS monopoly, could put a Google endorsed browser into contention to begin to pick up significant market share. It wouldn't hurt that Firefox is standards compliant and about half again as fast as the latest flavour of IE.
Content will be king
For the consumer all of this is good news. When the competition really heats up free may not be good enough. Inducements, up to and including cash for using a particular system as well as free software and hardware, all make sense if the objective is to bring viewers to content. The consumer's time and attention becomes the thing which Google and its competitors are going to need to make their advertising revenue models work.
For content providers - like The Tyee - the news is even better. While there are millions of websites there are very few that have quality content consistently. For Google and its competitors, owning the advertising on the top sites in particular markets is critical. While the current Adwords model pay a small amount per click, as competition intensifies there will be increasing incentives to "own" the space on popular websites.
Quickly, and the web moves very quickly indeed, the seemingly impregnable Microsoft empire is looking vunerable to challenge. Google man may be the next stage in the evolution of Homo Sapiens which people have been speculating about for years. Late nights in Redmond I suspect.
Jay Currie is a Galiano writer whose writing and blog is at www.reviewing.blogspot.com.