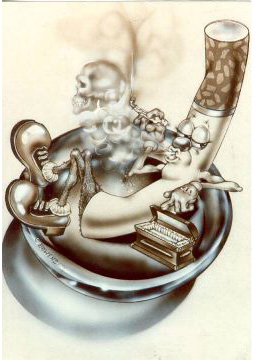 Those of us in the journalism business like to think we're pretty smart in figuring out when we're being "spun" - when some "communications officer" or "public relations officer" or ministerial aide is trying to persuade us to write a story that reflects a view that will benefit their political or business cause. We like to think we're particularly careful in such cases to ensure that we are actually being given the full information available and to make every effort to reflect also the other side of the story, whatever that may be.
I suspect most readers of newspapers and magazines also would tell any pollster that asked them that they too have a high suspicion index, and are good at picking out any news stories or features that are in fact based on the spin provided by a business or political group with a specific axe to grind.
All those of us who harbour such self-beliefs, whether we be writers or readers, will be most distressed to read a detailed academic study published in this month's American Journal of Preventive Medicine. The study shows, without any doubt, that many of us were badly deluded in examining what might considered one of the primary public health topics of the past couple of decades - the health consequences of exposure to secondhand tobacco smoke. The inevitable conclusion from the researchers' work, in fact, is that tobacco giant Philip Morris went to a huge amount of trouble to influence journalists to present the tobacco industry's viewpoint on the issue - and met with remarkable success in return.
Blowing secondhand smoke
The researchers, from such highly-respected institutions as the Mayo Clinic, not only examined the news stories that appeared in the print media on the subject, but also reviewed thousands of previously secret internal tobacco company documents made public as part of the giant lawsuit settlement in the U.S. In particular, the research team concentrated on the industry's reaction to the 1992 decision by the U.S. Environmental Protection Agency to classify secondhand smoke as a human carcinogen - the formal decision that sparked numerous efforts to restrict or ban smoking in workplaces, restaurants and bars in various communities across North America.
The main focus of the study was of events that occurred in the U.S. But it doesn't take much reading between the lines to realize exactly the same sort of media manipulation was going on here in Canada. For instance, the study cited dozens of alleged "scientific experts" who were actually paid by the tobacco industry but were trotted out to the media as "independent" scientists who had "discovered" that secondhand smoke wasn't as bad as some would have you think.
Fraser Institute backed industry's paid 'expert'
One of those alleged "experts" frequently quoted was a former cancer researcher named Gio Gori. And who should turn up in British Columbia in 1999 but Gori, as co-author of a book attacking the EPA decision, entitled "Passive Smoke: The EPA's Betrayal of Science and Policy." The publisher was none other than the well-known right-wing think-tank, the Fraser Institute, which used its influence to get as much positive coverage as possible for the volume. The book was used as ammunition against a new bylaw which had just come into effect in Victoria to ban smoking in all indoor public places - exactly the sort of legislation the tobacco industry had most feared.
From the moment the EPA came down with its ruling, the tobacco industry had been well aware that those smoking bans would be a major risk to its profits. According to the industry documents the researchers studied, within weeks of the decision, Philip Morris had asked its PR firm, the world-wide giant Burson Marsteller, to undertake a program that would "build considerable reasonable doubt … particularly among consumers" about what it saw as the "scientific weaknesses" of the EPA report.
It should be made clear that in the past few years, in the light of ever-increasing evidence, even the tobacco industry has mostly stopped trying to argue that secondhand smoke is not a health hazard. The U.S. National Institute for Occupational Health and Safety wrote just this month, after a review of all the relevant scientific literature: "Among blue-collar workers, workers in the restaurant, bar, and gaming industries are exposed to much higher levels of environmental tobacco smoke (ETS) than are office workers, and are at increased risk of cancer and cardiovascular diseases even if they are non-smokers themselves."
Journalists targeted 'one-on-one'
But back in 1993, the tobacco industry and Burson-Marsteller thought it was still worth a try to raise controversy surrounding the EPA findings. In its report back to Philip Morris, the PR firm suggested media strategies that would focus on "one-on-one opportunities with journalists and editorial writers rather than … on the herd of daily journalists." These "opportunities," it suggested, would be "supplemented by carefully tailored, authored, placed pieces."
The next step, the researchers found, was to hire a media and political consultant in Washington by the name of Richard Hines. A major lobbyist in Washington, D.C. whose clients include the government of Cambodia, Hines himself is an interesting addition to almost any political debate. A former South Carolina state legislator, Hines is best known in the U.S. for his "neo-Confederate" views, supporting the pro-slavery southern states from the time of American Civil War 140 years ago. He is also a very active supporter of President George W. Bush, credited by some as being the individual who ensured that Bush actually got the Republican nomination back in 2000.
But back in the mid-1990s, Hines's job was to persuade a number of prominent writers to develop articles critical of the EPA report, suggesting it was based on political considerations, and not good science. In March 1993, just three months after the report was made public, a Philip Morris vice-president wrote a memo, reporting that Hines "is responsible for a number of articles that have appeared in … major news publications" on the issue. Hines himself wrote that he had been able to develop "a selected network of journalists" and hence to "reach millions of the public through numerous syndicated columnists that are in our network." Most of those in the "network" were apparently columnists and editorial writers who'd already shown a pronounced opposition to what they saw as too much government regulation in the lives of citizens.
Morris funded 'National Journalism Center'
But Philip Morris went even further. It provided funding for a U.S. journalism school called the National Journalism Center, which was founded by a small-c conservative journalist in 1977 and works to provide training for young and student journalists in the conservative, free-enterprise view of the world. Through its support, Philip Morris was able to provide seminars on secondhand smoke to young journalists at the Centre and to have access to graduates of the program, many of whom also wrote articles echoing the tobacco industry's view of the issues.
A third tactic was for Philip Morris to work with conservative think-tanks to have pieces placed on op-ed pages by writers for the think-tanks.
The study notes, for instance, that one of the "scientific consultants" quoted in many of the orchestrated studies was the earlier mentioned Gio Gori, who was actually being paid by the tobacco industry at the time, although this was not known publicly until much later.
The authors of the Preventive Medicine article warn that the full details of just how much the tobacco industry directly and indirectly influenced journalistic coverage will probably never be known as all the industry documents aren't available to be made public.
But even the information made available so far should be enough to warn readers of the mainstream media that if high-powered players are at work, suspicion should be the watchword of the day.
Barbara McLintock is contributing editor to The Tyee.