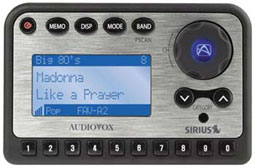 Would you pay a subscription fee for radio?
Three different companies think the Canadian listener will, and they're bidding for CRTC licenses to bring a new kind of radio to this country. At stake may be the future of radio in Canada.
In the U.S., two satellite radio companies, XM Radio and Sirius, have surprised everyone with their rapid growth over the past few years, currently boasting about 2 million subscribers combined.
Both companies sell monthly subscriptions to satellite broadcasts of more than a hundred channels each of music, talk and news, many of them commercial-free.
XM provides multiple channels of the major genres (fifteen for rocks, seven for country, seven for hip-hop and urban), as well as three Christian music channels, three for classical, two Latin channels and more. There's also a full slate of news, sports, talk and entertainment programming. Basic service costs US$9.99 per month. Sirius, the number two service, provides a comparable menu of programming for US $12.95 per month.
Canadian gray market
Technically, gray market satellite radio is already available in Canada. The satellite's footprints extend beyond the U.S. borders, and signals can be received as far north as Edmonton.
A number of Canadians with U.S. billing addresses subscribe to the services, using receivers purchased south of the border. Nobody knows how many there are, but there is anecdotal evidence to suggest a significant following, including posts on www.xmfan.com and www.siriusbackstage.com
Canadians have responded enthusiastically to talk of adding satellite radio to CBC offerings. "When we went public with this," says John Lewis, corporate director of business development at the CBC, "we were flooded with emails from Canadians, saying that they currently are subscribers, or they want to be, or [asking] how can they be... Clearly the gray market is there and growing."
The contenders
Currently, there are three companies applying for broadcast licenses from the CRTC. These proposals will be made public during this summer, with a hearing expected in the fall, and a possible rollout early in 2005. The applicants are:
Canadian Satellite Radio Inc. (CSR) is a partnership between XM Radio and Toronto entrepreneurs John Bitove, Jr., former owner of the Toronto Raptors, and Stewart Lyons.
Sirius/CBC/Standard is a partnership between SIRIUS Satellite Radio, Canadian media company Standard Radio and CBC/Radio-Canada. Standard Radio consists of 51 radio stations and reaches 6.5 million Canadians every week. It also includes Iceberg Radio, Canada's largest streaming audio portal.
The CBC plans to add four channels to the existing Sirius lineup, two in English and two in French.
CHUM Ltd., a Canadian company, is the third firm to submit a proposal. Unlike the other two satellite services, CHUM plans to partner with a wireless provider, such as Rogers Wireless or Bell Mobility, to provide nation-wide subscriber digital radio, using DAB (Digital Audio Broadcast) technology and terrestrial transmitters. The initial roll-out would be in Vancouver, Montreal, Ottawa and Toronto, later expanding to more of the country.
Duff Roman, vice-president of industry affairs for CHUM Ltd. says, "Our plan is to provide a subscription service at ten Canadian dollars [per month] for no less than fifty and up to a hundred channels, just like XM and Sirius, and a price point for the receiver of $99. And you can go through the gamut of mainstream and niche formats, all non-commercial incidentally."
Going against the grain
It's often said that radio's three strengths are that it is free, local and portable. Satellite radio is only one of those: portable.
Satellite radio was originally marketed to truckers and other long-haul drivers, and receivers were designed to be included in cars and trucks. They retail starting at US$70. Many car stereos come with "Sirius ready" or "XM ready" decals and auto manufacturers now offer satellite radios as options or even standard equipment on new models.
Other receivers are portable, designed to be taken from your car to your home or office, or connected to a boom box. The history of technology suggests that, if the services continue business, receivers will become cheaper and smaller.
Paying for choice
But radio in North America has been free for the better part of a century. What will make listeners willing to pay? The CBC's John Lewis is confident of the service's appeal: "We... found consumers responded very favorably, in the research, to the notion of CD quality music, [and] the notion that it's a national service so you can travel without having to change channels, particularly of interest to truckers and so on. They liked the idea of new voices, voices that over the radio we don't currently get: BBC, National Public Radio from the States, Australian broadcasting. In particular what they like is the notion of a choice of music. So many Canadians just don't feel that they have the choice of music that they would like to listen to."
Kevin Ribble, a broadcasting instructor at BCIT, agrees that diversity of content is the main attraction. "Radio itself, I think, has gone a little stale in North America. How many different formats are there, and how safe is the music? It's very safe. Whereas, when you've got 80 different formats on Sirius or whatever to play with, that's a lot of formats. You can take risks with a lot of different kinds of music. You can add tunes faster with the particular genre than we do with [terrestrial radio]."
The success of HBO and other pay-TV channels has proved that people will pay a premium for edgy, experimental dramas like The Sopranos and Six Feet Under. However, HBO dramas are significantly different from most network fare. It remains to be seen if subscriber radio can provide something equally compelling.
Some sources have speculated that if a major radio personality like Howard Stern relocated to satellite radio, in the face of increasing pressure from the FCC, he would bring a huge audience with him.
Local angle, Canadian content
People use radio for local information like news, weather, traffic and sports. They also like hearing local DJs talk about community events. Under FCC regulations, satellite radios are forbidden from offering local programming. However, XM gets around this by offering local programming channels for select markets to all subscribers, coast to coast. Should you live in Miami and want to know the weather and traffic in Seattle, you can.
Critics of terrestrial radio say that it has already lost the local content advantage. "Radio is no longer local. That's a bad bunch of BS. They've laid off so many people, they've stopped focusing on local," says Ribble.
While satellite services are exempt from Canadian content services, applicants assert that their services will give Canadian artists greater exposure, both at home and in the U.S.
Stewart Lyons, executive vice-president of Canadian Satellite Radio, says that XM "will be far and away, vastly superior in offering a diverse range of Canadian content than commercial radio could ever hope to play. Our favorite stat is: Ron Sexsmith, who was the 2002 independent artist of the year. Last year he received 12 spins across Canada in the entire year.
On XM, he received over 300. That gives you an example of the diversity of Canadian content being played on XM."
Gary Slaight of Standard Radio agrees. "We think it will be good for Canadian talent.... because there will be a connection between what's being done in Canada and the American arms of both XM and Sirius. Right now, there's no reason or need for them to do anything for Canadian talent in the United States. We have plans, which I can't talk about, whereby the profile and the exposure for Canadian talent in the United States will be improved, if this license is approved."
CHUM's proposal emphasizes being a home-grown Canadian operation, fully compliant with CRTC rules. "We will control all of our content, which means that in the music services, we will be providing the CRTC-recommended levels of Canadian content. We think that's important to an all-Canadian service, which this is, and we think that this provides a significant differentiation from two, essentially foreign satellite [services] that are being brought into Canada," says Roman.
Cranking up conventional radio
All three proposals emphasize that their services will not compete with conventional radio, instead functioning as a complementary niche services. This may be a hard promise to keep, as one of the explanations of the declining audience for radio, particularly among young people, is the many other sources for music and information available, such as burned CDs and Internet radio.
If multiple-channel, subscription radio comes to Canada, this competition could even benefit those who only listen to conventional radio by forcing stations to revamp their programming. Ribble says, "If terrestrial radio's going to compete, it's probably going to have to broaden its formats. There's a lot of niche marketing that goes on in Sirius because you've got 80 music formats to play with. Likely, terrestrial radio's going to have to do that. In order to go after a certain age demo, you're going to have to figure out the music a little tighter."
Satellite radio's competition may also push standard radio to return to its local roots, says Ribble. "Talking about where the band is playing in town, talking about the Sun Run, all those things we take for granted at a good local station, you can't do at XM."
Peter Tupper is a regular contributor to The Tyee.