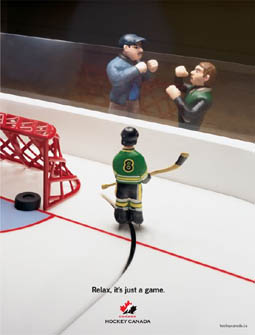 The Tyee.ca
I knew I'd become a truly awful person when I turned away from the woman who died of cancer and said to a friend, "This makes me want to start smoking." We were in an Edmonton movie theatre, watching an ad featuring local anti-smoking crusader Barb Tarbox. Tarbox, after being diagnosed with cancer in September 2002, had dedicated the remaining seven months of her life to teaching kids across Canada about the dangers of tobacco.
I felt bad about it afterward, but I stand by the impulse to mock. Who among us enjoys being preached to after shelling out 13 bucks to see a movie? Let alone twice: next onscreen was the movie industry tearjerker in which tradespeople golly-gosh the audience about how their kids won't be able to go to college because the public is downloading too many advance copies of Win a Date with Tad Hamilton. The unimpressed audience is left to wonder why it isn't Jim Carrey onscreen, telling us how every pirated copy of Liar, Liar is 48 cents he won't have to cover the alimony for his next divorce.
These ads are part of a recent wave of message commercials from the ad firm of Smith, Jones and Your Mother, designed to get us to stop smoking, stealing movies/cable/satellite signals, and even to accept Jesus as our personal and eternal saviour.
Like any kind of ad, there are good message ads and bad ones. The good ones are fun and clever; the bad ones humourless and pedantic.
Straight from the latter textbook are The Coalition Against Satellite Signal Theft's TV ads,which feature a child getting caught shoplifting, then justifying his actions by saying smarmily to his father, "But dad, you steal satellite signals." Pirating parents across Canada thereby learn a valuable lesson: Don't brag to your kids about all the free porn channels you're getting.
Then again, if you think you can get away with simply cracking wise and changing the channel, God knows how to deal with smart alecks like you. Eventually, that is. A TV ad from the Victory Life Christian Centre somewhere in the Pacific Northwest takes us to a funeral home, where a casket opens ominously and the narrator asks us where we're going after we die (hint: it's not Heaven).
Now, to be fair, most of these ads aren't traditional public service announcements: they're self-service ads masquerading as PSAs. But that doesn't mean I'm opposed to their messages: in fact, I'm all for any message other than "buy our crap." But sermo-mercials are fighting an up-mountain battle against some seriously entrenched modes of living, and they need to be good to be effective.
A University of North Carolina study in the mid-1990s found that anti-violence commercials only worked insofar as they weren't drowned out by the culture they were responding to. One of the chief researchers said PSAs act like "a drop of blue dye in a sea of red." The extent to which the "blue" messages stand out depends, for example, on whether the ads avoid hypocrisy, and how well they reflect prevailing social values as they might play out in real life. I'd add that it's also important for PSAs to be entertaining, even artistic.
South of the border, some ad makers seem to agree. Thetruth.com is doing one of the best anti-smoking campaigns since the heady days of Luba and "Break Free." Their ads are highly stylized, but in a rough-hewn way that screams "Teenagers, look here!" We're talking raised voices, a conspiratorial tone, and aggressive, surrealist branding in the form of orange dots affixed to practically everything. The commercials' plots follow a guerilla truth squad around as they perform aggressive public stunts and interviews which dis tobacco companies as the manipulative Lex Luthors they undoubtedly are. They're preachy, but with a "screw you" tone you don't often hear from the pulpit.
Thetruth.com's ads are brilliant partly because they're brilliantly funded (with money from a $206 billion tobacco industry settlement.) But message ads don't need to be well-funded to be effective. The winning ad in MoveOn.org's anti-George W. Bush "Bush in 30 Seconds" contest was created by one person in a few days, with mostly borrowed equipment. It had few actors and no script. The producer used mood music, a compelling premise, and five seconds of onscreen text to craft a mini-story about the legacy of President Bush's tax cuts. The ad is more damning than a year's worth of Paul Krugman columns.
My personal favourite, though, is Hockey Canada's "Relax, It's Just a Game" campaign. Overbearing hockey dads may not be the most important social cause out there, but for the half-minute I spend laughing while a parent demands a urine sample from a five year-old in a potato sack race, it seems like it. And hey, when an ad pisses Don Cherry off, you know it's done something right.
So celebrate the good messengers, my friends, but fear for their evil cousins. My own PSA would ask them this: How many 30-second chunks of power are being wasted by your incompetence? Indeed, how long before we're a nation of unrepentant Satanists watching pirated DVDs and blowing secondhand smoke in our children's faces?
Think about that, if you will, and send me a cheque.
Jeremy Keehn, based in Vancouver, has reported for CBC Montreal and freelanced for CBC Radio and the UBC Thunderbird.