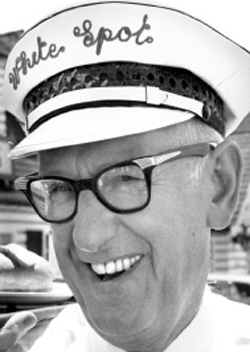 A young man patrolled the rickety wooden grandstand of Athletic Park in Vancouver. He sold peanuts before expanding his business to include hot dogs. He sold the ballpark favourite with a memorable sing-song pitch.
"A loaf of bread, a pound of meat, and all the mustard you can eat," he bellowed in a rich tenor. So mellifluous was his voice they called him Caruso Nat.
Nat Bailey eventually made enough money from hustling goobers and hot dogs to get a Model T truck from which he sold snacks and sandwiches to tourists in Stanley Park. In 1928, he opened his first restaurant way out along south Granville at W. 67th Ave. It was a drive-in, claimed to be the first of its kind in Canada. Seven years later, he opened a sit-down restaurant next door in a building styled like a log cabin from which he advertised chicken dinners. (The birds were raised on a farm in Surrey known as Chicken City.) Bailey called his restaurants White Spot.
While he made a fortune as a restaurateur, he did his best to lose it as a baseball impresario. For years, Bailey fronted a group of local businessmen who kept professional baseball alive in the city, even as the rise of television in the 1950s killed off minor-league baseball as a business. Why pay admission to see prospects when you can watch the game's biggest stars -- Aaron and Williams, Mays and Mantle, the Duke and Harmon Killebrew -- on TV for free? Pro ball found a home in Vancouver only because Bailey kept reaching deeper into his pockets. He also financed dozens of Little League teams in the city.
Bailey will get his posthumous reward Thursday morning when the Canadian Baseball Hall of Fame announces his induction. It is a deserved honour, as he joins Bob Brown in the shrine at St. Marys, Ont., known as Canada's Cooperstown. Both Bailey and Brown were known as Mr. Baseball in this city.
A plain losing proposition
Nat Bailey's name now graces the prettiest ballpark in the land, a bandbox snuggled in the lee of Little Mountain.
Back in 1956, he headed the syndicate that purchased the Oakland Oaks, bringing Pacific Coast League baseball to Vancouver's Capilano Stadium. The new club was named the Mounties.
Their first manager was Lefty O'Doul, who placed himself in as a pinch-hitter in the final game of the 1956 season. The opposing manager brought his outfielders to the infield. O'Doul managed to drive a pitch over their heads and leg it all the way to third base, getting the final hit of a storied career at age 59. In 1959, the Mounties fielded a team of major-league calibre including Marv Breeding, George Bamberger, and a young Brooks Robinson. Despite the talent, the club finished one and a half games behind the Salt Lake City Bees. As it turned out, the Mounties never would win a pennant.
The franchise sputtered along for a dozen seasons (suspending operations for 1963 and 1964), years remembered more for on-field incidents (including a bat-swinging brawl) then for on-field exploits. The teenaged clubhouse attendant was permitted to be the starting pitcher of the final game of the 1968 season. The Mounties closed shop after the 1969 season, during which they had been a farm team for the Montreal Expos and Seattle Pilots, both sad-sack expansion teams whose rosters were filled with castoffs and rejects.
"We never had a year where we made money," Bailey once told the Vancouver Sun. "Minor league baseball is just a plain losing proposition."
The Sun described the business as having "the financial stability of a floating crap game."
Pro ball closed up shop after Bailey withdrew his backing, but returned in 1978 when Harry Ornest launched the Vancouver Canadians. A few months before Opening Day, on March 27, 1978, Bailey died of stomach cancer at age 76. The city honoured Bailey by renaming Capilano Stadium after him.
For the love of the game
Nathaniel Rial Bailey was born on Jan. 31, 1902, at St. Paul, Minn. He came to Vancouver as a boy, attending Henry Hudson Elementary in Kitsilano by day, selling peanuts and popcorn at sporting venues at night and on weekends. He became a well-known figure at Athletic Park, a ball park Bob Brown carved from forest on a bluff overlooking the south shore of False Creek. (Home plate was at the corner of Fifth and Hemlock, a landscape made unrecognizable with the construction of the new Granville Street Bridge. The old ball park was razed for a bridge on-ramp.)
On occasion, young Bailey joined Brown on scouting trips to California, where the pair encouraged young players to sign up to play for an industrial league in Vancouver during the Depression. One of the finer recruits lured north was young Dario Lodigiani of San Francisco, a singles-hitting infielder who would go on to play more than 400 games in the big leagues with the Philadelphia Athletics and Chicago White Sox.
Bailey worked as a cashier for an insurance company before earning enough money to open his first restaurant. The post-war boom turned the drive-ins into a thriving business, some of the profits of which supported Bailey's baseball interest.
The restaurants were sold for millions to a Toronto-based food services company in 1968. Bailey sold out not long after the chain sought a B.C. Supreme Court order barring hippies from the White Spot. Young people who had been refused service at a restaurant on West Broadway organized a picket that attracted more than 300 supporters. Among those named in the writ seeking a restraining order was Dan McLeod, then as now the publisher of the Georgia Straight newspaper. The Sun's headline: "Hippies Harass Hamburger Haven." The dispute was settled when the youth agreed to remove the pickets and the White Spot agreed to serve them "as long as they are clean and do not cause a disturbance."
As longtime president of the Mounties, Bailey was responsible for hiring an outside company to handle concessions. He did not find the concession food to be as good a calibre as available at his own restaurant. So, after the game ended, he would have bags of White Spot hamburgers with Triple-O sauce delivered to the press box for the sports writers to munch on as they completed their stories.