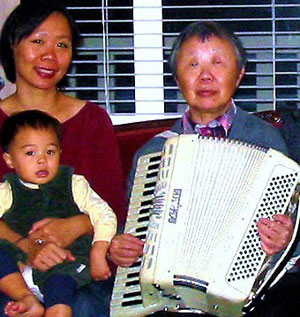 A hornet's nest of condemnation has been stirred up by Amy Chua's recently released parenting memoir, Battle Hymn of the Tiger Mother. Chua, a U.S.-born, Harvard-trained law professor at Yale who is married to a Jewish colleague, chronicles her journey to cultivate her two daughters to fulfill their potential as high achievers amongst America's elite. Chua writes about not allowing her daughters to receive grades less than an A, play anything but the piano or violin, participate in school plays, engage in social activities such as sleepovers and playdates, watch TV or play computer games, or choose their own extracurricular activities.
She describes exhausting, drawn-out power struggles where she employs threats, insults and put-downs to make her kids toe the line. She even (comically) tries out her approach on the family dogs. One time she threatens to burn her eldest daughter's stuffed animal collection if a piece is not played perfectly. Another time, she prevents her youngest daughter from having supper, going to the bathroom or getting a drink of water until a challenging piece is mastered. Eventually, her youngest daughter rebels at age 13, cutting off her hair, and smashing a glass at a café during a family trip to Russia, shouting that she hates her life and her mother, and that she doesn't want to be Chinese. This turning point finally results in Chua relenting -- somewhat.
The Penguin version of her book contains a lengthy subtitle not contained on the British Bloomsbury hardcover: "This was supposed to be a story of how Chinese parents are better at raising kids than Western ones. But instead it's about a bitter clash of cultures, a fleeting taste of glory, and how I am humbled by a 13 year old." However, an excerpt from the book, provocatively entitled "Why Chinese mothers are superior" that appeared in the Wall Street Journal on Jan. 8, is critical of "western" or permissive parenting, which in Chua's view coddles children to their long term detriment, in contrast to "Chinese" or authoritarian, academically focused parenting which benefits children by gearing them for success.
The piece quickly went viral, and received over 5,000 comments, with numerous blog responses appearing across the Internet. The book has also been discussed extensively in the media including The Guardian, the Washington Post, the New York Times, Slate, NPR, The Globe & Mail, and the CBC. Although her approach is not much different from that of some parents who are intensely focused on sports or other physical performance-based activity for their kids (e.g. hockey, ice-skating, tennis), some commentators have expressed outrage, horror or concern, and labelled her approach abusive and damaging, pointing to the high proportion of suicides amongst Asian-American teenagers.
Death threats and debate
Despite doing some damage control and backtracking in follow-up interviews, admitting she has made parenting mistakes and would do things a "little" differently if she could turn back time, Chua has received death threats. (Her eldest daughter has since come out in her defence, publishing an open letter in the New York Post.)
Part of the negative reaction may be due to the tone of the excerpt, which may come across as arrogant, strident or dismissive. In addition, Chua arguably reinforces existing stereotypes about the Asian "model minority" (as Maclean's did in its notorious "'Too Asian?'" article last fall). She uses the shorthand label "Chinese parenting," a misleading term that blithely ignores the diversity in parents' personalities and parenting approaches among parents of Chinese descent. Although she admits that some westernized parents of Chinese ancestry don't raise their kids her way, while other ethnic and immigrant parents do, she doesn't seem to give sufficient weight to how her own strong personality and distinct socio-economic and family background make her parenting approach unique and particularly ferocious.
The author deems an extremely limited number of activities and pursuits worthwhile. It should go without saying that some Asian parents do embrace literature, theatre (which Chua dismisses as a waste of time), visual arts and yes, even team sports. (One recalls the historic BC Mainland Cup win of a group of Chinese-Canadian young men called The Chinese Students which defeated the favoured UBC Varsity Squad in 1933, and later won the Spalding Trophy in 1936).
David Brooks' response in the New York Times to the furor over Chua's book correctly points out that a lot of essential learning goes on outside of formal learning environments, e.g. in the cafeteria or at sleepovers or at the mall, that will become necessary and indeed invaluable in both social and workplace settings later: "Chua would do better to see the classroom as a cognitive break from the truly arduous tests of childhood. Where do they learn how to manage people? Where do they learn to construct and manipulate metaphors? Where do they learn to perceive details of a scene the way a hunter reads a landscape? Where do they learn how to detect their own shortcomings? Where do they learn how to put themselves in others' minds and anticipate others' reactions?"
Mine was no tiger mom
My mother, born in Hong Kong during the year of the Monkey, was a widowed physician and very talented musician (playing the accordion and ukulele as well as piano), who would only occasionally remind us to practice, doing nothing to enforce the reminder. Under no pressure from her parents, she was self-motivated to study both medicine and music because of her interest in both areas.
My parents didn't pressure me either to be a top student, doctor, scientist, accountant or pharmacist. During summer vacation, I chose to take drama and creative writing courses or did secretarial work, and during the school year, I skulked around the halls reading books and writing bad poetry, then came home to bake. A lot of my Asian classmates didn't play any instrument whatsoever. Some were very involved in sports teams. And in China itself, there are reports that the one child policy has fostered the creation of spoilt "little emperors" in urban environments.
Bottom line -- only some Chinese parents are "Tiger" parents like Chua.
Nonetheless, like Chua, I wasn't allowed to go out at night and was drilled in math for a few years during elementary school. I remember my mother raging at me in the kitchen during her numerous and often futile attempts to teach me the principles of algebra years before I had to learn it in school. My ability to solve the questions diminished in inverse proportion to the volume of her berating and shouting. "If you're good at math, everyone will know you're smart," she'd say, having been a math whiz herself as a child, the implied corollary being that if I were bad at math, everyone would think I was stupid.
In the end, particularly with logarithms, physics and chemistry, I probably was and still am, as well as "lazy, cowardly, self-indulgent and pathetic" as Chua describes once calling her daughter. But given Chua's essential argument about the need to push ourselves and practice to realize our full potential, I wonder how many of us (and how many of our children) have failed to strive harder in some significant area of our lives for fear of failure and lack of will or confidence, and that perhaps the denial of this fact partly underlies the tenor of the denunciations.
The 'good' mother?
What also might be behind the strong reaction is the whole issue of good vs. bad mothers. Books which challenge western culture's idealization of motherhood (nurturing, encouraging, gentle, adoring, never shaming or raging) are often blasted. Think of Conflict: The Woman and The Mother by French feminist Elisabeth Badinter, who created quite a stir by arguing that the romanticized notions of what is natural, inherent or ecological are eroding women's hard-won freedom, pushing them back into the domestic realm. Or the huge outcry in France at Corinne Maier's satiric bestseller No Kid: Forty Reasons For Not Having Children, which humorously and subversively relates her regret at having children.
Interestingly, I recently read Jeannette Wall's 2005 memoir The Glass Castle, about her and her three siblings being raised in jaw-dropping poverty by her nomadic and dysfunctional parents in different regions of the U.S. Whether they receive grossly negligent parenting or hyperparenting, children can and do grow up to become stable and successful adults, or the reverse. Genetics, environment, mentors, social support systems, luck -- they all play a part.
Furthermore, I wonder if Chua's type of achievement and prestige-based hyperparenting leads to cultivating a kind of elitism that ultimately fostered the kind of resentment toward the Chinese minority in the Philippines, and toward other similar market-dominant ethnic minorities elsewhere, who have faced violence at the hands of impoverished majorities as described in her fascinating book, World On Fire: How Exporting Free Market Democracy Breeds Ethnic Hatred and Global Instability.
Preparing my son for tomorrow
Much of my parenting revolves around the core values of responsibility, compassion, kindness, self-awareness and citizenship, not just individual achievement (especially challenging given my son's preference for laser tag and war games!). I want him to learn to listen, which means I have to model it myself. Given the state of the environment and the world, I want my child to understand he is part of a larger picture, that he can work with others or alone to make a difference. Like Chua, I want to prepare my child for the future -- but in a different way.
A few years ago, I observed my then six-year-old son crawl under the piano to lie there, refusing to practice prior to his weekly lesson, arms firmly crossed. He had clearly mastered the art of satyagraha, Mahatma Gandhi's political resistance strategy, all by himself. Bemused, I pondered the options. Be authoritarian or permissive? Ignore him and go to the kitchen to make supper? Lecture him about the need for hard work, the value of music and the cost of prepaid lessons? Drag him out from under and force him to play? Utter the typical bribes and threats that frustrated parents have uttered throughout the ages? A combination thereof?
Rather than engaging in power-lifting only to watch him slide back down underneath as had happened once before, this time I mentioned his favourite picture book from preschool, Click Clack Moo, about cows that go on strike when their farmer demands more milk. "I knew I should never have read you that book!" I joked. "You're just like those cows!" He chuckled, his face softening, his arms uncrossing.
Laughing and taking a break was the best way out of the standoff for both of us. I found him a better music teacher (one who actually enjoyed teaching), who employed a method that would still challenge him, but that he'd enjoy. Ultimately it was pleasure and creative expression through music that I wanted to instill, not its opposite, whatever the musical genre or instrument, although discipline and practice would of course be essential components of the process.
Tao of the domestic 'despot'
It's a cliché to say that parenting isn't easy, and that there are contradictory theories and approaches, reflecting different stances culturally, ideologically, psychologically and philosophically. Prior to having kids, we may have preconceptions of how we'll be different from our parents (my case) or conversely, how we will be just like them (Chua's case). But once we are parents, there are thousands of decisions to be made, and constant compromises and adjustments with the occasional about-face. When to be firm, when to be flexible, when to back down? Much as the experts might want us to believe the opposite, there is no magical, cookie-cutter, one size fits all approach, because not only are each individual parent and each kid different, but the environments and circumstances they find themselves in can shift with time.
For fun, I checked out a Taoist Chinese astrology textbook to find out more about those born in the Year of the Tiger, and sure enough, Chua fulfills her destiny: "The Tiger parent is a despotic ruler at home. Children are expected to obey and show respect. Tiger parents' decisions will supersede a child's wishes... Tiger parents have high expectations for their offspring..."
The year of the Tiger ends in a few weeks' time before the year of the Hare begins on Chinese New Year, Feb. 3. One particular Tiger mother has managed to get in one last roar, although this time, more than a few critics have roared right back.