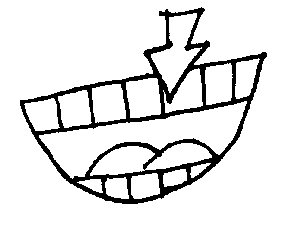 The other day a friend of my brother came to our house to sell us knives.
"Don't worry, you don't have to buy anything," she said, "I just want to practice my sales technique."
"Okay, whatever, I don't care," I said. "I'll consider it a social visit."
I'd like to think that it'd be odd for a teenager to come to my house with a bag full of knives, but it isn't. Even in my day -- back in the '90s and early 2000s -- kids straight out of high school would go around shucking knives to their friends and acquaintances, and families of friends and acquaintances.
She sat down at our dining table, bringing out a cutting board, some knives and some props to cut.
"Our knives have no problem cutting through leather and thick rope," she said. "Go ahead and try it."
The knives split the pieces of leather and rope with ease. "Well that was fun," I thought.
"Just so you know," I said, "we're probably not going to buy anything. We don't really use knives much here."
"You don't use knives!?" she said, shocked, as if I just told her I don't use shampoo. "How do you cook?"
"Well, we have a knife for that, used it for years, it still works."
"You know it's dangerous to use a dull knife," she said. "You could seriously hurt yourself."
"Oh, it's not dull," I said. "We sharpen it with a whetstone once in a while, keeps it sharp."
"You know, our knives never need to be sharpened," she said. "And they last forever."
"Well, I like sharpening knives," I said. "Gives you something to do. And you can't do that with a knife that never needs sharpening."
"How about eating? How do you eat without knives?"
"What do you mean?" I asked.
"Like vegetables. How do you eat vegetables?"
"Well, you just stick a fork in it and bite pieces off."
"With your teeth?"
"Yes, with my teeth."
"Doesn't it hurt your teeth?"
"I'm not sure," I said. "I've never thought to check."
"But how do you eat meat?"
"Well, same thing, you just stab the meat with a fork and bite pieces off."
"The whole piece of meat?"
"Well, yes... unless it's like chicken or something, then you can cinch pieces off with a spoon."
"With a spoon?!"
"Yeah, a spoon."
"Interesting," she said.
I don't know if it was her tone, her sense of shock and bewilderment with my answers, but with each response I couldn't help but feel that maybe this isn't the way normal people eat. I felt like such a rube. I"ve always been a slow eater. Maybe that's why it takes me so long, because the pieces I chew aren't small enough?
Did I not eat normally? Or was this just a ploy to sell me knives?
Land of the spoon
In 2006 I was working for CBC Newsworld in Toronto. I remember being in a story meeting one morning and hearing about a Filipino boy from Quebec who was being punished at school for bad table manners. "Apparently he would only eat with a spoon," said my assignment editor. "Yeah, that's how we eat," I said automatically. A silence ensued.
My family left the Philippines in the mid-'80s. Whether or not people there eat with knives and forks now, I have no idea. There's a certain segment of the Philippines that if you gave them a knife and fork to use they wouldn't know what to do with it. That's the Philippines I come from. The same way that if you gave many Canadians a pair of chopsticks they would only know to stab and skewer their food, or slap-shot pieces into their gullet.
Rummage through my kitchen drawers and you'll find twice as many spoons as forks. We have very few knives -- nothing sharp, we only use them for butter and jams. I don't ever remember having to use a knife and fork as a child. You make do with what you're given, I suppose, and I was usually just given a spoon and a fork. Spoons for rice and smaller, spoon-sized pieces of food, and forks for those pieces of food too big for a spoon. If a piece was too big I'd cut it with the spoon or poke it with a fork and bite off a smaller piece. It was just how things were done, and so I never thought anything of it.
I remember being in my high school cafeteria, watching people so precisely work at their holiday turkey with their plastic knife and fork -- hurriedly clicking away like inverted knitting needles stitching together the most delicate and intricate doggy sweater -- fitting tiny uniform pieces of meat and mashed potatoes and peas and carrots onto their fork. "How weird," I remember thinking, "what a ridiculous way to eat, so unnecessarily busy, so much wasted energy." And there I was biting mouth-sized chucks off a whole chicken leg and scooping my potatoes and peas and carrots with a spoon. "Where did you get the spoon," they'd ask. "The soup line," I'd reply.
The reality is that the way I eat isn't odd in the least, comparatively speaking. I'm a product of my upbringing and my environment. I'm from the Philippines and so I eat with a spoon, and there's nothing wrong with that. I went back recently to visit family, and there were no knives at the dining table, only spoons and forks. And there were many times when my family would tell me, "Please go ahead and use your hands." And so I would eat with my hands.
I've got to thinking recently how the Philippines, with such a knife-centered culture, such a stabby-stabby-slash-slash way of living, wouldn't use knives to eat? Maybe it's not trusting sharp objects to people within arm's length. Who am I to know? The fact is that we do things differently in the Philippines. Many times for the better, many times for the worse. I remember ordering a hotdog in an "American"-themed restaurant and getting a pork sausage inside a folded square of white bread. It tasted just fine, incidentally, though I was glad I didn't order the milkshake.
Ripping and tearing
I'm pretty certain there was a time in the past when eating without cutlery was the world-wide norm. There had to be a time before dining knives were invented. I don't know what happened exactly, but it's as if somewhere, sometime amidst the wars and conflicts and battle-cries of history, the world suddenly decided not to bite -- or forgot how to bite -- food. It wasn't cool anymore. Except, that is, for fruits and breads, meats inside of breads, meats on sticks -- the lower classes of food, the unrefined, the plainly prepared, the rustic, the peasants of the food world, things that don't get your hands too dirty. Not sit-down dinner type of food.
I find a certain satisfaction from tearing, from ripping, meat away from itself with my teeth. An intimate communing between oneself and the animal. I'm not shy in saying that I'm very good in my way of eating. I'm particularly adept at chicken. I rip meat from chicken bones like a pro, like a buzz saw stripping bark away from freshly cut logs. I leave nothing behind. I'll put whole chicken wings in my mouth and spit out the bones clean like a cartoon cat does to fish. I appreciate my teeth and their role in the way I eat, and no knife merchant should tell me otherwise. Because I'm normal where I come from, and in my own home I'll eat how I want.
So there will not be knives any time soon on my table, because I don't eat that way. My family doesn't eat that way. And if guests need something to cut their food we have spoons -- we have a great many spoons.
Because if a piece of meat is so tough that I need to use a knife sharp enough to cut through shoe leather and sailing rope, I'd rather not eat that meat. Heck... that's a lie, I'd still eat it... my teeth have ripped through plenty a tough cut.
And if people ask me why I eat the way I do, I'll tell them: I'm from the Philippines and I eat with a spoon, and my teeth are very large, and my jaw is like a bear trap. And so I have no need for dining knives. I've evolved beyond it. It's environmental determinism. It's natural selection.