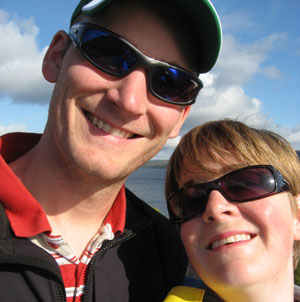 Beep. Beep. Beep. Beep. Beep.
Alison Wilson hunts for patterns in her stippled-ceiling condominium. She can't sleep. Her next door neighbour's ill-mannered medical equipment isn't helping. The signal rattles past paint, drywall and eardrum before swimming through her cochlea and pounding her brain.
Beep. Beep. Beep. Beep. Beep.
It's life in a suburban-Toronto old folk's home. But unlike her neighbours, Wilson's no senior. She doesn't even deem her Oakville home to be home. At 29, Wilson is decades from honing shuffleboard skills or jazzercise techniques. You're more likely to find her on Skype or cranking out a final email at the end of an already-too-long workday.
Wilson is one of a legion 20- to 30-somethings living in a commuter marriage, relationships in which dual career advancement trumps the expense and pain of having to maintain two homes, often hundreds and sometimes thousands of miles apart.
According to the latest census figures, 556,000 married Canadians don't live with their partners. But that statistic is unwieldy and blunt. The assumption that couples live together is so firmly entrenched, statisticians simply lump commuter couples with unravelling or strained marriages. Nobody knows how many are out there.
Yet a number of signs point to the increasing importance of commuting marriage as a strategy for balancing the demands of work and home. Relationships are changing: first comes life, then comes marriage (maybe), then comes an average of 1.6 baby carriages. Careers too. Job security and company loyalty is decreasing, flexibility is an asset and more women are primary breadwinners with advanced degrees. Pieced together, it points to an increasing likelihood that tying the knot doesn't mean either partner will give up on the career ladder.
While commuter marriage may appear robust, it may soon be headed for life support. In addition to persistent questions about social and psychological costs, the sustainability problem refuses to go away.
It all boils down to quality of life. Debating a commute? You'll probably factor in money, career benefits and opportunities. Living it? One thing stands out: the chasm between the worlds of work and home.
'Do I turn down the experience?'
Wilson's life epitomizes the brutal split. Nearly every Friday afternoon, the elderly Ontarian ambles onto a plane, wearily heading 3,200 kilometres west to a south Edmonton duplex. Three days later, she returns a vibrant 20-something Albertan, whipping out laptop and iPod for a three hour, 36 minute "bus ride."
Double life came via marriage. Alison met her partner, Travis, in 2002, during a co-op semester in Lloydminster. Travis eventually followed her back to Edmonton. She caught on at a general contracting firm, while he landed in Refinery Row. They married in 2007.
When Wilson decided to pursue project management, she needed experience as a project coordinator to get there. Back-to-back projects in Edmonton were cancelled, but a charmed third chance appeared last fall in the intial stages of economic collapse. The only snag? A one-year move to Toronto, plus two more at a bitumen mine on the outskirts of Fort McMurray. Alison and Travis bit the bullet.
"Do I want the experience or do I want to turn it down?" Wilson deadpans the dilemma over the phone. Having just returned to Edmonton, her voice crackles from jet-lag and a common cold.
"Maybe I don't get anything and I don't have that opportunity to further my career."
Ending up early in an old folks home
Life took an "adult living" twist when a bright-eyed realtor walked Wilson through a fully-furnished complex close to work. Things took a strange turn at the basement rec facilities.
"The realtor said, 'Look! There's a putting green and full-on shuffleboard layout, and oh! Do you like swimming?'"
Confused, Wilson pressed on and bobbed her head neutrally.
"She shows me this pool. You can lower your wheelchair into the pool. Really, really shallow. Then she takes me into the workout room and it's these two-pound and one-pound weights. And I'm like, 'Something's not right here.'"
Everything became clear when Wilson entered the "fully-catered" dining room and saw a sea of trifocals and grey hair.
"I'm thinking, 'Holy shit, this is a retirement home!' I had no idea."
Since Wilson is over 18, no legal impediments prevent her from renting the condo. And since Wilson wasn't in Oakville for the wheelchair-accessibility, her agent bagged a commission.
It may suit her needs, but Wilson refuses to let her condo become home. She has no plants. She even leaves her makeup in an airport-ready ziploc bag as a way of signalling to herself that this is not permanent.
"Travis is like, 'Why don't you put stuff away, why don't you make this place homier?'" says Wilson. "I wouldn't ever try to make it feel like my home."
Does it work? What studies find
The retirement home setting may be unique, but commuter marriage is nothing new. In the mid-1970s, journalists spat out a succession of catchphrases to herald a happening in North American households. Instead of familiar patterns of travelling salesmen or military families, women were pursuing careers -- not just jobs -- of their own. A growing number wound up in what were dubbed "weekend marriages" or "dual-household marriages." The unions, pundits noted, often occurred at financial cost rather than benefit. More often than not, they begged the question: does it really work?
Not especially well, it turned out.
Publish-or-perish academic couples were among the first to give commuter marriage a whirl. Fittingly, they were equally quick to study it. A succession of studies surveyed dozens of commuters, many of them also academics, tackling everything from personal finances to adultery. Scholarly restraint fails to dampen the sentiment of one seminal study, Commuter Marriage (1984) by sociologists Harriet Gross and Naomi Gerstel: "We, like commuters themselves, would rather see a world where career demands cost less, and responded more, to the family life of women and men."
Between jaunts to the extremities of the University of British Columbia campus, family sociologist James White tells me divorce rates are higher for commuter couples. Transition zones, he says, are the major fault line. To adjust to living with someone, it takes three days to segue from bachelor life and back into cohabitation. When a couple only catches up on weekends, that adjustment is never made.
"The person's used to living without a spouse," says White. "They come back and they have to readjust to having somebody sharing their space, using the bathroom."
A marriage can always gel or crack, but commuting adds pressure to the dynamic. That's what makes evaluating the successfulness of commuter marriages difficult. Do commuter marriages falter because of the commute, or because the lifestyle attracts people with different expectations for their marriage?
"Commuter marriages are more likely to be egalitarian," White notes. "They're most likely to have separate bank accounts. We know from study after study that one of the best predictors of divorce is having separate bank accounts. Having a common bank account means people are committed: you're sharing everything."
Flying away from stress
White thinks this "selection effect" has gone untested in much of the literature on commuter marriage. What might look like an unhappy commuter may actually be flying from stress at home, such as the growing possibility of an autistic child. Or they might simply see marriage as a relationship for an ongoing development of self that can run its course. But each case is different. That's why it's no surprise that many commuter marriages work well.
So it's not all gloomy news for commuter couples. Commuters, especially women, express happiness with how the arrangement frees them from sacrificing their careers. The studies also reveal several other interesting tidbits:
Bored with marriage? Try commuting! Commuters say they are less likely to bicker or bore. There simply isn't the time for it.
Newlywed or Nearly-dead? Commuters tend to fall into "establishing" and "established" demographics, either before children or as empty nesters. Young children tend to sully the lifestyle.
Friends? What friends? Commuter marriage may have a greater impact on other relationships. Weekends are reserved for spouses. Friends tend to get squeezed out.
Family = co-residence? Commuter marriage literature has branched into an array of LATs, or "living apart together" arrangements. Some couples keep two apartments for the sake of sanity.
Thirty years after splashing into the news, commuter marriages are still driven by the same motivations: the quest for a better job, better money or better prospects. But the double-household's taken some interesting twists and turns. In addition to mounting economic and environmental pressures, advances in technology makes commuting an ever-evolving creature.
Beep.
The elevator doors chime and open at the Oakville retirement home. When Alison Wilson meets one of her elderly neighbours, she often finds herself explaining why she's there.
"They always ask who I'm visiting," laughs Wilson. When she replies, she is met with frowns and furrowed brows.
"You should see the look on their faces," Wilson says, breaking into her impression of a sweet old grandmother. "They're like, 'Why would you want to live with us old people?' They don't get it."
Toting up the sacrifices
Wilson's own assessment of the commuter life is mixed. She loves her job, loves her company and sees a bright future not far away. The emotional and relational toll, on the other hand, knocks her squarely into mundane reality. After eight months in an old folks home, she sounds world-weary and worn-out.
"I'm not as driven to progress my career if I have to sacrifice this much," says Wilson. "I would never leave Edmonton again. If that hinders my chances of getting promoted, so be it. It's really not worth it."
But Wilson tries not to let it get her down. Like many commuters, she has an exit strategy in place. Eight months in, there's just over two years left. She's already counting down.
"You've got to justify it to yourself every time you get kind of down or upset you're doing this and you're away from your family," she says.
"It is only temporary, you know?"
Tomorrow: What commuter marriages cost the planet.