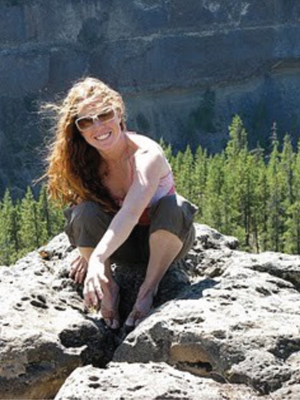 On Canada Day, Tulani Ackerman will wave goodbye to her supporters and set out on a 3,000 kilometre solo pedal from Prince Rupert to Prince George, down through the Kootenays and on to Vancouver and Victoria. Her final destination is the Victoria parliament building.
She has never bicycle toured, even for an overnighter. But Ackerman, a 30 year-old Prince Rupert physical education instructor, is on a mission. She wants parents, students and teachers to come out and discuss education with her at 40 stops along the way. Her goal is to draw attention to StEps for Students, a non-profit Ackerman started this past winter to raise awareness about how to strengthen community involvement in public schools.
"Our concerns are not only about funding cuts and upcoming school closures. It's about regaining confidence in public education. What are our goals for our learners? How can we provide a system that's going to make them stronger? We need to make sure the curriculum supports the strengths of each student."
So far, Ackerman has organized a successful walkathon, as well as a student coffeehouse, a parade event, and a breakfast fundraiser that brought in $800 dollars.
A growing race for the good
Ackerman's bikeathon is but one of many examples of athletes in B.C. seeking public attention by carrying out feats of strength and endurance.
Last summer, Ali Howard of Smithers swam 610 kilometres from the headwaters of the Skeena River to Prince Rupert to help oppose Shell's coalbed methane project in the Sacred Headwater of the Nass, Stikine, and Skeena.
Then there's marine biology researcher Alexandra Morton, who finished her "Get Out Migration Walk" on May 8, after tromping 500 kilometres from Campbell River to the Victoria provincial legislature to make more people care about ecological threats she says are posed by open salmon farms.
Marathons and walkathons to fundraise for prostate cancer, MS and breast cancer, are common in B.C.
The athletic rally has, according to Rajiv Jhangiani, a psychology professor at Capilano University, "become a very socially acceptable option" for fundraising and protesting.
The most famous Canadian examples are Terry Fox, who in 1980 crossed 5,376 kilometres with an artificial leg to raise money for cancer research, and Rick Hansen, who five years later travelled 40,000 kilometres in a wheelchair through 34 countries, raising research money for spinal cord injury.
Rolling with 'pro-social' people
Like Fox, Hansen, Howard, Morton and others, Ackerman is, in psychology lingo, a "pro-social individual," because she works to strengthen the bonds of community, and acts against perceived injustice or on behalf of those who are most vulnerable in society.
Ackerman's belief that her bicycling feat might shift public opinion towards supporting education reform might be considered naïve by some.
But Jhangiani says Ackerman and other pro-social individuals can create a ripple effect in society. They are challenging the self-rationalizations of people who "even when they are choosing not to help, will participate in various mental gymnastics to convince themselves that doing nothing is exactly the right thing to do."
It's not uncommon for the example of someone like Ackerman to rouse a person from such apathy, says Jhangiani. By taking her stand, Ackerman is "acting as a pro-social role model for students, which could influence them to be pro-social individuals."
In their book You Have The Power: Choosing Courage In A Culture Of Fear, social activists Frances Moore Lappé and Jeffrey Perkins mark a similar tipping point at which a person can shift from being fearful and apathetic to becoming empowered and prone to action.
The core of social fear has two components, they write: the fear of the unknown, and the fear of peer rejection. To live fully we must channel these twin fears and conquer their source. This requires, according to the authors:
1) That we do something different than we are doing today, which is just another way of saying we must walk into the unknown, and...
2) That we be different than we are today, which by definition means we risk separating from others.
Ackerman recognizes herself in this definition of a pro-social individual, and is pleased to wear the label.
"Will I be able to get jobs after this? Am I smart enough? Can I handle the media? Those were fear spots for me, for sure," she says. "But what motivates me to move forward with my StEps for Students projects are the faces of my students that I see every day, knowing that they deserve more."
Grinding it out
Ralph Waldo Emerson wrote in 1841 that "the characteristic of genuine heroism is its persistency."
Ackerman expects her bike tour to last 43 days and it will take her over three mountain ranges and a stretch of high desert.
Asked what she'll do if it rains every one of those days, she says, "A little rain is nothing compared to the lack of interest, lack of confidence I see in some of the students and the vision that I see for our education system."