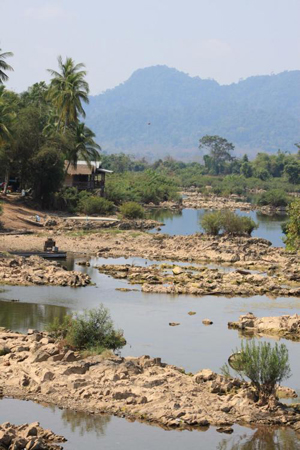 [Editor's note: The Tyee is pleased to weekly showcase the best of the Vancouver Observer, the independent, online source of news, culture and blogs whose motto is, "All local -- all the time."]
Putu, a local village guide in Keliki, Bali, stops to mop his brow and sighs, "It's hotter than I can remember." He takes another few steps and turns, "We're just not used to it. The seasons seem to be all mixed up."
It's another steamy day in Bali and difficult to see where exactly the rice paddies end and the sky begins. The horizon is merely a blurry line lost in the haze of heat. As he tramps along a muddy path in the rice field, Putu carries a cloth to wipe his glistening face and neck. He's used to the heat but today is too much for him to bear.
Yes, it's May, the so-called "dry season" in Bali, but it's anything but dry this year. Rain has fallen almost every day for the past three weeks. The island's climate has been organized around the rhythm of wet months and dry ones, but this year it's definitely topsy-turvy. Putu, 35, trudges along a muddy path in the rice field as he talks about how the weather has changed. He's no scientist but he is in tune with his environment. Nature, he concludes, is confused
."When I was a kid, we used to head into the rice fields for the day without sun tan lotion. Now, we can barely stand the sun in the afternoon. After a couple of hours, we go inside for a break because our skin hurts so much," he says. His voice is steady but you can hear the fear. He talks about seedlings that die from the heat, about shortages of water and then flash floods that come from nowhere. Some of these patterns were always there but now they're magnified and grotesque, like the muscles of a bodybuilder on steroids.
And while he doesn't understand the intricacies of climate science, Putu's observations are backed up by the Meteorology, Climatology and Geophysics Agency (BMKG) in Jakarta. According to their climate scientists, global warming has triggered several anomalies, including rising sea levels and increased sea surface temperatures. It's led to unpredictable rainfall that bears no resemblance to normal patterns.
All over Asia, the effects of climate change are being felt on the ground. After interviewing dozens locals in Vietnam, Laos, India, Bhutan and Indonesia, I've found no one who has refuted the fact that the climate is different than it was 20 short years ago. And none of them are disputing that humans are causing it. 
Over in India, Delhi has just finished its hottest April in 52 years. May has been a record-breaker too. Throughout Rajasthan, the state southwest of Delhi, water issues are at critical levels. It's not just a recent phenomenon either -- drought has ravaged the state for the past 10 years, withering crops, drying up wells and virtually roasting cattle before they are even butchered.
City of lakes, no more
One telling example of the drought is occurring in Udaipur, a beautiful, historical city that lies amongst centuries-old man-made lakes created by various maharajas. Udaipur has been called the City of Lakes. It's a misnomer now. 
If you've ever seen the movie Octopussy, you'll remember James Bond speeding across a gorgeous blue lake with a wedding cake palace in the background. That was Lake Pichola in Udaipur. Shockingly, the lake is now almost dry and has been for a few years. The rains don't come anymore, and under the searing sun and growing population, the demand for water is too great. 
Today, instead of an azure lake set against the arid Rajasthani mountains, you'll find a toxic concentration of green sludge and a faint ring around the shore to mark the former waterline. It looks like the residue left behind from after a good scrub in the bathtub. But it smells much worse.
Uday, a local guide, comments how the five lakes surrounding the city are all at record low levels. "The last big rain came in 2006, but now they grow vegetables on the lake bed with what moisture remains. We are all hopeful the rains will return. What tourist wants to come to see this?" he laments as he gestures at the empty lakebed. His voice is heavy with resignation.
Meanwhile, in Laos, boat traffic on the Lower Mekong River was suspended three months ago due to a dramatic drop in the water level. It is below 1993 levels, which followed the most extreme regional drought on record.
This year's low water levels are the result of conditions in Northern Thailand and Laos, and are part of a wider regional drought being experienced upstream in Yunnan Province in China. The 2009 flood season was drier than normal, with wet season river levels in Vientiane, the capital of Laos, among some of the lowest on record in the last 100 years.
Drying up tourism
This lack of water is creating regional tensions around water management. It's also making life difficult for the subsistence farmers and fishers who rely on the water for their livelihood. Living on a knife-edge, just one bad season can generate devastating impacts and personal economic ruin. The people here don't have the luxury of savings to cushion the losses and their governments lack cash and capacity to provide relief.
Tourism has frequently been fingered as an economic saviour. However, it too is not immune to the vagaries of a changing climate. 
"One of the cruise boats that plies the upper Mekong broke up on the rocks earlier this season," offers Myriam, a French hostess on a lower Mekong ship. "The captain hadn't realized just how shallow the river had become. Passengers had to be evacuated but fortunately there were no casualties." Immediately following the incident, all fast and slow boats on the river were suspended until further notice. More jobs were put in jeopardy.
These stories of climate change are but a drop in the proverbial bucket, and they have a sad irony to them. Our lifestyles, our privileged position, our arrogance has created climate change. Yet it's the poorest, least resilient people in developing countries that are bearing the most dramatic social, environmental and economic costs. 
Visitors in denial
In dozens of conversations about changes in that region's climate, the only suggestion that climate change is either imagined, trumped up or a hoax is voiced by European and American tourists. Whether it's a Dutch executive at Shell or Republican seniors who live on a golf course in Pennsylvania, they're enjoying Asian vacations made less threatening thanks to their comfortable blinders and convenient explanations. 
These travellers are resolute in their belief that this is all part of the planet's natural climate variability. Indeed, they suggest that the fact that we've never had such high concentrations of CO2 in the atmosphere is mere fear-mongering and has no relevance. Are they ignorant or is it just easier to deny responsibility? After all, who wants to be reminded that the carbon footprint of their flight is far greater than that of an entire Asian village?
The future impacts of climate change globally remain uncertain, but each new piece of data confirms that it's not likely to be pretty. That prognosis is all too evident to many Asians already. Just ask them.