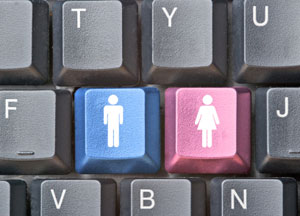 For those who're attached or who're somehow virgins in Internet-facilitated or enhanced sex, it's worth pointing out that online dating is now the new norm, and frequently as tame as a house cat. But there's still a wild beast roaming out there and it's name is Craigslist.
The Craigslist casual encounters section offers a no-strings-attached experience that's expedient and anonymous. Where you can find someone with the same interests as you, meet up and move on. Where you can request and indulge your most banal or erotic fantasies without consequence (in theory) or investment (more theory). And where, if you're a certain way inclined, according to a Kinsey Institute scientist, you can find even more sexual enjoyment due to the anonymity factor.
Apparently, many people want some or all of those things (and get them, and go back for more of them). The section, which has a loyal "community" of followers as well as newbies, started in 2000 on the free classified website and now accounts for two per cent of all Craigslist postings, which run in 570 cities and 50 countries and get more than 50 million visitors a month. In fact, the New York Times reports that traffic to all Craigslist personals sections -- including the one for romance and the one for missed connections, where people try to find the hottie they saw on a train or across a crowded room -- is higher than for any other personals website including Match.com, eHarmony and Yahoo personals.
There are even how-to guides (for placing the ad and responding, not for what to do when you meet up).
But as one Savage Love column advised, "If something seems too good to be true, it probably is. On the Internet, that applies to: (1) offers for creams to help men 'grow extra inches'; (2) chain emails claiming that if you forward them, you'll get cash from Bill Gates/a big pharmaceutical company will give free drugs to a poor kid with cancer; and (3) Craigslist ads for no-strings-attached sex posted by women with pictures that look remarkably similar to porn stars or Lindsay Lohan."
So, yes, as with all things on Craigslist -- the "like new" mattress that turns out to be stained, or the reliable seller who isn't there when you show up for the $25 microwave -- there are more obstacles in the road to transactional bliss than the simple posting format suggests, and more barriers to honesty than a typical dating site or face-to-face encounter. And now, with the publication of Craigslist Casual Encounters: The Hilarious and Disturbing World of Seeking Sex Online (Haha Publishing), it's clear there are even more complications for those seeking simple satisfaction.
An anthropology of Craigslist
As the author, Henry Russell (a pseudonym), an L.A. lawyer who's posted dozens of ads, writes in the book's intro, "there are four groups of people within the Craigslist casual encounters community: (1) People legitimately looking to have sex with others, (2) Spam, or what some people call bots -- these are people that place ads or respond to them, trying to direct people to other pay websites for dating or pornography, (3) Prostitutes or 'masseuses,' essentially people looking for money in exchange for services, and (4) People interested in browsing the casual encounter ads, but not actually looking to meet people in person."
(The legions of sex workers and "masseuses" are fairly new to the section, according to the NYT article. In 2006, Nassau County set up a prostitution sting operation focused on Craigslist. As a result, last year, Craigslist reached an agreement with state attorney generals to charge a $5 fee and require a phone number for people posting "erotic services." The move led to an immediate 80 per cent drop in postings to that section, and turned the casual encounters section into a free-for-all.)
But those aren't the only types of people, of course. And not to be one of those nervous types or anything, but there's more to read-between-the-lines for than whether someone is actually a sex worker or "masseuse" (even if those are what you're looking for).
There are sociopaths. Tom Brady, chief medical officer at the CRC Health Group in Cupertino, California, an addiction-treatment center, was quoted in the NYT article saying that a lot of people who use Casual Encounters "...have a narcissistic, sociopathic side where they don't have a lot of empathy for other people."
Most seriously, there are murderers. Last year, Julissa Brisman was killed in a Boston hotel room after placing an ad, and George Weber was killed in his Brooklyn home after answering an ad.
Have I got a great deal on lint!
And as Russell's book shows, there are plenty of other less serious types to be aware of too. His book is based on the 150 ads he placed. Joke ads, that is. He started posting fake ads for fun (dryer lint for sale, etc.) then moved on to a "less sympathetic crowd: those seeking casual sex on Craigslist." He writes in the intro that he was "amazed" by the number and variety of responses he got.
The book contains the 29 best ads (chosen based on a variety of criteria) along with the long response exchanges that followed each. Though few are as good as the comments after a Savage Love column, they're pretty revealing about the possibilities that are out there.
As the exchanges show, there are antisocial people who choose this medium rather than one where they can interact more meaningfully with other people. People wanting interactions where the normal rules governing human interaction -- i.e. that there are consequences for behavior -- don't apply.
(Friends who are single tell me they post on Craigslist when they're willing to wade through the weirdos to find someone to have casual sex with. Ones who want a relationship post on Plenty of Fish or Lavalife or eHarmony or Match.com. People I've met -- not friends -- who want a perfect partner bot to match their perfect lifestyle post on sites like Beautiful People.)
As one single, dating friend told me in an email, "It's a sliding scale from Craigslist to real life encounters... Really, at the heart of this is the idea that the Internet is the playground of the id, in Freudian terms, because it allows you to act anonymously. Whereas real life is moderated by the super ego, which forces you to act in ways that are good for the cohesive whole (i.e. play nice with others) rather than what may be what you need in the present moment."
The responses to the fake ads (which seem real) show a vast range of people with or without kinks genuinely seeking specific encounters. Great. But they also reveal a range of people your mother warned you about, and more than enough reasons to make sure people know where you're going before you meet one of them for sex.
But Russell's book reveals one other type of Craigslist character to be aware of: the person who posts fake ads and then writes a book about it to make a joke at your expense, ostensibly under the guise of sociological insight, and laugh, anonymously, at the insecurities, failings and oddities of those with intimate lives that don't match his/her own.