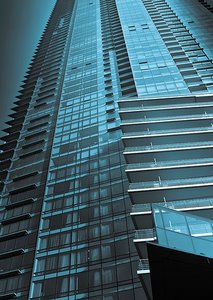 The recent housing boom and (variable) bust is one that inspires biblical, epic and mythical language.
Photographer Lauren Greenfield, who shot "Foreclosure: Death of the American Dream," has a photo essay in the New York Times today about the rise and subsequent crash of Dubai's real estate market. "Dubai is a cautionary tale in the same way the foreclosure crisis -- which I photographed -- was," she says in the accompanying article. "Dubai was this miracle of development with minimal planning and no infrastructure."
"I call the story an improbable fairy tale," she continues. "Anything that could be fantasized could be built. It really was the land of opportunity. It's more Las Vegas than Las Vegas."
In the Dubai photo essay, there are shots of decaying backyard swimming pools, crumbling spiral staircases and a dying tree that's falling over in the yard of a lavish, uninhabited house.
There's also a shot of Burj Dubai, the world's tallest skyscraper, which is still under construction, and which overlooks artificial islands shaped like palm trees. "The tower is a useful symbol for considering Dubai," says the Greenfield. "Is it the Tower of Babel? Is it Icarus, flying too close to the sun? It's unclear whether this crisis will simply be a pause in Dubai's ascent or whether Dubai's story will itself become a cautionary tale of mythical dimensions." Currently, the real estate market in some neighbourhoods in Dubai is down about 40 percent.
Commenters after the article talk about how "humanity is a pestilence on the planet", call the decaying opulence a "perfect Hell", and reference Shelley's Ozymandias.
And it's not the first time in history -- fictional or real -- we've heard this narrative. It's everywhere. In the television show Weeds, two seasons ago, the "houses made of ticky tacky" in suburban Majestic burned in flames. It was a fire sparked by a marijuana drug cartel -- the only growth industry in that fictional land of suburban boredom and cultural decay. I just visited the Versailles palace outside of Paris, and after seeing the outrageous opulence that the aristocrats there lived in, it's not hard to see why the French Revolution happened.
Punishment and repentance follow greed and avarice. That's one of the simple morality plays we humans seem to cling to. And maybe it's sometimes true, so myths must be doing their job of simplifying stories, but that's not always how it actually plays out.
Consult the oracles!
Though experts may emphatically proclaim otherwise, there's no way for anyone to understand or predict the soaring and crashing fortunes associated with humanity's most fundamental, powerful, and ubiquitous market -- one that affects people in such an intimate and emotional way. I've interviewed a couple dozen financial planners, accountants, and bank executives (real estate's priests?) over the last few years, and been told varyingly but emphatically by each group that Canada's market will crash, that it will stay the same, or that it will continue to go up.
Just recently, the Global Property Guide proclaimed the Canadian market will climb in the near future, the CBC reported that the forecast was mixed, and Garth Turner, the MP who wrote Greater Fool: The Troubled Future of Real Estate, said in a Globe and Mail video that the crash is coming to Canada in the spring. How do we make sense of that?
And if there's no way for ordinary people to understand what will happen with the real estate market, there's also no way to understand why this economic downfall affects different geographies and generations so unequally. Dubai might seem like a cautionary tale, but that lesson isn't applied uniformly to every market.
Why should it be that those who bought houses in Phoenix (which was down 42 per cent at one point) or in the suburbs of L.A. (one famously named "Foreclosure Alley") now suffer, while those who bought in Vancouver's Kitsilano neighbourhood prosper? The Economist famously called Vancouver the "bubbliest city in the world," but there's been no crash here, and the most recent stats put the benchmark price up 6.8 percent since this time last year.
Though the Lauren Greenfield article and its commenters talk about the "justice" of the crash in places where the boom was so excessive, that crash didn't happen in all places where prices soared beyond reasonable and affordable levels.
Blessed are the landless?
Though most people I've spoken to who have profited from the boom tend to speak (smugly) of how they knew they were making informed and sound decisions, I'm sure those from crash towns whose houses are now worth half what they were felt the same way. And though many Vancouverites talk about how real estate is always a certain investment here -- there's the Olympics, after all -- different but equally solid sounding points were doubtless made elsewhere. When it comes down to it, none of us can really grasp the totality of forces that make some markets (and people) prosper while others fail.
Yet, it's created a new class system -- those who were lucky feel somehow that they deserve it. Which also means those who lost deserved it. And neither is true. So, if we're borrowing from religions and myths here, perhaps we should turn to those same systems for some lessons in compassion and humility.