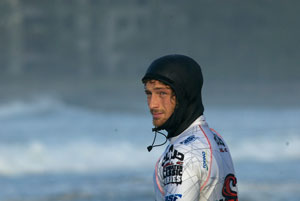 When Pete Devries launched his board out of the choppy surf off Chesterman's Beach and into the international surfing spotlight last week, it sounded like an impossible Hollywood fairy tale. The reality is a hard-won achievement 30 years in the making, a victory not just for Devries but for his home town of Tofino and the family who raised him to appreciate the wind-lashed west coast and the sublime challenges it can offer a young surfer.
Pete's father, Ralph DeVries, left Holland in the 1960s for British Columbia to work on the railroad and in construction, and to pursue his passion: surfing. When he arrived in the Clayoquot area, he was bewitched by the expansive, wild ocean, miles of beaches, more trees than people, and rolling waves aplenty, everyday.
Ralph went to work at the original inn at Wickanninish Beach, where he met and fell in love with a coworker, Alice, a petite girl from Victoria. When the beach became part of the newly designated national park in 1970, the DeVrieses bought property at Chesterman beach, a 1.7 mile stretch of sand bordering ocean, rocks and dense rainforest.
"It had a real desolate feel," says Alice. "Took me a while to get used to it. We were one of three families living there, the Buckles who had a saw mill and moved to Vargas Island and Dick and Jane."
Yet the ocean was right on their doorstep. Ralph had his waves. And soon, so did Pete.
"At the age of three or four, he was in the water on a body-board," said Alice. A body-board, basically a three-foot piece of floating foamcore, was perfect for the runt-sized Pete.
"He was so light he could stand on it," said Alice. At the age of seven, Pete got his first surfboard along with old end-of-season rental wetsuits "so bad," he now remembers, "that I couldn't go out there for much longer than, like, half an hour, even in the summertime. I'd just freeze." At 13, he was finally big enough to fit into an adult-sized small women's wetsuit, and now he could surf Vancouver Island's cold Pacific waters all year round. "I spent a lot of time counting heads in the rain, making sure he and his friends were all right out there," reminisced Alice.
When Pete snagged a job at Storm, a local surf shop in town, he gained a chance to ride better surfboards, and to push himself farther, deeper, down the path of becoming Canada's best technical surfer.
Hometown boy makes good
Just how good a surfer Pete Devries became was made clear to the world during the last week of this October. Each day of that week, a group of die-hard surf fans would gather on North Chesterman's beach to watch more than 140 surfers from Brazil to Hawaii, Australia to South Africa and the U.S., tussling it out and slowly being eliminated as they vied for the top spot in the Canada's first ever 6 Star, Association of Surf Professionals World Qualifying Series event, the O'Neill Cold Water Classic.
On the last day, Saturday, Oct. 31, DeVries was still in the mix, and as he won his first two heats to qualify for the final round, it seemed as if the entire town of Tofino, population 1,900, had gathered to watch. "I put a sign on my door that said, 'Back when Pete wins,'" chuckled the owner of a small eatery in town. "This is the largest turnout for the Cold Water Classic series so far this year," said event coordinator Mark Fuller. "Only Santa Cruz's will be bigger, but that's because it's North America's longest running surf contest."
On the beach stood a group of older women clutching hands and high five-ing each other every now and then. That was Alice and her friends. "My stomach was churning butterflies," she said later. When Pete showed off flawless moves during the final round, the beach was silent. His surfing was fearless yet focused. You could, in surf speak, feel his "stoke."
And, as everyone now knows he won.
Aftwards, Ralph Devries, who now lives in Victoria and has retired from surfing, congratulated his son over the phone. "I don't know if my Dad thought I would make it this far," says Pete Devries. "He is really, really excited."
"People are calling it the most important event in Canadian sport history" says Noah Cohen, a young Tofino surfer and close friend of Pete. "I am so stoked for him."
"I did feel the hometown advantage," Devries said a few days later. "I was so relaxed and loose. I do like the waves here. You get a lot of opportunities to play with them. You don't have to just wait for one or two in a heat."
"As far as most of the world's concerned, being a Canadian surf champion is as unlikely as a Jamaican winning a world cup ski event," says Eoin Finn, an avid surfer and recent area resident. "What Pete's accomplished is immense."
Yet for those in the know, it's been a long time coming.
Surfing in overalls
Forty-seven year old Tofino resident and surfer Harold Sadler remembers surf contests happening back in 1968 at Long Beach. "My dad Jim Sadler was one of the original Tofino surfers," he said. "He would win those competitions, and there were surfers from around the world who came here to participate."
"I remember this guy, he was South African, and he worked with my Dad in the late '70s as a mason. He was one of the surfers who discovered Jefferies Bay [an iconic surf spot in South Africa]," continues Sadler. "He loved it over here."
Old west-coast surf pioneers like Jim Sadler and Jack Gilley built their boards from drawings in old Popular Mechanics magazines and wore wetsuits that consisted of uncomfortable "Farmer John's" style overalls and beaver tails that chafed and still didn't keep them warm.
The technology has evolved quite a bit since then, but the character of surfing in this isolated part of British Columbia has not changed much.
Winter storms still roll in with cold northern fronts and the ocean temperature in December and January dips down below eight degrees Celsius. Though wetsuits are stretchy and well insulated, it takes a surfer of a certain kind of character to be willing to embrace the dark, turbulent ocean.
For Pete and the new generation of surfers like Noah Cohen emerging from Tofino, there aren't a lot of local peers to learn from and compete against. Besides the local Bruhwiler brothers Ralph and Sepp and a few visiting surfers, Pete never had a lot of surf mentors.
He watched pros on surf videos and friends taped him surfing so he could continue to work on improvements and changes. Does he think his victory will draw a flurry of surfers to Tofino?
"The cold water is definitely a deterrent," he said after giving that a thought. But his mother senses a shift is already underway. "I've counted 75 people surfing at Chesterman on a summer day," said Alice Devries. "Things have definitely changed. It's not safe either, because beginner surfers often lose their boards so you have to watch out more in the water."
Here come the surfing tourists
Other locals said the tourists who throng Tofino each year can seem a curse as well as a blessing, taxing the town's delicate infrastructure while fueling tourist-focused businesses such as whale-watching tours, hotels and restaurants. In 2006, a two-month long dry spell caused the town's Meares Island water reservoir to almost dry up, prompting businesses to shut down and tourists to be turned away.
Three years later, Tofino is eager to capitalize on the popularity of surfing. The town council recently sent a bid to Prime Minister Stephen Harper declaring Tofino to be the Surf Capital of Canada. While the number of surf shops and surf schools between Tofino and its sister town of Ucluelet now number almost a dozen, that's still not many compared to surf towns such as Huntington Beach or Malibu in California.
Sadler has seen Tofino change from a remote fishing and logging town to a place of environmental activism during the Clayoquot Sound protests in the early 1990s, and he witnessed the surge of tourism since. He said he doesn't worry about how surf tourism will affect Tofino.
"Competition is a part of the surf scene," he said with a smile. "I'm always competing. You have to work hard to get your waves around here. It's very seldom that I go out and don't get waves because it's too crowded. Ultimately, it's about your attitude. You can get bitter and stop surfing or go with it and still have a good time."
He added that Pete Devries winning the O'Neill contest was "the best thing ever."
He also revealed that on the day Devries won his title, the swell was so good that Sadler took off to a secret spot to surf some waves, and didn't make it back in time to watch the final.
"So I put on the radio and danced like mad when I heard he won. You could feel the energy and joy of everyone there. It couldn't have happened to a better kid."
Devries, while still elated from winning the competition, is relieved to be living the life he loves in a place that he cherishes. A few days after the competition, he was out in the water at North Chesterman with a few friends. "It was just a regular day."