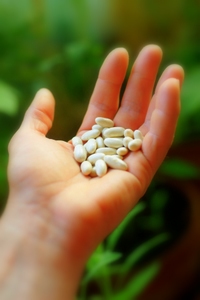 [Editor's note: This is second in a series called Eat Your History, featuring the stories behind foods special to British Columbia.]
"You don't live to be 98 without having a lot in your head," says Lotus Ruckle from her home in Ganges on Salt Spring Island. We're talking about the origin of the Ruckle bean, a white kidney variety that has been grown continuously in the province for at least 95 years and may be the only uniquely B.C. bean.
"It came from Ontario with the Harris family who came to Moresby Island. When Stanley Harris married Ella Ruckle, who was my husband's aunt, Harris beans turned into Ruckle beans," laughs Lotus -- her brilliant blue eyes are smiling, too.
The United and Methodist Church register lists the marriage in 1915, and given that the bean was likely grown earlier by the Harris family on Moresby (a small Gulf Island southeast of Salt Spring), the Ruckle bean may have a century or more of history in the region.
Today, the Ruckle Farm is the oldest working farm in the province. Henry Ruckle started his Salt Spring homestead at Beaver Point in 1872, one year after British Columbia joined Confederation. The Canadian Pacific Railway wouldn't reach the coast until 1885, so Henry had travelled from Ontario to B.C. through the United States. Land on Salt Spring ran about a dollar an acre, and optimism for settling in the West was high.
An island bounty
"A man who understands farming and has a little capital will do as well or better here than any place in North America," said Henry Ruckle in an 1895 brochure about Salt Spring authored by Rev. E. F. Wilson (who had honed his reporting skills at the trial of Louis Riel). The previous year, Ruckle Farm, with 40 acres in cultivation, had yielded 250 bushels of wheat, 100 bushels of oats, 200 bushels of peas, 20 tons of hay, 60 tons of rutabagas, and six tons of potatoes, in addition to cattle, sheep, pigs, turkeys, chickens, and 600 fruit trees. Steamships regularly departed from Salt Spring with livestock and produce from the island's farms bound for the markets in Victoria.
By the time Henry died in 1913, he had expanded his homestead to nearly 1,200 acres. His sons continued to work the land, and in 1930, 19-year-old Lotus Fraser, who grew up on a large farm near the Ruckles (and swore she'd never marry a farmer) married Henry's grandson Gordon. The two moved into one of the homes on Ruckle Farm that year.
Lotus says they grew about 100 pounds of Ruckle beans annually. "It would always be a potato sack about three-quarters full. Of course some years we had a lot left over, but we planted some anyway because we didn't want to lose the seed."
The Ruckles ate the beans often. "Nearly always if we had picnics or beach parties or so on. Somebody always produced a big pot of beans," says Lotus. "They're a very good bean to eat just when you get them boiled 'til they're soft. They're a very mealy bean. So we used to eat some that way, and baked the rest of them in the oven."
A 'Bean Supper' tradition
The Ruckle bean is also intimately linked to Salt Spring's annual Bean Supper at Beaver Point Hall, which was built in 1934, destroyed by an arsonist in 1936, and rebuilt in 1937. "When we started, we called a hall meeting to discuss fundraising to raise the money for our insurance. Everybody was invited to submit their suggestions. My brother's wife came up with a suggestion: why didn't we have a bean supper during Lent, when people weren't eating meat? At first there wasn't much enthusiasm because it looked like a lot of work. But when we got through discussing it, we were going to have a bean supper," says Lotus.
The beans served weren't always Ruckle beans, however. "Most of the ladies didn't like to cook them because you had to be awfully careful you didn't boil them into bean soup. And they didn't want to take all of the extra care that had to be taken. So they baked the beans. Nan Ruckle, my sister-in-law, and I worked out a recipe, which we thought was a very good recipe."
Helen Ruckle, another sister-in-law of Lotus, remembers the early bean suppers, too. "They came in droves," says Helen, who adds that the suppers included buns, cabbage salad, and homemade pies. Helen also says that while it is certain the beans came to Salt Spring Island with Stanley Harris, he may not have brought them from Ontario, but rather from Florida, where he spent two years.
32,000 kinds of beans
There's no easy answer to the question of whether the Ruckle bean is a distinct variety, according to Bert Vandenberg, a pulse crops specialist at the University of Saskatchewan. All the beans we eat -- kidney, black, pinto and some 32,000 other varieties -- are a single species, phaseolus vulgaris, which was first domesticated in Peru and Mesoamerica and has since spanned the globe through human trade. Whatever variety it was that Stanley Harris brought to Salt Spring could now be extinct elsewhere, said Vandenberg. As well, the North Pacific coast may be so different an environment from where the original seed stock had grown that the plants that survive here today are the unique result of decades of natural selection.
Ultimately, says Vandenberg, it is people who decide what a variety is, and crops that have history with certain people or places are often given new names. The tradition goes back to the origins of beans as a crop, when people in the valleys of South and Central America often had strong cultural preferences for beans that were only slightly different from beans equally well loved by their neighbours.
When grown side by side, Dan Jason of Salt Spring Seeds says he can't tell the difference between the Ruckle bean and the Walcherse, a Dutch white kidney bean that is itself listed as "rare" by the national seed-saving organization Seeds of Diversity. Jason keeps seed for some 250 bean varieties, and has grown the Ruckle -- which he originally got from Lotus and Gordon's daughter Gwen Ruckle -- for 22 years.
"They're a bush bean, a knee-high plant," says Jason. "They're better dry than eaten fresh. When they're brittle, you shuck 'em. They're amazing to eat, without much embellishment." He suggests chopped garlic and your favourite cooking oil. "They're also beautiful in fresh salads, or in a three-bean salad with a darker bean and a lighter bean. Part of their beauty is their amazing translucent sheen."
Salt Spring farming then and now
The Ruckle bean has few enemies. "They're bug-free and drought-tolerant, almost care-free," says Jason. He supplies about 200 packets of Ruckle beans to his customers each year. Once, he even supplied Gwen Ruckle with beans. "I heard she paid $3.50 for one of my seed packets at the store when she ran out. That's probably more than a whole bushel of beans would normally cost them!" laughs Jason.
Lotus's husband Gordon Ruckle once said, "You can't own land -- you can only preserve it for future generations." In 1972, exactly one century after the Ruckles first settled at Beaver Point, the farm was sold to the province of British Columbia and, in 1974, roughly 1,000 acres were turned into Ruckle Provincial Park. A further 200 acres were set aside for the Ruckle family, who were given tenancy-for-life.
It goes without saying that Lotus has seen many changes in the island's agriculture. "In the 1940s, we changed from horses to tractors, for one thing, much to my husband's grief because he loved his horses," says Lotus. "He always said you could never plow as perfectly with tractors as you could with horses."
"Gordon devoted his whole life to the land, you might say," she continues. "He was a very, very good farmer. He always stuck with it. He started plowing when he was about 12 years old, and he kept on plowing."