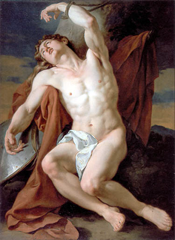 In all the excitement over the Democrat triumph in the U.S. midterm elections, no one seems to have noticed the change in scandal standards. Suddenly, the Republicans, who used to prefer financial corruption, have replaced their liberal brethren as the guys who can't keep their flies zipped.
Blame the Republicans' unholy alliance with fundamentalist religion. When they "opened up the tent" as they like to say, they got into bed with the very people who have fostered and preserved gay culture for centuries: Christians.
Just look at the naughtiness leading up to midterms. There's Florida Congressman Mark Foley who took the advice to turn over a new page literally. Gay hooker Mike Jones revealed that homophobic, family values, no-gay-marriage pastor Ted Haggard was a regular recipient of the rentboy's "massages." Then there are the long-running rumours that Bush-the-latter did the wild thing with a college roommate and fellow "Bonesman" (are they kidding?) in Yale's not-so-secret society, the Skull and Bones.
While there was plenty of reason for schadenfreude, there was no reason for surprise. Christianity, from its inception as an organized religion, has been about men carving out a unique place for themselves.
Big guy on top
Let's start with the supremacy of a male creator. Previous pantheist religions had gods of both sexes, and creators were female or couples. But the desert religions, Islam, Judaism and Christianity, embraced the solitary-guy-god.
Then Christians took it a step further: they worshipped a man with an unconventional lifestyle. If we're to believe the Jesus mythology, we have to accept that he was hanging out with his buddies on an extended roadtrip in an era when a man his age should have been married and raising a family. Ditto the apostles, who may or may not have been married depending on which historians you believe.
"The last supper: that's a gay guys' dinner party," says my pal Laura, who is prone to thinking about the patriarchy.
"Wasn't Mary Magdalene there? Does that make her a fag-hag?" I asked naively. (Given that she was at the cross when Jesus died and witnessed the resurrection, I assumed she was invited to the farewell dinner. It only seems polite.)
"She was a prostitute?" Laura replied. "In guy-think, that makes her an honorary man."
Turns out Laura has a point, although not quite the way she meant.
Officially, Mary wasn't at the last supper, but scholars of the Gnostic gospels argue that "John," who was, is just a stand-in for the woman apostle. Yes, Mary was given a sex change to make her teachings more acceptable to the early church, which was promoting a boys' club.
While there's no evidence that The Magdalene was a prostitute -- that's just woman-hating propaganda -- she and the switch-hitting saviour were a couple by some accounts. This pissed-off more than one apostle, including Peter, who sounds like a petulant lover in the Gnostic Gospel of Philip. He's miffed that Jesus and Mary are locking lips.
"Did he really speak with a woman without our knowledge? Are we to turn about and all listen to her? Did he prefer her to us?" Peter says, throwing a hissy fit. Talk about a drama queen.
Michelangelo's proclivities
Jesus, whether real or a concept, obviously attracted a significant gay following. That's the cult that triumphed, in no small part due to the competing gospels being buried, literally, in the early 4th century. Around about the same time, Pope Constantine came to power and decided to incorporate Christianity as part of the Roman Empire's campaign for world domination. The Romans had a patriarchal bent and apparently they missed the gay-centric undertones in the guy-centric religion, and the internal conflict we see today was born.
Try as they might, Christians have never been able to disguise their fundamentally gay culture. Look at monasteries. What is that but a safe forum for boy-on-boy action under the guise of "celibacy"?
And where do you think contemporary visual and performing arts originated? As any red-blooded North American father who forbids his son to take ballet lessons can tell you: that's just gay.
For centuries, the visual arts were all about religious devotion, and look at the artists themselves. Ever wonder why the statue of David is so beautiful? It's because Michelangelo was a connoisseur of beefcake.
When it comes to gay icons, few are as well known as the Catholics' St. Sebastian. The Roman soldier who defended Christians is featured in several famous Renaissance paintings as man-candy tied to the thick trunk of a tree and experiencing some sort of (religious? erotic?) ecstasy as his fellow soldiers pierce him with arrows. He was used as codespeak for homosexuality in contemporary art too: in Tennessee Williams's Suddenly Last Summer, the murdered Sebastian is a tip of the hat to the pin-cushion saint.
Look at the lavish design and decoration of churches. All the gilded this and that. Not to mention the elaborate rituals, the incense and the great dress-up. Even today's pope, "Joey Ratz" as my friend Chris refers to him, is known for his stylin' clothes, including red Prada loafers and Gucci sunglasses.
And we all know what it means when guys dress a little too flashy...
Repressed longings?
No doubt this was the real tension that led to Protestantism -- the sort-of-straight guys felt threatened. What's the first thing most of the protesting sects did? Got rid of the frou-frou: pomp, ceremony, saints, fancy dress, music and all the stuff that made religion a party. In the extreme form, you got the Puritans (in drab clothes) who killed Christmas as the rowdy pagan bacchanal it was and put the kibosh on art.
But straighten-up religion as they might, it remained attractive as an outlet for gay cultural impulses. John Wesley, the 18th century Anglican minister who founded the evangelical Methodist sect that George Bush prefers, certainly has a suggestive bio.
An Oxford grad (and we all know about British private schools), he remained a bachelor until 48 and then had an unhappy marriage to a widow who eventually left him. He had no children. Kind of odd for a guy who devotes his life to a church that supposedly reveres family life.
I'm just sayin'.
For something to be elevated to a sin -- worthy of hectoring and pulpit time -- it has to appeal to a lot of people. (Like promiscuity. Or bacon. Most of us are keen on those things, but they're hazardous to our health, so prohibition was built into religion to protect us from ourselves.)
But biologists tell us that only a small fraction of any species goes for same-sex romps. And orientation isn't optional. Let's face it, there's a yuck factor when it comes to engaging in any sexual act that doesn't turn one's own particular crank. So there's a natural resistance to homosexual acts in something like 90 per cent of population.
Why, then, are so many Christians terrified that homosexuality is so much more fun than heterosexuality that they have to make it a sin? The rest of us don't think that. We recognize it's a natural variation, kind of like red hair. But then, we're not surrounded by sodomites seducing innocent family men.
Every time one of them blathers on about the "dangers" of same-sex marriage, it's like admitting that, in their world, the only thing that keeps their flock on the straight and narrow is a bunch of "thou shalt nots."
As the cliché goes, politics makes strange bedfellows, and my theory is that the Roman Empire made a tactical error when it opted to back the alternative-lifestyle Christian cult. They could have supported the more inclusive sects. But much like the Republicans in the declining U.S. empire, the leadership in the declining Roman Empire opted for political expedience when they merged with religion. A bunch of people worshipping a man looked like a good bet to those misogynists.
Of course, it came back to bite them in the ass, just as it has the Republicans.
The right-wing's penchant for gay sex scandals is actually a good lesson for politicians down south, not to mention Harper's Bush-aping Conservatives up here: it's dangerous to link politics with any religion so obsessed with sex.
Oh sure, opening up the tent may seem like a good idea on the way to an election, but they really should think it through: when it comes to Christianity, opening the tent really means taking the door off the closet.
Related Tyee stories:
© Shannon Rupp. For permission to reprint this article please contact the author: shannon(at)shannonrupp.com.