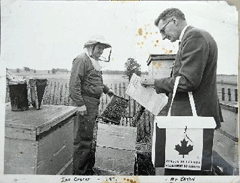 Mystery solved.
I've figured out what those folks who brought you the fabled gun registry have been up to the past few years.
They're on loan to Statistics Canada, developing innovative ways to complicate the delivery of census forms to Canadians. Red Green and his ancestor Rube Goldberg could not have done better at confusing me and 11,000 other hapless enumerators.
If you live in a fast-developing new subdivision, on a farm or in semi-rural areas thought of as "the boondocks," your Census 2006 forms will be brought to your door by an enumerator, not sent to your mailbox. Who are these enumerators? Everyday folks probably much like you, looking to supplement sporadic income, earn a few bucks to supplement a thin retirement, or simply walk off a few pounds. We're piecework contractors.
Once tested and cleared by police checks, budding enumerators take a remarkably unstructured three-day training program. Teams of ENs (enumerators) are taught by a CL (Crew Leader) downstream of the FOS (Field Operations Supervisor) and the AM (Area Manager), to learn the purposes of the census and a truly bewildering array of forms.
Corporate abbreviations are among the first things ENs learn, along with our doorstep pitch, to be delivered while flashing photo ID: "Bonjour! Good (morning, afternoon, evening) -- I'm _____, the enumerator for this area. I am here to leave you your questionnaire. Instructions are included to help you complete the questionnaire. You can complete your questionnaire online. Follow the instructions on the front of the form. If you are unable to find an answer to a question, phone the Census Help Line at the number to be found on the questionnaire. Please complete your questionnaire as of Census Day, May 16."
Our CL remarked that the opening "Bonjour" greeting is mandatory, but the other stuff can be ad-libbed a bit. My usual opening quickly evolved into "Bonjour! I'm here to bring you to your census…"
A form for every occasion
During this training camp, ENs are equipped with a pair of astonishingly wordy 52-page manuals: the Enumerator's Delivery Manual (Form 40) for residential deliveries, to be carried at all times, and the spellbinding Form 42 (Enumerator's Collective Dwelling Manual) containing procedures for enumerating health and care facilities, jails and police lockups, campgrounds, motels, B&Bs, Hutterite colonies, rooming houses and group homes, to name a few of the 25 categories listed.
ENs are also provided with an illustrated booklet on "Finding Hidden Dwellings," to help ferret out residents of houses cut up into rental suites, often lacking obvious numbers or identification. "Every person reporting is worth more than a thousand dollars in transfer payments to BC," our CL chirped, "so we want to find everyone we can!"
Actually, per capita transfers are worth nearly $1,400 per resident of BC, Alberta, Saskatchewan and Ontario. But these are 'have' provinces. Skilled enumerators gain Quebec $2,000 per resident, while those in PEI -- an entire province boasting a population equal to that of Lethbridge, Alberta -- reels in close to $3,300 per resident. Each Newfie fetches a bounty of $2,900, while a staggering $17,000 and more goes to the governments of Yukon and the NWT for each of their residents. Nunavut is the transfer capital of Canada, gaining about $28,000 per resident. Wonder what their ENs make in salary, benefits and travel? And to think that our census is the basis for all this cross-border monetary backwash!
A flurry of lesser documents includes a six-page contract featuring a waiver of government liability should harm befall you, and several pay reporting forms, not to mention the census forms themselves: 2A, 2B (the dreaded "long form" given at one household in every five), 3A, 3B, Form 6 (the agricultural survey) and the EN's sacrosanct "VR" -- Visitation Record ("Form 1") book, to be filled out for each call and form delivered to a household. This is a particularly irritating chore when there might be dozens or hundreds of residences along the same subdivision street, because ditto marks are verboten. The EN is obliged to write out the street name in full on each and every line, in black ink, all-cap lettering -- each "Honeysuckle Vale Drive" or "Bergen Op Zoom Way" a grim reminder of "I will not talk in class" lines printed in chalk on a blackboard in the dim, distant past.
No one home? Note also exactly where the form was left in the "Remarks" column, to avoid later questions or challenges.
Avert eyes, move on
During training, the EN recites and signs an oath of secrecy, ensuring that no personal information gleaned from contact with citizens may ever be passed to anyone in the remainder of your lifetime -- even should you observe a household grow-op or a bound and gagged kidnap victim through the window of a basement suite.
ENs learn that under no circumstances are they to enter a situation they deem may pose a risk, or to convey any identifying or personal information over a cell or portable phone or in an email. They are equipped with a "Form 281 -- Safety" four-fold brochure and "Incident Report" forms for noting issues such as complaints, harassment, confidentiality challenges, violence, injury, property damage, hazards and "other -- specify." ("Would snarling dogs behind locked gates and a sign 'Insured by Smith & Wesson' count, sir?")
Should a person refuse to accept the personal or agricultural form, ENs carry "Total Refusal Form 4," with instructions to write a description of the address, circumstances and the individual as best he/she can, and file the information in the VR for later follow-up by heavy hitters from StatsCan. If all attempts at diplomacy between a resident and the bean-counters fail, flat-out refusal to respond may lead to a fine of $500 or three months in custody.
Big business
The most astonishing aspect of the EN's package is the CU (Collection Unit) map, developed by the same group that organizes the whole distribution activity, a unit that might provide interesting grist for the national Auditor General's mill.
Instead of availing themselves of up-to-the-month mapping data freely available from municipal, regional district and provincial planning departments, census bean-counters maintain their own cartographers to draw up their own maps generally based on data from the previous census, five years ago.
This creates oversights like roads and entire subdivisions missing from maps designed to guide the ENs in their house-to-house toil.
So part of the EN's job description is to annotate the census maps (pencil only, no pens, no erasing allowed) with up-to-date street addresses and other data reflecting current reality. This new information will be returned to the CL, who will roll it back up the line, so that eventually the back-room operatives may draw equally outdated new maps for the next survey five years on.
Once dispatched, the ENs put their feet, personal vehicles and interpersonal skills to the test. I found the vast majority of householders remarkably compliant and unperturbed with requests for their names and phone numbers, with only one person in nearly 300 flat-out refusing to give that information. Only one other expressed serious dismay over getting a 2B (long form), complaining that it struck her as demanding unnecessarily invasive information. "I haven't actually seen one," she admitted, "but I've sure heard a lot about it." She did agree to read it over before coming to a decision about how much she was willing to disclose. Good. No longer my problem.
Who I bagged
What sort of people is the EN likely to meet out there on the fringes of Urbania? Hobby and real farmers, growing young families seeking affordable new homes on the outskirts, transients, hermits, communes, campsite operators, older folks clustered in burgeoning "adult/over-55 communities," small contractors needing to store and watch over their expensive heavy equipment, horse boarders, cranks and even retired politicians enjoying the pasture to which they've been put. In the words of the great Myron Cohen, "Everybody's gotta be someplace."
Wanting more clarity on just how far the census influences our lives, I learned only that the Help Line number brings us help of a limited nature specific to filling out the forms. "I'm sorry, I really don't know how they decided which houses get forms mailed and which ones get them delivered -- I don't know if the census is the only basis for deciding how much money Ottawa sends each province per capita -- I'm just a little old grandma with one day's training and a few weeks' worth of work!" One way or another, aren't all of us census pixies?
Another lesson pounded home to ENs is Never Talk To The Media! "If you are approached by a reporter or a TV crew, stop working at once," we were advised. "You should give the press the contact number for our LCO Manager, and leave without any further comment." Did I mention the LCO, reporting to the Area Manager, supervises several AMFOs -- Assistant Managers - Field Operations -- who in turn supervise FOSs, next up the line from the Crew Leader (CL, remember?).
Good CLs are worth their weight in gold, responsible for all the little brush fires and confusions that flare up for their hapless ENs on the front line – or the front door (FD). CLs arrange hundreds of packages of pre-coded census forms in bundles of 20, for ENs to hand over or leave for you to fill out.
And after Census Day, May 16? CLs retrain most of their ENs for follow-up calls, to find out what became of all those people at addresses that didn't return completed forms, a process called "UNDFU," that could run all the way into July.
I can hardly wait.
Bonjour!
Garry Gaudet is a writer in Lantzville, BC.