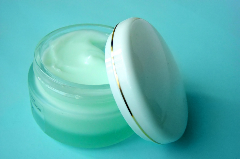 A couple of decades ago, I made my living selling the illusion of youth to aging women. They would approach my cosmetic counter, gaze upon my barely twenty-year-old fresh face, the one that could accommodate layers of makeup without it seeping into cracks and crevices, and they'd say "I want to look like you." No kidding. I sold these desperate women lotions and potions and repair creams and felt no guilt about making my five percent commission at the expense of their insecurities. The more help they believed they needed, the more money I pocketed.
Now, I am one of them.
Every night, I open up impossibly small jars containing very pricey miracle creams -- first the repair, then the eye lifting serum and finishing with age-defying moisturizer and plumping lip balm. I try to understand how and why my face is losing elasticity, therefore softness. I look at other women my age whose hormones are obviously so out of whack that they have started looking a little masculine around the edges. Most people think I don't look anywhere near my age, but that doesn't stop me.
Nor can it stop the inevitability of my 45th birthday. However, I really think my preoccupation with the state of my skin is a symptom of something else. That something is the very sobering reality that, if I live at least as long as my parents did at 75 and 79, I now have more time behind me than in front. I spend time in equal parts feeling I have to squeeze the rest of my unlived experiences in to an unknown amount of time, and immobilized by whether or not the next movement forward is the exact right step. I figure if I can obliterate the ravages of time from my face, I might be able to fool myself into thinking I have more of it to experiment with and therefore don't have to worry about making mistakes.
It does occur to me that this is a strange occupation.
A friend recently asked me if I felt old. No, I don't. But I definitely feel as though I've lived for 45 years. And not just because my eyes are distressingly beginning to fail me and I have a hard time staying up late. I know a little more about life than ever before, and am finally beginning to be comfortable in my skin, sort of.
And I guess I have painstakingly learned what and who not to waste my energy on. The thing is, when you're young, you think you have a luxurious amount of time ahead of you, and you don't understand fully that each moment of time used matters in the grand scheme of your life. You don't necessarily worry about where this or that choice might lead. I never want to feel as though I wasted any moments of my life at all, but lately, I can't seem to ignore that time deficit staring me right in the face.
Alternative assumptions
You see, I lead a somewhat alternative life for a 45-year-old woman. Apparently. I only know this because of the statements people make to me about my life and the assumptions inherent within. "Obviously, you don't want to get married," they say. Or, "If you wanted to have children, you would have had them by now." By far, my all-time favorite assumption is that I have a carefree, bar-hopping, man-eating lifestyle devoid of real responsibility (children) or commitment (husband). I must admit, the most hurtful comment that I hear astonishingly often is: you have to have children to understand.
In actual fact, I do want to be married. Even worse, I'd like it to be the purest of experiences most people approaching such a union have: to a man who has also never been married and has yet to have children. Probably not very realistic. Secondly, at no time in my life have I ever not wanted children. I simply have not felt ready for either of these major life steps. Forty may be the new 30, but it's hard to stare down 45 when you're still not entirely ready for the things you're supposed to want the most.
Is it any wonder my motto is there's not only one way to live?
Thanks to Sex and the City, the one pop culture example we have of single and over 40 is the unfortunate antics of one oversexed, kind of crass, more-girl-than-woman Samantha Jones. In the real world, unmarried and unfettered at this age doesn't also mean immature.
Solitary fulfillment
In fact, I have an extremely settled and, for now, intentionally solitary life filled with cooking, baking, cleaning and reading. I prefer the company of one good friend at a time, a compelling book or a blank writing page than time spent in noisy bars, chasing men. That pursuit seems like an entirely frivolous one at this age.
Having said all that, I find myself wondering why this 45-thing has me so wound up, although I have a sense that it coincides with having now lost both my parents. I've spent most of this year in introspective evaluation of every single choice I've made in an effort to determine where my life took the uncommon turn it has. Why didn't I quit that job that wasn't my passion sooner, have more confidence and less hard-headedness, spend less time waiting and more time travelling, taken a couple of great leaps of faith, marry that one guy that asked?
Let me tell you, it's exhausting.
I'd sure like to commiserate with like-minded women in similar situations. But I just don't know any! I do spend a good deal of time listening to women complain about husbands and children, talk about their divorces, remarriages and issues with step-children. In the face of all that life, I usually find myself uncharacteristically quiet. There's a lot of envy involved on their part for my perceived swinging single life and they ply me for tales of glory and tips on how to do it successfully.
The thing is, I really wouldn't know.
Carla Lucchetta is a freelance writer and TV producer. Her commentary on "the way we live today" can be found at www.herkind.com