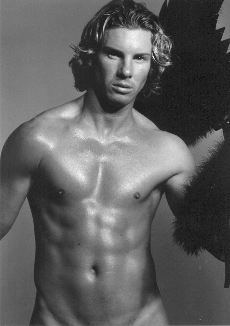 "Women use me. That's my job," says Casey, a 29-year-old construction worker by day and stripper for the past five years. "I'm a Leo, so I love entertaining and dropping barriers." Tonight, at Au Bar's Friday night Ladies Night, Casey will also be dropping his clothes, even his "t-bar," the stripper industry name for thong underwear. "At Skybar, [Ladies Night] we don't get naked, just down to our boxers," adds Hunter. Women can be aggressive, "sometimes the girls get mad and pick a fight. One woman chased me out of the bar and yelled at me on the street."
Right now, the bar's empty, and Casey, Hunter and Dimitrius are hydrating themselves for the night's festivities, which typically involve dancing around in costumes -- firemen and cops are the most popular -- dry-humping the odd bride-to-be, perhaps some tea-bagging (industry speak for dipping their crotches over women's faces in 69 position) and certainly lots of MC-encouraged, two-way groping, since audience participation is a prerequisite of any Ladies Night. These guys might go home with a phone number, some scratches and even bites. Worst case scenario, a bruised ego since women have been known to boo, throw ice or, the ultimate insult, walk right out the door mid-show.
"Ladies love a man with a long hose," says Hunter about the wild popularity of the fireman costume. Tonight, these guys are thinking outside the box. Casey's wearing his French waiter get-up, Dimitrius is wearing an authentic French Foreign Legion uniform he picked up at a local surplus military store and Hunter is playing Don Juan. How do they avoid showing up with the same outfit? "We phone each other beforehand," says 22-year-old Dimitrius, a university marketing student by day, stripper these past six months and the rookie in the bunch.
'To the lions'
"I won't take off my g-string, since I'm the first act," says Dimitrius.
"That's what happens when you have a small penis," responds Hunter.
I don't know if he's joking, but according to their manager Mark Aylott of Stripper Entertainment (which has the largest supply of male strippers in Western Canada and supplies men to almost every Ladies Night, stagette or birthday surprise party in town), "Penis size isn't that important. Really big ones are only good for novelty. We had one guy who was half penis. He jumped around for awhile and then brought his third leg out. Half the crowd ran for the door. Anyway, most dancers tie off with a cock ring because blood goes elsewhere when you're dancing, like coming out of a shower, which isn't good."
Aylott, a former stripper himself, gets about six applications from would-be male strippers per month. He looks for a toned body and good dance moves, first and foremost, but will help recruits with choreography and costumes. If they pass the basics, Aylott "throws them to the lions" at one of the city's many Ladies Nights. "The money's pretty good, [$175 for club gigs and $200 for private parties] but 15 minutes is a long time to be dancing with your dangler out in front of a crowd of women," says Aylott. Seventy-five percent can't hack it, so Stripper Entertainment is always hiring.
These guys are a rare breed and don't seem nervous. "You just have to do what the girls like and what touches your heart," says Dimitrius. Other strippers I've met admit it can be nerve-racking going in front of 100 women chanting 'Penis! Penis!' Then, when the clothes come off, the women might giggle and point. The men say standing at attention in such an environment can be a challenge.
'I was a geek'
"Nakedness creates a whole different atmosphere and it takes a lot to impress girls," said Diamond via cell phone, en route to a tour of duty in the Interior. "They often grope you like crazy. I feel like a piece of meat, but it's part of the job." Diamond is one of Stripper's most requested men and, in the busy summer season, he can work up to five gigs a night, including private stagettes and club events. He got into stripping after dropping out of the University of Victoria's engineering program. "You tend to do anything when you're broke. Of course you have to invest. I spend a lot of money on costumes, props, promotions. I work out every day."
Male strippers also have to maintain professionalism in the face of drunk, horny women. "Propositions happen a lot, almost every day," in Diamond World. "I just smile and laugh and try to keep it professional. Sometimes it's the bride-to-be but most cases it's an invited guest, sometimes the mother-in-law. I'm not a cocky person. I was a geek in school so positive comments are a shock. It does nothing to my ego."
Twenty five-year-old California Kid, another top-requested stripper and part-time actor who does "Vegas-style" shows and even lights himself on fire, said, "I got a lot of propositions for sex and whatnot in my younger days and I fell for that. But now I'm married and recognize the look in their eyes. Girls are worse than men, more piggish. They think they can grab you and get anything from you. I just think, 'I wouldn't touch you with a ten foot poll.' But it's kinda flattering."
Interactive burlesque
Casey shrugs his shoulders when I mention all of this. "Stripping has helped me understand women better and respect them more." Soon enough, he's on stage with a bride-to-be from Seattle pinned to the stage with her feet up around her ears as he thrusts into her backside to the beat of Ricky Martin. He's already laid his hands on about half the women perched on their barstools around Au Bar's stage, recently elevated just for Ladies Night. While women stripper clubs have strict no touching policies and the mood is typically like the waiting room of some hot sexy dentist, Ladies Nights tend towards interactive burlesque with the women as much prop as patron.
Casey doesn't actually take it all off, but, instead, gives us the odd peak, also known as 'the meat puppet show.' Bride-to-be Karen is fine with that. "I'd rather they didn't get naked," says the nurse, whose friends forced her into a slutty nurse's uniform for tonight's stagette. "I see penises every day at work. Male bodies are functional. I'm thinking, 'Just put it away.'" On the other side of the tracks, at a Chicago's Tonight Ladies Night, another bride-to-be said practically the same thing to me early in the evening. By the end of the show, she was dirty dancing with one of the strippers and had taken up smoking again.
'Buck naked'
But when I poll other Au Bar patrons, most agree with Karen. Only one woman admits she's here first and foremost to look at buck-naked men.
"Naked men aren't that aesthetically pleasing, especially dancing, you look pretty stupid," according to Adrian, by far Stripper's most requested male dancer. "Women are here to have fun with their friends and you're the side show," says the 26-year-old in his final year of finance at a local university who likes to do Matrix-style shows and often appropriately opens with Metallica's "Master Of Puppets." Adrian does admit that female sexuality is very complex and he's also seen patrons lapse into unladylike behaviour when faced with thrusting bulging sequined thongs. "They don't understand that when the show's over, in our minds, we're done. They'll slap you on the ass. Some girls are mean. You wonder, 'Are they laughing with me or at me?'"
It's hard to tell who's the butt of the joke by the time Hunter, in black cape and mask, pulls out his penis and cleans a woman's glasses off with it. Her face turns purple and when he hands her glasses back, she doesn't return them to her face. Of course, she doesn't really need them since we rarely get a clear shot of Hunter's assets. No wonder he gets chased out of bars.
Mixed messages
I feel a bit ripped off and confused by all the mixed messages. How does a straight woman maintain her sex drive if she doesn't think the male body is fun to look at, lust over and, perhaps, even objectify occasionally?
Much of human brain is associated with vision, but women tend to link stimuli across both hemispheres, while men compartmentalize. Of course, our brains are highly adaptable, so it makes me wonder what part does recent socio-economic culture play in the rarity of full frontal male nudity, even at a peeler show?
One woman yells something over the music about the female drive to "nest." I guess she didn't receive the news that this "fidelity for food" equation was recently debunked by anthropologists like Kristen Hawkes, Stephen Beckerman and Helen Fisher who believe it's little more than recent cultural hype, and that, traditionally, women are polygamistic both for breeding and pleasure.
Thinking of naked tribal men dancing around to impress potential suitors, I wonder if the lack of male full monty in our western culture came out of a puritanical fear of women's sexuality. Maybe our culture's elite rulers feel threatened by the effect of less economically powerful men's potentially bigger penises have on the tribe, but unfortunately there are no studies on this topic.
Backwards night
At any rate, the women at Au Bar Ladies Night seem to have reverted to a pubescent state of repressed sexuality, cheering on demand when the MC says, 'Ladies, you're gonna see some peepees!" At some Ladies Nights, there are even prize-winning games between sets like Throw The Hoop on the Giant Inflatable Penis!
Yet, for brief moments, usually as the "meat-puppet show" begins, I can see this glimmer of wanton lust sweep across the women's disco-ball speckled faces. The tension in the air becomes palpable, much like any stripper club. Then, they typically lapse back into giggling, pointing and letting Hunter tuck pink "Stripper Bucks" into their cleavage then remove them with his teeth while mugging for their friend's camera.
Everything seems backwards at Ladies Night. Meanwhile, the male strippers certainly look attentive but, as with women strippers, sex tends to be the last thing on their minds as they navigate the tough terrain of "naked land." Only careful choreography allows them to take their pants off at just the right moment in "Can't Touch This," or risk a wardrobe malfunction. "My mind is always on what you're going to do next," said Adrian. "You have to be focused. It's tough."
Because of this, Ladies Nights are sometimes like the Gong Show. Aylott has been known to get out the proverbial giant hook and "yank guys of the stage. One guy was almost translucent, blinding white. His prop was his mountain bike, so he did all these jumping tricks, then he just swayed around. Women pointed and laughed. One guy said he was 212 pounds and ripped. He showed up at the club in leather bondage gear. I said, 'You look fat!' He unzipped and he was fat. I said, 'You just have to go away," so he waddled off. We're cruel humans at the office, too. The bad videos get lots of play. Sometimes they get taken home for private viewings."
'You're on your own'
In case you men are thinking career move, Aylott advises wannabes to "Try to be sexy but don't do anything outside your comfort zone which could cause injury or make you feel like a big tool. You have to be committed." And willing to take "the worst kind of debauchery, particularly with the fundraiser set; the dancers literally get the clothes ripped off their bodies. One guy showed me the bite marks on his ass and said, 'I'm conflicted. On the one hand, they were harassing me, on the other hand they were really hot.'"
Diamond said his ass is bitten "a lot." Add sexual propositions to the mix and it's no wonder all of tonight's dancers are presently single. "There's a lot of discrimination out there," says Dimitrius. "No girls are trying to rescue us," according to Adrian, who says he'd sometimes like "more security. Doormen are watching, but essentially, you're on your own."
Even if these guys find a girlfriend, jealousy sometimes rears its head. "It's hard on relationships when 15 women proposition them in one night," says Aylott, adding, "We're not an escort agency. What they do on their own time is none of my business."
Hunter wraps up his set with one last peak, demurely picks up his pile of clothes and tiptoes barefoot back to the men's bathroom to change. Karen remains unimpressed and just wants to get on the dance floor. Casey and Dimitrius, now in black street clothes, do the obligatory post-show flirting, readying for attitude from the impending rush of male patrons lined up outside; sometimes jealous boyfriends want to fight the strippers or even smash strippers' car windows. But first, the MC gives out door prizes as if we're sugar-rushing teenyboppers who came here for loot bags, not naked men.
Danielle Egan is a Vancouver-based writer.