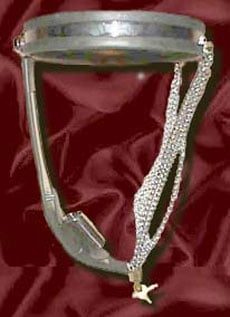 Think chastity belt and corseted swooning maidens come to mind, but today's belt-makers report increasing sales and lucrative spin-off accessories ranging from hypnosis tapes to "education belts." Web forums like Lock Me Up are busting with regretful escape tales, swollen scrotum advice and Men Seeking Keyholder ads. No need to call in the feminists, today's "belters" are almost exclusively willing men.
Now you might be picturing leather-clad dungeon-dwellers with rubbers balls in their mouths, but belters walk among us as boss, accountant and airline pilot. In fact, frequent-flying belters inspired revolutionary design changes after suffering the embarrassment of setting off airport security metal detectors. Traditionally, men suffered steel cage-like contraptions invented circa 1850 to prevent the "imbecility" of "self-pollution." Secured by bulky chains and brass padlocks, these Draconian-looking devices were heavy, caused pinching, chafing, swelling and all sorts of hygiene problems. So in the late 90s, Frank and Dorris Miller dreamed up the CB-2000 line of belt-free ventilated polyurethane "tubes" secured by "cuff ring" and plastic lock. Now in this post-911 high-security era, the Nevada-based company makes 70 percent of the belts on the market, cranking out "tens of thousands of tubes and business is on the incline."
Their materials and factory methods may be cutting-edge but their marketing material is 50s retro, aimed at wives, promising them more help with chores, foot rubs and peace of mind if they noose hubby's penis. "Take away his ability to take matters into his own hands through masturbation," encourages the website advertisement. "He can no longer touch his penis. His outlook on your relationship will take on a whole new meaning...you will again become his focus!" And when he goes away, "Kiss him goodbye at the airport knowing that he is locked up safe and secure and wish him a fun, successful trip."
Fun?
Polls report that 24 percent of men who use chastity belts are in lockdown for an entire month at a time; 58 percent get released once weekly. Brad, a 48-year-old St. Louis-based engineer who's been "happily married" for 25 years de-tubes from his CB-3000 "only when my wife wants, maybe once or twice a week, her call." Amazingly, Brad has gotten used to wearing a tube. "After a while, you don't even think of it being there, it sort of becomes part of you. I often feel 'undressed' if I have it off for some reason." Brad is no philanderer and his tastes for sex are what kinky types call vanilla; he wears his tube to curb masturbation and says he still manages to wear the pants in the family, though those pants are necessarily loose. "I am the head of our family, my wife willingly respects my leadership in our home," says Brad to illustrate the point that he's no dungeon slave. "But giving her ownership over this area of anatomy is an ultimate sign of love and devotion."
Ah, ain't marriage sweet. New belt-maker on the block, Exo-belt, made by a prosthetics engineer also advertises to throwback wives who think masturbation is dirty and weird. Featuring a blonde bob-haired spokeswoman, their "Why Chastity?" page asks the question: "How could a chastity belt benefit a 'normal couple' like us?" Well, besides curbing his urge to cheat, "You will also have the confidence to know that your man is not masturbating to a dirty magazine or adult video." The page goes on to describe "just how often men masturbate…It is nature's way of ejecting the load on deck, to make room for a new one. All men are different, but average men will need a release every 24 to 72 hours." According to them, if a man belts up and stores his loads, he'll do more housework! Who cares if he might get prostate cancer? Apparently not Exo-belt makers though other sites offer prostate massages and advice on "milking."
What's in it for men?
Richard Davies of Tollyboy – the "Rolls Royce of belts" -- says great "stress relief" for his "high-powered" clients. "Men are more often in high-powered jobs and/or under increased levels of stress and the chastity belt lifestyle can be viewed as a stress-relieving mechanism," says Davies who took up crafting Tollyboys after the company founder Hal Higginbottom died in 1998. Tollyboy has been "protecting your assets since 1956" with hand-crafted belts, "a bit like an haute couture garment." Davies designs belts for "businessmen, physicians, airline pilots, accountants, management consultants, nurses and computer geeks" ranging from 18 to 70. A Tollyboy belt costs under £400 pounds on average (about $900 Cdn) but Davies has designed custom belts for up to £1,500 pounds (about $3300 Cdn). One was for "a professor of computing. It is of 1/8 inch thick stainless steel, rather wider than normal and weighing about five pounds. Waistband is hinged as there is no way to put it on without hinges due to the extreme stiffness of the belt."
Stainless steel belts like Tollyboy, Access Denied, Stallion and Neosteel do have the advantage of being more secure than tube-style belts; about three percent of men have actually reported being able to escape them. So companies like Sufferware and Luvtolock now offer steel locking pin add-ons. But Houdini types still tend to prefer the old "Florentine-style" belts. "It may sound a bit strange to you, but being locked up in a Neosteel Chastity Belt is very arousing," says Reinhold Mende, German designer of Neosteel belts. "The Neosteel penis tube allows what we call a semi-erection. This is a very good feeling which can be kept lasting hours or maybe days. To control this is up to the person who has the keys. Many of our customers wear their Neosteel Chastity Belt even at work. Maybe the reason is that it helps to get a kick during the stressful working day." Neosteel also offers a free contact service for belters seeking keyholders. "Another opportunity is to put the key in a Time Controlled Key Safe which we have available."
Control freaks and claustrophobia
A key safe is the ideal option for control-freaks and single belters who can't find key-holders, or can't be bothered, like Joe, a New York-based 46-year-old "computer systems administrator." Joe has been wearing a CB-2000 belt for two years now. He doesn't wear it to the office "because it's impossible to wear under regular pants," so he typically puts it on après-work and wears it overnight. "I've been into bondage since puberty," types Joe, while belted, so let's assume he's typing with both hands. "Chastity belts have always been among my bondage fantasies, although at first I only fantasized about women's belts, since I was not aware of the existence of male belts. Most of my bondage and CB fantasies are about women. When I wear a CB, I imagine myself to be a woman wearing a woman's belt, although for physical reasons it has to be a male belt."
I'm starting to feel a bit claustrophobic and I don't even have a penis. Patrick, a Montreal phone operator wears his Neosteel belt with a rear shield because he's a sex addict who'll have sex with women or men, if possible. Not so easy on his girlfriend of eleven years. "Our relationship is a lot better from the day I got a chastity belt, because she knows I can't have sex." But that doesn't mean he can't give her pleasure. "She likes to be fucked by the artificial penis attachment. She says it's always erect and it never gets tired." Patrick's lady releases his real penis every two months so he can have "real sex" and the thing can be washed and "inspected. Every day I make an X on the calendar and I count the days left for unlocking the belt." It can take up to half an hour for Patrick to get the belt back on because his penis gets "twisted" in the tube.
Locked-up escape
Belts are useful psychosocial navigational tools according to Rupert, a 30-something British IT specialist who says he's "successful (more or less), sociable and [has] a normal life and a stable relationship built on mutual respect, love, and good sex." His wife of ten years is five years younger but in a "more high-powered" career and when she returns from a hard day at work, Rupert puts on his chastity belt and they play mistress and slave. "Having my freedom restricted is a turn on. I like the way frustration washes over me and makes it almost impossible to think. It's part of my slave fantasy. I'm lucky enough to be able to live out. However, in the same way that I can like war films and not join the Marines, I don't want or need to be belted full-time even though I fantasize about it. My fetish is a place to escape to so I can come back to the everyday world stronger and more relaxed."
Rupert is a recreational belter but an active poster on lockmeup.com, offering advice on everything from lubing to delicate relationship issues. He thinks the internet and our changing society have contributed to the growing interest in male belting. "Since women's liberation, men are more anxious with women, especially "brain workers." The chastity belt removes the penis from the equation" and provides "a cosy haven of certainty compared to the complexities and nuances of equal relationships. Men do not have rational control over our penises. The chastity belt removes the penis from the equation, hence giving a sense of control. At the same time, it's a strange panicky sensation to be turned on and be able to do nothing about of it - a very profound loss of control."
Danielle Egan is a freelance writer who lives in Vancouver.
Got an idea for a word of the week? Send it to [email protected].