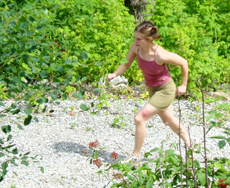 It's a sunny day in October, 2004, and I'm running around a track in East Vancouver. The track, which is made of wood chips, is soft and springy, but the muscles in my lower back tighten a little more with every step. I look at my watch: twelve minutes down, eight to go.
But two weeks ago, when I ran from Mt. Seymour to Deep Cove, I felt exhilarated, and strong. I didn't even notice my back - I forgot that it ever felt separate from the rest of my body. I didn't want to admit it then, but I had a drug called Vioxx to thank for this ignorant bliss.
Chronic running
I know running isn't supposed to be good for your back - the impact and the shortening of the hamstrings and hip flexors leads to back pain for many people. But, for me, running has been the "last frontier" when it comes to overcoming my chronic back pain: if I can run, I can do anything. I ran so much last summer that I started to feel invincible.
Then Vioxx - the anti-inflammatory medication I had been taking every day for almost four years -- was pulled from the market last September, and pain returned to the forefront of my life.
I was upset at the time, but now I'm glad. Nine months later, it's clear why Vioxx was pulled. Vioxx caused heart attacks and strokes in some people (as other drugs in the same class may also do). It was also widely over-prescribed, according to a 2005 study by researchers from the University of Chicago and Stanford University. Given that I don't have arthritis (the condition it was originally intended for), I probably shouldn't have been taking it.
'Psychosocial' origins
But I wasn't alone - in the pain. According to the Canadian Back Institute (CBI), over 85% of the population will suffer from back pain at some point in their lives.
Despite its prevalence, back pain remains a relatively mysterious medical phenomenon. In most cases, experts can't reliably or precisely determine the origin of pain.
In cases where the pain becomes chronic (in 5 - 15% of patients, according to CBI), diagnosis and treatment is even more complicated. A range of psychosocial factors apparently influences its development (e.g. stress, social support and psychological traits), but researchers have been largely unsuccessful at conclusively establishing cause and effect relationships.
Because it's not usually possible to cure chronic back pain, most efforts focus on rehabilitation, which aims to increase functionality and give patients a range of strategies for managing their pain. At best, pain medications are only ever part of the solution.
That's why, when Vioxx was pulled from the market, I decided to go off anti-inflammatories altogether.
Better pain
This required some changes in my life. Most significantly, I allowed myself to do less, and to rest when I felt like it. Without medication, the relationship between the choices I made (about how much I did, when), and how I felt, became much clearer. Although the pain was worse overall, it was less threatening because I understood better what caused it.
But while I became more patient with myself in terms of what I accomplished on a day-to-day basis, I still pushed myself to exercise regularly. I kept running, and when winter arrived, I cross-country skied - even on the bad days. I did this because exercise alleviates back pain, but also because it was important to me to regain my fitness. Perhaps because I had been an athlete for so long, I use strength and movement to convince myself that I know what I am doing and where I am going.
I thought about pain a lot while I was running or skiing - and the irony of pursuing endurance sports while struggling with a chronic pain problem. Wasn't I already enduring enough, I wondered.
Attractive pain
Nonetheless, shortly after I went off anti-inflammatories completely, I decided to do a loppet (a longer-than-usual cross-country ski race). My back pain was still up and down at this point, but I didn't want to wait another year. I knew it would be hard and it would hurt, but that was part of the attraction. I wanted to hold that pain - so different from my everyday pain - and carry it across a substantial distance.
As luck would have it, I got sick the day before the race. With a head cold, completing a thirty-kilometer ski race, at altitude, was going to be really difficult. I started too hard, and was light-headed by the end of the first uphill. But I settled in at a slower pace, and found that if I took it easy on the up-hills, I could ski well on the flats and downhills.
Pleasant exhaustion
My back started to hurt around twenty kilometers, but not before my legs and just about every other part of my body had also begun to ache. Oxygen debt, I thought, with some pleasure. When I crossed the finish line ten kilometers later, I was totally exhausted and very sick, but also a different woman from the day before.
Back in Vancouver, I didn't know what to do with myself. I still had back pain, and there were many things I couldn't do without negative consequences, but I was able to do something most people couldn't do (a thirty kilometer ski race). Where did this leave me? What did the pain I still experienced mean?
Chronic pain is, in itself, meaningless. It has no adaptive value (unlike acute pain, which tells you something is wrong). Its primary significance is in the way it affects the life of the person who lives with it.
Negative medicine
Pain medications can play an important role in pain management under certain circumstances, but they can be a problem in cases where pain is complicated by life circumstances, psychosocial factors, and physiological changes. Not only because medications mask the pain, but also because they take away the opportunity to understand what the pain means - not in a medical sense, but in a personal sense.
To me, the real issue with Vioxx is not whether it causes heart attacks in enough people to warrant keeping it off the market, but how many of the millions of people who were taking it might have done better without any medication at all.
My decision to stop taking regular medication has given me new direction in my life. Not away from pain (as I had longed to do for so long), but towards strength and confidence, with pain.
When I finish writing this, I'm going to go out and run hills - in part because I feel the need to do something difficult. It's not easy to be patient in almost every aspect of my life, and I need to reassure myself periodically that I'm not weak or lazy. Pain doesn't make you stronger in the way I imagined when I was younger (and relatively pain-free), but I now see that it pushes you to be more honest with yourself, which requires a different kind of strength.
Erin Despard is a writer, armchair psychologist and devoted recreational athlete. She has recently moved from Vancouver to Ottawa