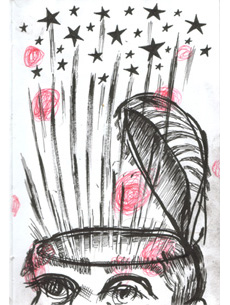 [First of two parts. Read Part 2 here.]
There is something not quite right with my head. My wife, my family, and decades of teachers all know that fact too well. But just last week, my psychiatrist made the diagnosis official.
I have attention deficit/hyperactivity disorder; ADHD or ADD for short. It's the affliction of Bart Simpson - the archetype for millions of kids in classrooms everywhere who can't sit still, shut up, or follow rules. Now as I breach the cusp of my thirties, I leave a wake of academic failure and unfulfilled ambition. I've never held a non-McJob in my life. My brushes with teachers have since been traded for scrapes with the law. I'm an underachiever, and not proud of it.
It's time to right this ship. I'm 30 years old, with my brain stuck in the mud at 13. The jar of orange pills in my hand, I'm told, is going to make things all better.
I grew up before the Ritalin generation - the wave of kids from the early nineties and on who brown-bag stimulant medications with their PBJs to keep them from acting up at school. They're test pilots in the biological revolution that's conquering psychology. Now I'm about to join them. Freud and Jung are dead and gone, superceded by drugs, genetic maps, and computer brain imaging.
That revolution is one I have a very personal stake in exploring and understanding. And so I have spent weeks trying come up to speed on ADD, the latest thinking about it, and what course of action I should now take to have as productive and happy a life as possible. It's a search that has deepened my realization of just how profoundly science is reshaping how we think about ourselves as human beings; about our minds, our bodies, and our history as a species.
Era of ADD
ADD is everywhere these days. It's become shorthand for 'I can't find my keys.' Millions of bratty, scatter-minded kids are teaching their parents and others to spot symptoms in their own lives too.
Between 650,000 and 750,000 school-aged children were diagnosed with ADD in 1985. In 1990, there was just short of a million. In 2000, 4 to 5 million people were diagnosed. ADD is now the number one reason why children are referred to mental health professionals. Not even recognized as an adult disorder until 1987, grown-ups are just starting to add their names to that list.
ADD always starts in childhood, but it seldom disappears with age. The World Health Organization estimates almost 5 percent of adults have ADD; more than 8 in 10 of them undiagnosed. Problems in school turn into problems at work. The venues change, but the song often remains the same.
A Norwegian study showed up to 46 per cent of prisoners met diagnostic criteria for ADD. ADD adults get laid off or fired more often. Their relationships collapse at a higher rate.
My own life is a running ledger of missed appointments, lost files, and showing up late or never. In seminars and lectures or everyday conversations, my mind is adrift in the ether. My computer lies under an archaeological dig of books and months-old papers. Right now I have 17 windows open on the machine. It's an apt metaphor for my brain.
Like most adults with ADD, I'm no longer hyperactive. My body learned to settle down. (Many ADD kids, especially girls, aren't hyperactive either.) But the hamster wheel in my brain just keeps on spinning. It's been spinning as long as I remember.
Growing up ADD
If you want a sketch of what childhood ADD looks like, my teachers can draw one for you. The record starts with my grade one report card, written when I was just 5: "Dee does beautiful work in art, but works so slowly that he rarely completes a task in the time allowed and frequently becomes frustrated. The world will not wait for Dee. Nor will the school bus."
Hidden behind the diplomacy of those words were countless hours of frustration and tears; for my teachers, my parents and me. I was defiant and disruptive. I spent more time "daydreaming" than doing work. I fought daily with other kids, sometimes in the middle of class.
Two years after I entered school, I was sent for psychological evaluation. "The usual strategies of praise, punishment, loss of privileges and others have not altered Dee's work habits or attitude," the psychologists report says. "Time out, i.e. moving his desk out of the class into the hall, has speeded his work for half a day, when used, though no long-term changes have occurred." Little changed after that assessment. It only confirmed the obvious. In standardized tests I would score in the 99th percentile in both math and language skills, while I flirted with failing every grade.
"Poor attitude, usually late, doesn't cooperate/work. Disrupts others with behaviour and negative attitude. Doesn't bring books etc." This teacher's description was of me in grade 11. By then I was skipping my first two classes every morning and selling LSD in the mall. I was nearly expelled and I never graduated. Most parents recognize differences in their ADD kids that can be traced as far back as infancy. The children cry more, are harder to feed, act extremely restless and have irregular patterns of sleep. But in school the effects become more apparent.
Parents and teachers pull out their hair watching their ADD kids. The children are not always distractible. The kids devote almost compulsive attention to activities they enjoy, but can't bother with ones they don't. They hyperfocus and strive for perfection on tasks they like, usually at the expense of speed and completion. Yet they're too distracted to start or finish tasks they find boring. It seems like a choice, whether they apply themselves or not. And it's maddening not being able to change it.
My teachers thought I just needed the right prodding to set my bearings straight. Theirs didn't do the trick. For people diagnosed with ADD these days, that prodding comes in a pill.
The great drug rush
Drugs have become the foremost - and often only - form of treatment for people with ADD. It's a trend ADD shares with other mental disorders. Patients, families, and doctors alike look to short-cut the route to successful treatment, shunting aside time-and-cash-consuming talk therapy. For many disorders, drugs work where nothing else does. Psychology has gone chemical.
Doctors wrote an estimated 2.5 million prescriptions in 1991, for Ritalin and others in its chemical family. In 2000, that number had reached approximately 20 million.
Though prescriptions have surged in recent years, stimulants like Ritalin have been used to treat uncontrollable kids at least since the late 1930s. The drug I got, Dexedrine, was developed in the 1920s as a diet pill. Known generically as dextroamphetamine, it's essentially amphetamine (speed) times two.
At first, people didn't know how stimulants worked to treat ADD; only that they did. Stimulants are successful in treating approximately 70 per cent of ADD cases - a somewhat remarkable rate. These days we have a better picture of what's happening in the brain, but there's still much room for speculation.
Stimulants are thought to fire up the part of the brain that directs a person's attention.
PET scans, which map metabolic activity in the brain, show differences between ADD people and others. The right prefrontal cortex region just above the right eye shows less activity in people with ADD when they're given tasks requiring attention.
Vancouver doctor Gabor Maté, himself a sufferer of ADD, likens the prefrontal cortex to a traffic cop directing streams of thought in the brain. "His job is not to make things happen," Maté says. "His job is to inhibit things from happening." In ADD sufferers, that cop is asleep on the job. It's why ADD kids find infinite distractions at least as interesting as homework or a teacher's lecture.
Sleepless nights
Waking up the traffic cop in my head. I guess that is what I hoped to do when I accepted with nervous gratitude the prescription for Dexedrine from a doctor I asked to help treat my ADD. But drugs work for different people in different ways. And it was my entire fevered mind that lay awake at night after I downed the drug. My sleep diminished from seven hours a night to five, then two.
It's hard to say whether the drug drove me insane or if it was the sleep deprivation. Let's just say my wife came downstairs one night at 2 a.m. to find the front door open and a pot simmering on the stove. I was nowhere to be found, having followed our cat to the park. I stopped taking the drug and was switched to Ritalin. The experiment continues.
The search for the perfect ADD zapping drug has led geneticists down a fascinating path of inquiry. They are making tremendous advances in finding a genetic basis for ADD: Among the likely suspects includes a gene that codes for a receptor protein for the neurotransmitter dopamine.
At the same time, they aim to trace the very history of the gene's presence in human DNA, and are developing theories for why it emerged in the first place, what possible advantages it gave humans who expressed its traits. Way back when, it seems, you were lucky to be what we call, today, ADD. It might have insured your very survival. And we might even have the ADD gene to thank for the flourishing of human culture across the planet.
Read Part 2: How ADD may have jumpstarted human creativity. And my own quest for 'cure.'
Vancouver-based Dee Hon is a regular Tyee contributor.