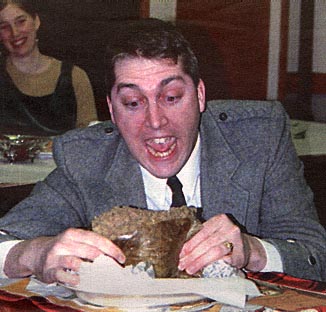 Ye Powers, wha' mak Mankind yer carean' dish them oot their bill o' fairAuld Scotland wants no stinkin' ware that jaups in luggis.But if ye wish her grateful prayerGie her a haggis! From "To a Haggis", by Robert Burns
The birthday of Robert Burns, 18th Century Scottish poet, is celebrated all over the world. From Ayreshire to Antigonish, Hong Kong to Houston, every nation and most cities have Burns Societies. Gong Haggis Fat Choy, y'all.
Each of these Burns Clubs observe the event with a "Burns Supper" which features the songs and poems of "The Immortal Bard" as a condiment to a traditional menu...of which more anon. Aside from the verse and the messages therein, this world-wide phenomenon is largely to the credit of the Highland Regiments of the British and Canadian armies, who observe "Burns Nicht" wherever they may be in peace and war.
The Burns Supper which is held on Burn's actual birthday will be held by whichever local Burns Society has the most clout. The other suppers will be held as close to "the day" as may be, the net effect being a social bell-curve with the meridian set on January 25th.
The most frequent question asked by a first-time guest to a Burn's supper is "Will there be/Will I have to eat Haggis?"
The question isn't often spoken with childlike Christmas-morning anticipation.
The question usually has the inflection you would expect if the dish in question was Cold Roast Baby.
Some years ago a friend of mine was seated next to a lady who had plainly never encountered haggis before but equally plainly was enjoying it immensely -- she was practically getting it in with two forks! When she finally came up for air she asked "This is good -- what's in it?"
All movement, all conversation stopped.
All eyes swung to her companion. Either they'd had a fight or the date was not going well because he actually told her the truth: "Heart-lungs-liver-suet-pepper-oatmeal-stuffed-in-a-sheep's-stomach-bag-and-boiled."
All the world hung on her response. Her face contorted, her lips twisted in anguish and she wailed "ewwwwwww...I HATE oatmeal!
Ancient origin
Haggis is of immense antiquity. The name is derived from the Scots verb hag 'to chop' (cf English 'hack'). The dish itself is probably as old as language itself and as a peasant dish is a definitive exponent of peasant cuisine in the gift of making the best of small means. As such, haggis was probably common to all temperate-zone hunter-gather peoples and their descendants unto recent times.
Haggis by whatever name was certainly a common dish in Classical Greece. Aristophanes refers to it in The Clouds. Strepsiades regales Socrates with his anecdote about an absent-minded kitchen accident:
Why, now the secret's outSo was I served with a stuffed paunch I boiled On Jove's Day last, just such a scurvy trick;Because, foresooth, not dreaming of your thunder, I never thought to give the rascal vent.Bounce, goes the bag, and covers me all overWith its rich contents of such varied sorts.
This stanza identifies haggis as a dish which was well-known to its intended audience because the joke doesn't work unless you are familiar with haggis and the cooking thereof.
Plainly, the absent-minded philosopher put the haggis on to boil but failed to prick the bag to relieve the pressure. One can imagine him, face and toga speckled with half-cooked sheep guts, blinking in confusion as he drags his attention to wherever it had wandered off to, and then going off to tell the joke against himself before anyone else can. A rare academic indeed.
Modern misunderstanding
Haggis and related dishes are greeted with loathing because of our near-total disassociation with the brutal logistics of food acquisition. That, and the whole two-thousand-year-old Scots/English pissing-match.
This pattern has been some centuries in the making, as witness the linguistic shenanigans that our food takes from the stable to the table. The (Saxon) 'pig' emerges from the kitchen as (Norman) 'pork' even as 'cow' becomes 'beef' before it hits the plate. This originated in the class-prejudices inherent in the early-Medieval division between Saxon serf and Norman aristocrat.
To my knowledge this seems to be restricted to the English-language (In Germany it's Schwein in the barnyard and Schweinfleisch on the table).
To the modern carnivore, Haggis as it is prepared today is probably a safer bet than any hot dog, weiner/sausage or other "mystery meat". Think "Lips and assholes" -- do you really think they throw anything away? Anyone who scarfs down a sidewalk-vendor smokie has no reason to balk at "the king o' the puddin-race".
Certainly the carnivores of the wild entertain no such niceties. If you've ever had the opportunity to observe a predator tuck into his lunch you know that the alpha member of the pack eats first, and always selects the organs over any muscle tissue. That's because the rich organs give the highest return for the effort invested. I can attest to that, for times beyond counting I've gotten up from a meal of haggis positively surfing on a calorie-high -- full of piss and vinegar, or maybe that was the kidneys and HP sauce.
I'll never forget the first evening of my (very brief) period with the British Army. The "jocks" of the Queen's Own Highlanders are very hard men indeed and I was trying to fit in as rapidly as possible when there was the sound of excited shouting and men running down the barracks hallway. The Highlanders were always on short notice to deploy and I wondered if we were off to war. "Naw, mon, BETTER - the NAAFI truck's here!"
Outside the barracks was a mobile kitchen bearing the three essential tools for working-class Scots cuisine: An immense tea-urn, a vast griddle and the chip-pan. This last is a 1'x2'x3' steel vat full of old gear-oil. The punter's (customer's) selection is dropped into the chip-pan. When it floats to the surface, it's cooked. If it needs further preparation then it's thrown on the griddle to brown. I politely declined a deep-fried Mars Bar. I had no choice, as my arteries were trying to strangle me in self-defence. Apparently the better cooks remove the wrapper before it goes into the pan.
Any roads, the great delicacy for which the NAAFI trucks are justly reknowned is "haggis and chips", as the Highlander has always been reluctant to eat fish, whether salt or fresh. The haggis looks like a bratwurst and is presented on an oil-sodden bed of chips (that's "french fries" to you) all on a twist of paper. I ate many of these wee darlings and, when served up with the three crucial side-dishes of "fatigue", "hunger" and "cold" makes one of the World's Great Meals.
Recipes to suite all palates
Very few of us have access to real butchers anymore, and outside of the slaughterhouses, the only butchers who start with the whole carcass are hunters.
Hunter's Haggisfrom a manuscript ca 1760
Ingredients: The large stomach-bag, the knight's head bag (bladder), the pluck - lights (lungs), liver and heart, beef suet, oatmeal, onions, fresh-ground black pepper, salt, water.
Brown a cupful of oatmeal. Clean the great bag thoroughly and soak it overnight in cold salted water. Turn it inside out in the morning. Wash the small bag and the pluck (the Scots term is "gralloch" - presumably from the sound it makes as you pull it out), cover them with cold water and put them on to boil. Leave the windpipe hanging over the pot "to let out any impurities". Let them boil for an hour and a half then take them out and cut away the pipes and any superfluities of gristle. Mince the heart and lungs and grate half the liver (the other half is not required). Put them in a basin with half a pound of minced suet, one or two finely chopped onions and the oatmeal and season highly with black pepper and to a lesser extent with salt. Pour in as much of the liquid in which the pluck was boiled as will bring the mixture to the consistancy of porridge. Fill the great bag a bit more than half-full as it requires lots of room to swell. Tie both vents shut with string and put it into a pot of hot water. Some people add half a pint of milk to the water before heating. Prick it all over with a large needle as soon as it begins to swell in order to prevent it from bursting - hell, going off like a bomb. Keep it at a low boil for about three hours. Serve it without any garnish (pouring whisky on it is like putting ketchup on truffles) along with mashed potatoes or chips. Some people like to serve it covered in beef gravy as a side dish to roast beef, or as stuffing. Kidneys may be substituted for the bladder and lungs. My preference is Haggis with chips (made from unpeeled potatoes) with a blurp of HP sauce on the side.
Memorize this recipe so that you'll have something to talk about if you're ever trapped in an elevator with a vegetarian.
Vegetarian Haggiscourtesy of Jock Agnew of the Lowland and Border Piper's Society
Ingredients: 6 medium unpeeled onions, 50g sunflower margarine, 50g rolled oats, 50g fine oatmeal, 50g chopped mixed nuts, 1 onion finely chopped, 110g mushrooms ditto, 1 carrot ditto, 200g can kidney beans drained and chopped, 50g vegetable suet, 1tsp yeast extract, 1tsp ground black pepper, 2T chopped mixed fresh herbs, pinch nutmeg, juice of one lime, splash of whisky, chopped chives and parsley to garnish.
Cut a sliver from the bottom of each of the 6 onions so that they stand upright. Cut a cross in the top about 3/4 of the way down. Place in a large pan, cover with cold water and bring to the boil.. Simmer for 15 minutes, drain and refresh under cold water.
Preheat the oven to 190C/375F. Melt half the margarine in a pan and add the oats, oatmeal and nuts. Cook over a gentle heat, stirring frequently for about 3 minutes until golden. Transfer to a bowl.
Melt remaining margarine, add the onion, mushrooms and carrot and cook for about 5 minutes until it's softened. Stir in the oat mixture with the remaining ingredients.
Snip out the centre of the onions with scissors, leaving the skin and 3-4 outer layers intact. Stuff with haggis and bake for 40 minutes. Serves 6.
Serve on a bed of moss, garnished with twigs or whatever else it is vegetarians eat.
Vancouver writer, wooden boat builder, kilt maker and postal worker Robert MacDonald's last piece for The Tyee was a defense of Scrooge.