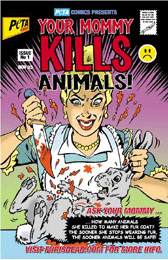 It's an animal lovers' double bill opening tonight at the Vancouver International Film Centre Theatre. Zoo is a dramatic recounting of the true-life case of a Boeing engineer killed while making carnal love to a horse. It is paired with Your Mommy Kills Animals, a documentary on the animal rights movement. These sorts of animal lovers may not be exactly the type you want to cozy up to.
'Your Mommy Kills Animals'
The debut documentary feature from Curt Johnson is a sometimes fascinating, sometimes frustrating film detailing the current state of the animal rights movement, its constituent organizations, and its troubles with the law. The title comes from a comic book published by PETA, the People for the Ethical Treatment of Animals. The comic tells kiddies that there are terrible people in the world -- animal killers. "And your mommy is one of them," the comic informs.
The title might lead you to believe the documentary will be tough on animal activists. It's certainly tough on PETA, and on poor Pam Anderson among others. But Johnson clearly supports the animal rights movement. A good portion of the film details the heavy-handed prosecution of the SHAC Seven, a group of activists from Stop Huntingdon Animal Cruelty, a group formed to attack the methods of the research company Huntingdon Life Sciences. In the process Johnson details Bush Administration attempts to brand animal activists as terrorists and sweep them up in the same big Homeland Security dragnet.
Johnson's movie lacks narration -- all sides appear onscreen to voice their opinions, unmoderated. That approach has its pitfalls. At one point, Animal Defense League member Pam Ferdin quotes Martin Luther King as saying: "I am only as powerful as the guy standing behind me in the shadows with a Molotov cocktail."
Really, Pam? I thought that one was from Jesus. King's actual quote, while similar, was certainly no endorsement of violence. But there's no one on duty to call bullshit on Ferdin.
Dizzying
The swirling points of view get dizzying. Early in the film, critics of the movement point out the similarities between some animal rights extremists and the fanatical anti-abortion crowd. Before we're through, animal rights advocates are pointing out the Bush Administration's double standard in prosecuting them but not anti-abortion activists. Follow the bouncing complaint.
Critics attack activists; activists attack researchers; but everybody in this film attacks PETA. That may be because the animal rights organization declined to participate in the film, leaving the way clear for all sides to revile the group as hypocritical and downright odd (one remarkable statistic shows that PETA euthanizes the vast majority of animals in its own shelters). Celebrities are mocked for their glib PETA endorsements, particularly Anderson, who is hit with cheap shots about her animal-tested breast implants.
Also reviled is the Humane Society of the United States, universally described here as bloated and ineffective.
Your Mommy Kills Animals is a rambling affair. Perhaps most problematic is its weird inconsistency -- the film presents evidence of frightening criminal activity by animal activists, then downplays the government case against the SHAC Seven defendants, despite considerable evidence (in the film and in the news) of the organization's proclivity toward violence.
Whatever its faults, the film certainly presents loads of information. And not surprisingly, it also offers up plenty of upsetting images of animal cruelty. Be forewarned.
'Zoo'
What's so bad about loving horses?
As a Washington State man discovered in 2005, that kind of love can be fatal for the human recipient. Boeing engineer Kenneth Pinyan died of internal injuries after being anally penetrated by a stallion, a practice he and associates had engaged in numerous times before, on a ranch near the town of Enumclaw. Now Robinson Devor has made a rather strange film about an extremely strange incident.
Zoo is a documentary that barely qualifies as such. It is narrated by the disembodied voices of several actual participants in the events while employing dramatic recreations and a stream of haunting, beautiful images, accompanied by hypnotic music. Zoo is unexpectedly lovely to watch.
Choices
Occasionally it is also perplexing, partly on account of the disembodied voices, and partly because of Devor's own artistic choices. Midway through, having so far seen nothing but shadowy figures, we suddenly face a well-lit man sitting on a stool, prattling on about an acting role he was up for, how he couldn't find parking to get to the audition, how he drew inspiration from the drowning of a young boy, and how he eventually landed the role of Cop #1 in the film, apparently about the Pinyan death. Since there is no other film about the Pinyan death, we are forced to conclude he must be talking about this film. Sure enough, the actor later ambles wordlessly around a field in the role of Cop #1. The point? I couldn't say. But it does take your mind off the subject of men being anally penetrated by stallions.
Devor lulls us with beauty so as to ease gently into this aberrant world and make it seem like something other than a freak show. Then he bursts that bubble with the voice of Rush Limbaugh. "They say the horse didn't consent," muses Limbaugh, ever the defender of liberty. "If the horse didn't consent, none of this could have happened."
Devor chooses not to reveal Pinyan's name (although he plays a clip of radio host Tom Leykis preparing to announce his identity). He is referred to only as Mr. Hands, the name by which he was known to fellow "zoos," as zoophiliacs call themselves. While there is no implied endorsement of zoophiliac behaviour, Devor clearly finds these sad men to be sympathetic figures. And among the justifications offered here for making love with horses, this one at least has the virtue of honesty: "You're not going to be asked about the latest Madonna album."
Related Tyee stories: