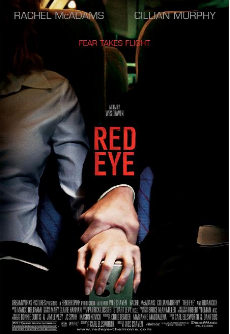 The world is an extremely scary place lately. You could be swallowed by a raging hurricane, turned into a popsicle in a plane, be blown up good, squashed down flat, or worst, stalked by a psychopath in a cravat. The very best thing to do, the safest thing, might be to stay in the movie theatre. As long as you're a plucky girl with a can-do attitude chances are good that you'll survive.
This formula works well for Kate Hudson in Skeleton Key, for Selma Blair in the remake of The Fog, and even for Jodie Foster who returns with her patented female in peril on a plane in Flight Plan. Well, so too, for Rachel McAdams in Red Eye. The plot device of "woman in trouble meets woman triumphant" has grown a little long in the tooth lately but that doesn't mean it doesn't work. Wes Craven's Red Eye has been one of the more successful films in a truly dismal summer. It's not a terribly good film, but it's tight, and has a few tense moments.
But what it doesn't have, is actually more interesting. In this newest ode to female emancipation, we have the least frightening villain I've ever seen: he's skinny, has a bowl haircut and sports a cravat. You could die from laughing I suppose when he's chasing you, but that's about it for threat level. So why has the film done so well? I'm trying to figure that out too.
A dose of horror
In times of trouble, horror films have always pulled in the punters. Musicals too, especially horrible musicals, but Red Eye is a horror movie (although technically it's classified as a thriller) that's a little short on horror. It's PG for Christ's sake. Craven has been an expert at extracting big terror from small objects - cell phones, and Neve Campbell to name two -- and here he has a truly large canvas: a jumbo jet, and a crowded airport. Which is perhaps, the most frightening thing in the entire movie.
The lovely Lisa Reisert is in a long airport lineup, returning home from her father's funeral. Bad weather has delayed the flight and scraped nerves raw, but none of this fazes our Lisa: she is indomitable to the end. Tough, no nonsense, and scarily efficient, she is the kind of woman that can run everyone's life but her own. In the airport lounge she meets a charming young man, they share a drink at the bar, they flirt, and are seated together on the plane.
Wouldn't you know it things are not always what they seem? When Lisa asks her handsome new friend what he does for a living he answers breezily, "Oh, you know, splashy assassinations, government overthrows." A little of this, a little of that. She laughs, but not for long. Her seat-mate is Jack Rippner (Cillian Murphy) and he has an offer she can't refuse: her dad's life for one phone call to the hotel she works at to switch the room of an important guest. Lisa, being a good girl, does everything she can to resist.
This part of the film works. Every part of Lisa's immediate surroundings-- the other passengers, the airport washroom, the phones -- are used to build up a sense of entrapment and tension. Anyone who has ever flown coach with an obnoxious seat-mate will immediately recognize the feeling. As Hitchcock-like drama in an enclosed space, the film has some energy and life, even if that energy comes from avoiding death. But once off the plane, the drama dissipates into the usual explosions and chase sequences. There is very little actual violence, Lisa gets a few bonks and scrapes, but no innocent victims die. And where's the fun in that?
Tougher mouse, declawed cat
It is perhaps a measure of the need for anything to watch that Red Eye has done as well as it has. This is by no means a great film, but it is workmanlike and brisk, that's about it: no entanglements, no last minute complications, no plot twists, just straightforward cat and mouse - where the mouse has grown tougher and the cat has been declawed.
Super females need some more suitable villains if the genre is to have any legs at all. Horror films like Craven's Scream series or John Carpenter's Halloween pit a seemingly unstoppable villain against a teenage girl with her wits about her. It's a good match because there is no more frightening creature on this earth than a bitchy young woman. They can destroy all with a single well-timed remark. Would you really want to be on the bad side of Reese Witherspoon? That woman could kill you with her chin alone, it's pointier than most Bowie blades. Since we have a bevy of tough babes to pick from, everyone from Angelina Jolie to Charlize Theron, and no one apparently wants to be on the losing side of things, have women outgrown the villains who threaten them? Don't expect much and you won't be disappointed seems to be the rule as of late. Genuine horror is so pervasive and ever-present, and it has very little to do with mainstream cinema. Movies continue to do what they have always done: a little distraction, a little sublimation and a tiny tidbit of catharsis. And you're out into the night, not remembering a single thing almost about the film you just saw, no lingering emotional core, no deeply unsettling feelings. Those have become the preserve of the nightly news alone.
Dorothy Woodend reviews films for The Tyee every Friday.