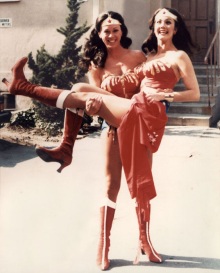 "Reality is always magic," said Jean Renoir. Reality is also often tragic. And every possible permeation between these two is on screen at DOXA, the documentary film and video festival running May 24-29th.
This year, the festival continues to grow, with a roster of films both diverse and challenging, from Oscar winner, The Children's March to the story of the Komagata Maru (Continuous Journey). Documentaries themselves have undergone something of a sea change in the past few years with break out box office winners like Super Size Me, Gunner Palace, and of course, the work of Michael Moore. These stories are often far more interesting and incredible than any work of fiction. This is especially true in the case of Double Dare, which follows the tale of two stunt women, Zoe Bell and Jeannie Epper, whose job it is to put the fantastic into the fantasy world of Hollywood. Since documentaries themselves are about the real as opposed to the fake, it makes a circular kind of sense to make a film about the real in service of the fake.
When we first meet stuntwoman Zoe Bell, she is barreling through the air on fire as the double for Lucy Lawless on Xena: Warrior Princess. When the show ends, Zoe makes her way to Hollywood to meet up with the grande dame of stunt doubles, Jeannie Epper, who comes from a long line of Eppers in the stunt business, and who is pushing mid-sixty but is still going strong.
The bevy of films that she has crashed, smashed and busted her way through is truly startling, especially given that women have only relatively recently taken up stunt work. Even in 1968, it was still largely men in drag doing the work, despite pioneers like stunt rider Helen Gibson in the serial The Hazards of Helen. When Epper doubled for Lynda Carter in the 70s series, Wonder Woman, she recalls that they made her do stunts in heels. Which calls to mind the oft-quoted remark that Ginger Rodgers did everything Fred Astaire did, only backwards and in high heels. Some of the same type of difficulties holds true for Jeannie and Zoe. Because of the skimpiness of their costumes, they can't "pad up" the way men can, and have no way to protect themselves when they collide with cars or jump off buildings. Serious injury is a constant threat. And Epper's daughter Eurlyne, who is also in the stunt business, undergoes neck surgery during the course of the film.
Invisible cuts and bruises
But it's the hurt that doesn't show that is more bruising. As Epper says, Hollywood is all about rejection, and you can be erased just like that. It's often about staying thin enough, young enough, and large-breasted enough to fill in for the stars. In one segment, Epper visits a plastic surgeon to find out about liposuction in order to preserve her career. But worse perhaps, is on-going dealings with the generally macho nature of the business. Men often look down on women in the field, ostensibly because they do more dangerous work. There is also the old boys practice of buddies hiring buddies, forcing women to be just one of the guys (and all that implies) if they want to stay employed. Women also don't get to move up -- Jeannie Epper helped found the Stunt Women's Association of Motion Pictures (SWAMP) in 1968, but despite her years of experience, she never made the leap to stunt coordinator like many of her male peers. Instead, she continues to compete with younger women for stunt jobs.
While the story is ostensibly about the paths of Zoe and Jeannie, it also a peek behind the scenes of Hollywood. In one scene, Zoe auditions for Quentin Tarantino at his training centre. The idea of such a place existing in the first place, is slightly terrifying, but the sight of Daryl Hannah and Vivica A. Fox sweating bullets is even more frightening. Zoe gets the job body doubling for Uma Thurman in Kill Bill, because as she says, "Quentin thinks I'm tough." And indeed she is, but not quite tough enough. Over the course of filming, she is injured and needs six months to recover. In an interview, a fellow stunt man says, "If you're hurt on set, you'll get a card signed by the entire crew, and some flowers -- and they will literally sign you off the clock even as they're loading you on a stretcher. And then they'll try and get the costume back too." Hollywood is not a particularly kind place, even to those who take the greatest risks for it. Still there is joy in watching a woman dive off a three story building or roll a car off a freeway ramp because the risks they are running are, indeed, real.
Girl Trouble
Risks don't come much more real than those in Girl Trouble. This is the tragic side of reality, as the film follows three different young women over four years in the juvenile correctional system of San Francisco. The story is about Shangra, Sheila and Stephanie, plus Lateefah, the one woman who stands resolutely by them through their many ups and downs. And the downs are very far down, just about as low as you can go -- namely jail or the street. While the film is very much a portrait of four individuals, it's also a picture of a system designed to fail; the opening credits state that while youth crime rates have actually fallen in recent years, the number of girls in the juvenile correctional system has more than doubled. This may have to do with the fact than less than 2% of resources are directed at helping young women, who are often the victims of emotional and physical abuse (more than 92%).
Each of these three young women finds herself in situations that are often impossible to bear (and almost impossible to bear watching). Stephanie's boyfriend beats her up, Sheila's father is a life long heroin addict, and Shangra's mother lives on the streets, recovering from her own drug problem. Poverty, violence, and drugs all come together in a deadly combination.
Things aren't easy for these young women, and they're even less so for the babies they produce. Stephanie gives birth to a son at age 16, and Shangra also has a baby by the time the film ends. Directors Lexi Leban and Lidia Szajko said they could easily have made a film about teen pregnancy because so many of the young women involved in the system were either expecting or already had children.
Rugged and sassy
Despite the seemingly impossible odds stacked against them, each girl manages to somehow make it through, with a lot of help from The Center for Young Women's Development, and coordinator Lateefah, a single mother herself. The lawyers and social workers who help girls in trouble are often on the verge of tears simply because these girls are almost set up to fail. The fact that they occasionally don't, is a testimony to the rugged and sassy spirit that each possesses.
Each of these films is part of the Women at Work program at DOXA, which is a timely selection given that the World Economic Forum recently released its list of countries with the best pay equity. The Nordic countries top the list but Canada doesn't do too poorly, coming in at number seven. The US, however, is a lowly number 17.
Augusto Lopez-Claros, WEF Chief Economist said in a recent report, "The education of girls is probably the most important catalyst for change in society." But the US seems to be doing everything in its power to undermine women and girls. Only the briefest scan of news from south of the border shows abstinence-only programs, to pharmacists refusing to prescribe birth control bills, to the appointment of serial rapist W. David Hager to the Advisory Committee for Reproductive Health Drugs. The fact that women are often expected to succeed in systems (either Hollywood or juvie) that are stacked against them is again testimony to just how stubborn and enduring women can be. Or as my grandfather used to put it in a tone that was equal parts exasperation and grudging respect, "You damn women."
Dorothy Woodend reviews films for The Tyee every Friday.