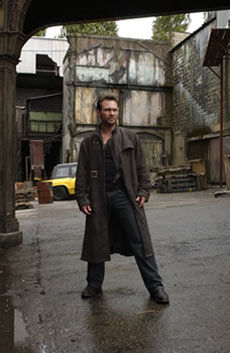 "UWEBOLL!" is not a noise you make when you throw up, nor is it an obscure form of African dance, but if you mention this pack of syllables in certain circles be prepared to get slapped. Speaking it in mixed company is the same as farting in church — loud, rude and very stinky.
Who or what, you ask, is an Uwe Boll, and why should I hate it/him so? Boll is a German action/horror director, whose filmic offerings (House of the Dead, the upcoming Bloodrayne), have been described as the cinematic equivalent to snorkeling in a septic tank.
Critics from the New York Times to the Charlotte Observer have worked themselves into a state of froth trying to come up with descriptions vicious enough to describe his work, but columnist Nick Nunziata from CHUD (Cinematic Happenings Under Development) perhaps said it best. "I've never seen a Uwe Boll film. I've also never covered my genitals in peanut butter and straddled the face of a lion."
Call me a masochist but that's exactly what I did with his most recent offering Alone in the Dark. I wanted to see just how bad it really was. And, being alone in the dark with a lion chewing my bum was as painful as is sounds. To add insult to injury, it's also set in Vancouver. All the old places are there, the Art Gallery, the Museum of Anthropology and Harbour Centre — all getting blown up good!
I don't know if Mr. Boll has a fan in the world — maybe his mother loves him, but I'm not counting on it. He is also the living, breathing embodiment of William Goldman's credo that in Hollywood "nobody knows anything."
The Bible, the purse, and the boobie
But if you take a theological approach to things, then perhaps there is a place for Uwe Boll in God's great "green room." For us to know good, we must also know bad. To know joy, we must know suffering; to know pleasure, we must know pain.
So pain first. Plot pain that is. Who needs plot when you have plenty of bullets and heavy metal. The narrative, based on the old Atari game, involves evil spiny creatures, an ancient civilization (the Abskani), an evil scientist (Mathew Walker), a museum curator (Tara Reid), a paranormal investigator (Christian Slater), an elite government agency called Sector 713, and a lot of local actors who obviously need to make payments on their Yaletown condominiums.
There are a few glorious moments —during a fight scene, when the bullets are flying and another horrible creature is coming at our heroes, Tara Reid absently stoops to pick up her purse.
Pity poor Ms. Reid, the paparazzi's favourite prey ever since her boobie staged a prison break. The runaway mammary made it over the wall only to be stunned into immobility by a wall of flash bulbs, at which point it was so startled it simply lay there blinking in the glare. The picture made its way around the world, much to the glee of pundits, who sharpen their canines on such stuff. So Ms. Reid hasn't had much luck in the fame department since.
This film won't change that. I made a point of watching her in ensemble scenes and the poor woman is in terrible need of direction. Sometimes she doesn't seem to know that the camera is actually on, and sometimes she makes a half-hearted effort to be part of the action, waves her arms and crimps her forehead. It's hard not to feel a little sorry for her — her greatest talent seems to be the ability to find lip gloss in dire circumstances.
The other key performers, Christian Slater and Stephen Dorff, who were once actors, also deserve a bit of sympathy. To give them some credit, they try, sort of.
Why shout "insane" in a sanitorium?
When Slater shouts "Don't be insane!" at the mad scientist Professor Hudgens, who has done nothing but prove he's insane throughout the entire film, he can't muster enough energy to even yell. His tone is the same as that of parents who have dealt with hyperactive toddlers for 12 hours straight. It is the sound of one weakened to the point of exhaustion, ready to give up, but still making one last feeble effort.
Dorff has messed about in bad science fiction (Blade) for quite a while and occasionally he's entertaining in a berserker kind of way. Here he seems hopped up on something illegal, but at least he appears to be having fun as the leader of 713, which seems to recruit mainly from the Sears catalogue. Its elite unit of underwear models is forced to battle CG monsters while outfitted only in black bicycle helmets and cheap t-shirts. They exist to be torn into interesting pieces.
If this were a production by a bunch of grade sevens with a video camera, it might be kind of cute, in an irritating fashion, and you might be tempted to laugh. Except this amateur hour cost $27 million. Think how many films Ed Wood could have made with that type of dough. Badness this bad requires one to ask why? Why, God, why?
Despite the fact that there was almost universal derision for his previous flaming balls of poo, the Boll keeps rolling. This could mean that badness simply doesn't matter anymore. It's beside the point, or the Gross Points, according to Louis Menand's lengthy article in this week's New Yorker magazine. Badness is a problem that confounds Hollywood. It is more than merely a symptom of greed and bad business, it is something more profound than that.
Hollywood just can't tell
I quote Mr. Menand at length, but you know he does go on. "The history of Hollywood is a comic routine of bad guesses, unintended outcomes, and pure luck. Half of the failures were well-intentioned, and half of the successes were, by ordinary standards of fairness and decency, undeserved. People do get rich making movies; more often than not, they're the wrong people. That's why moviemaking is so much fun to read about. Unless, of course, it's your money."
Menand examines three new books, which offer different rationales for the decline and fall of Hollywood Babylon: David Thomson's The Whole Equation: A History of Hollywood; Tom Shone's Blockbuster: How Hollywood Learned to Stop Worrying and Love the Summer, and Dade Hayes and Jonathan Bing's Open Wide: How Hollywood Box Office Became a National Obsession.
Menand makes the argument that "history has passed movies by" and maybe that's good. What's more compelling is his observation that we've lost the ability to draw distinctions between good and bad. Says Mr. Menand: "The situation would be simpler if everyone was certain that the movies making money today have no more creative integrity or cultural significance than a beer commercial. But no one is certain. People fear that they've lost the key to the distinction. Hence the anxiety; and hence these three books, because that, basically, is what all of them are about."
Even people who once made good films don't to seem to know what they're doing anymore, according to Nikki Finke's Deadline Hollywood column in the LA Weekly. In last week's edition ("Have They No Shame"), she takes the boots to the academy awards, Harvey Weinstein, Martin Scorsese, Robert De Niro and Warner Brothers for failing to support Million Dollar Baby.
She is especially unimpressed with the idea to make sequels to Taxi Driver and Raging Bull. Says Ms. Finke "I'm told this sequel mania is intended to remind Academy voters of all the great movies in Scorsese's body of work. But I think it will have an unintended effect: to remind Academy voters what disgusting moneygrubbers both De Niro and Scorsese have become in recent years, culminating in their even thinking about revisiting two great classic American films just to score a coupla bucks."
Money, of course, is the primary obfuscater, because bad movies make money. Hence the very existence of Uwe Boll and his dark armies of destruction. No matter how many fan boys post "KILL UWE BOLL" in chatrooms, the man continues to make movies. In the theatre where I saw Alone in the Dark, everyone but me appeared to be drunk, but even the drunks were unimpressed. Not even alcohol can make this film bearable. If you've had enough and you can't take any more Boll-shit, take your bottle and walk two blocks over to Pacific Cinematheque where, until February 28, they're screening almost every film Ingmar Bergman made. Because before you can know Bergman, you know must know Boll.
Dorothy Woodend reviews films for The Tyee on Fridays.