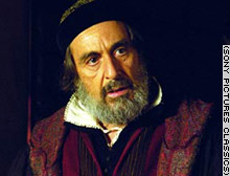 The Tyee.ca
In the newest film version of William Shakespeare's The Merchant of Venice, the addition of the possessive in the title is an interesting one. As if it could be anyone else's -- Bernie Sheckleman's Merchant of Venice perhaps? Anyway, the play is the thing, and this play has one of literature's most infamous villains, the mad bad money lender, Shylock. Shylock has good reason to be a little cranky. In 16th century Venice, Jews were still locked in the Ghetto at night, and when they left this walled enclosure they were forced to wear red hats to identify them. The film tells us all this before the action has even begun, as if it's meant to be something of an apologia of sorts for what follows. A pardon for the bard if you Will (Shakespeare that is.)
The film begins with a close-up shot of a book burning, a nod to the banning of difficult texts from perpetuity. It's not a big jump from Shylock to Jon Stewart; the Christians were burning books then and banning them now. Although Director Michael Radford (Il Postino, 1984) has taken the liberty of trimming a few lines and altering others, the story remains the same. Antonio (Jeremy Irons), a rich merchant of Venice, has all his interests at sea, meaning he has many boats all going in different directions. Poor Antonio is sad because he has a secret hankering for the lithe and lovely Bassanio (Joseph Fiennes).
This gay subplot isn't much. There is one little kiss and a few cross eyed looks, but that's about it. Bassanio, being a sexy young Venetian, has spent all his money on tights and leather codpieces. He needs some serious dough so he can dress up fancy and fetch himself a bride, the beautiful heiress Portia (Lynn Collins). Bassanio prevails upon Antonio to lend him some money, and Antonio can't turn down those puppy dog eyes. He gives Bassanio leave to see what his credit can get in Venice, and of course, he gets much more than he bargained for. Bassanio makes a deal with Shylock (Al Pacino), the usurer, for 3,000 ducats and Shylock makes Antonio sign a bond that says if he defaults he owes a pound of flesh to be cut off nearest his heart.
So there you have it. Bassanio puts on his fanciest duds and rows off to see Portia. Shylock's daughter Jessica also runs off with a Christian, Antonio's boats all sink, his bond comes due and Shylock wants what is owed him. "CUT!" screams the director and then he does that very thing.
'Quality of mercy'
As Michael Radford said in an interview with indieWIRE, he excised certain lines from the play in the interests of the story. "There's a scene I cut: 'How like a fawning publican he looks/I hate him for he is a Christian/If I can feed the ancient grudge which I bear him...' "People think I cut it because it was anti-semitic, but that's not why. I cut it because it's not dramatic." Despite this, the film contains some lines that sear and sting. Therein lies the problem with the film; you can't make apologies for history, and you can't make a statement about censorship while presenting a text that is, itself, already somewhat censored. Unless, unless ... it's very serious art. So is it?
Unfortunately no, although it is a beautiful film. Many scenes resemble Renaissance paintings, dark and velvety, embroidered throughout with golden watery light, which befits a film set in Venice. Lovely to look at, but like the famous caskets that Portia uses to test her suitors, its very beauty hides a weird core. The film, like the play, seems divided into two different sections. It is a comedy built around a tragedy, a frothy confection hiding a bitter pill at its centre.
On one side you have caskets, rings, bosomy maidens and darkly handsome young men swirling their cloaks, and on the other you have the dark and ugly struggle between the Christians and the Jews. And indeed the final act seems entirely different from the scene that preceded it, the courtroom scene which features one of Shakespeare's most famous speeches, "The quality of mercy is not strained".
Radford sets up this scene admirably and your heart will pound while Shylock sharpens his blade and Antonio is bound and gagged in preparation. It is up to Portia, debating points of law while dressed in drag, to both save the day and save Antonio's boobie from getting sliced and diced.
Shylock's pathos
This one scene (Act IV, Scene 1) is arguably the crux of the play, when everything comes together. All of the principles are assembled and all the problems posed must be solved. It is not enough to merely to save Antonio from the blade. Shylock must be systematically undone, everything taken from him, his money, his house, and ultimately the thing that means the most to him, his identity as a Jewish man. Al Pacino is always Al Pacino but he makes a compelling Shylock, humped over and with some weird accent, like he's chewing on the inside of his mouth.
And yes, he screams occasionally. Not a lot, but enough to let you know that beneath the beard and the red hat is a method actor from hell. But he does give Shylock a pathos that reads over and above the text. So much so that the Christian heroes, Jeremy Iron's rather wan Antonio and Joseph Fiennes' puppyish Bassanio, seem utterly unsympathetic. Shakespeare, unlike his talented peers such as Christopher Marlowe, couldn't resist making a cartoon villain into a complex, difficult, ultimately human being that towered above the rest of the play's plots and characters.
Shylock is a monster, but is he deserving of his fate? The question may also offend our squeamish modern sensibilities about whether it iis right to continue to reproduce a work that demonizes a group of people. In Shakespeare's time, the bad Jew was a stock character and one that audiences were expected to boo and hiss. Although there was no other outcome available than his complete destruction, the playwright is at pains to make Shylock's hatred and bitterness understandable, if not commendable. Shylock loses everything that is near and dear to him because of hatred. But hatred comes from somewhere, and the film portrays "The Jew", as he is referred to throughout, as someone who is finally ready to fight back after a lifetime of humiliation. The question of anti-semitism comes down to this: is something that depicts anti-semitism itself anti-semitic?
But how else to show it without showing it? In Shakespeare and the Jews, author James Shapiro offers up a comprehensive study about where and whence the character of Shylock evolved and uncovers some truly startling facts, such as the Elizabethan belief that Jewish men menstruated. The idea that there were no Jews in England during the period Shakespeare was writing his plays was false. The character of Shylock was supposedly inspired by Dr. Roderigo Lopez who was drawn and quartered in 1594 for plotting to poison Queen Elizabeth. Whether not Lopez was Jewish or not remains a subject of debate.
Hitler's hit
Shylock's story has prompted many different interpretations and none that are quite as extensive as Mark Leiren-Young's play Shylock, which covers all the bases about censorship, art, and Jewishness. But in the end it always come down to the same three letter word. Does art justify everything, whether it is Piss Christ, or George Bush made out of monkeys? Ethics are determined by aesthetics and any artist will usually come down on the side of no censorship even if they believe the art in question is questionable. You must still be able to see it; if it's good art it will be worth and if it's bad art, it will disappear soon enough.
The fact that Shylock is still with us doesn't speak to anti-semitism but to its opposite -- the need to understand. An odd case in point is the recent documentary Hitler's Hit Parade, which examines popular art created in the service of the Nazi party. A.O. Scott, who reviewed the film for the New York Times describes it as, "A collage that illustrates Hannah Arendt's famous diagnosis of the banality of evil and reveals facets of it that have been forgotten as the living memory of the Nazi era has faded." Unfortunately art is only as good as the people who make it and supposedly the Nazis were also very fond of the Merchant of Venice. From 1933 to 1944 there were over 50 different productions of the play.
Art is a wiley creature though, endlessly subtle and eternally tricksy. Great art will double back and bite the hand that tries to make it serve the purposes of propaganda. Time is its friend.
Dorothy Woodend reviews films for The Tyee on Fridays.