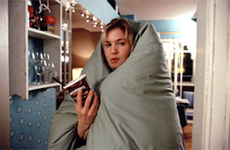 Romance is dead and Hollywood killed it. Two new films (Mike Nichols' Closer and Bridget Jones: The Edge of Reason) purport to present modern love in all its complexity and complication. What you actually get is a choice between bashing your head with a rock and ramming it on a hard place; both are painful in different ways. This isn't love, it's assault.
Superficially these two films share some commonalities. They're both set in London and concern the relationship travails of young straight white couples. In Closer we're asked to engage with the characters because they are, in essence, venal but cute. Despite the non-stop expletives, and misogyny of Closer, Bridget Jones: The Edge of Reason is a far more disturbing film. Bridget Jones doesn't even have looks going for her, all she has is her perky personality and an ass like two bowling balls in a sack. In fact, I felt like I was watching an episode of Amos n' Andy, but in place of the blackface, there was Reneé Zellweger and her home-grown fat suit, embodying every moronic stereotype of the modern woman, that they care only about their weight, their clothes and getting married. In essence, women are idiots.
This film is so appalling that I don't quite know where to begin. If it's a comedy, it's in the same vein as a Punch and Judy show where the heroine of the piece is subjected to one beating after another. The film goes to great lengths to make Bridget look repulsive, shooting her so that her neck resembles a stove pipe and her hair seems coated in grease. But it is her physical largess, her total incompetence in the workplace, her complete uselessness in almost every aspect of life, that supposedly makes her adorable, not pitiful. Zellweger plays Bridget like she can barely walk, in fact she waddles most of the time, looking like an enormous overgrown infant who smokes.
Throw away the key
After suffering every humiliation known to (wom)mankind, Bridget finally reaches her lowest ebb in a Thai prison with hundreds of other women charged with drug addiction, prostitution and other assorted female troubles. The scene where Bridget is sprung, due to the intervention of her ex-boyfriend Mark Darcy, gave me the chills. After her release, she returns to hand out copies of Men Are from Mars, Women Are from Venus, lacy lingerie and chocolate bars to her cell mates. Yes, that will help alleviate the suffering of the next 20 years in prison.
What were the filmmakers thinking? That Bridget may be dumb and fat but at least she's white and thus deserving of a better fate? I haven't read the books upon which the two films are based, nor do I ever intend to, so the motivations of the character are lost to me. But if they are indeed meant to follow in the British literary tradition of romance (Jane Eyre, Wuthering Heights, Clarissa, Pride and Prejudice), then we have fallen from grace and landed in excrement, just like Bridget herself does while sky diving.
Sturm and dreck
Bridget may be unlovely, but beauty is certainly no guarantee of happiness, Quite the opposite it seems, according to Closer.
Sturm und Drang is the German word for it, meaning lots of dark turmoil, and angst ridden emotion. In English it's a called a relationship movie. Closer stars four of Hollywood's most serious lookers: Julia Roberts, Jude Law, Natalie Portman and Clive Owen. These four horsepeople of the Apocalypse are equal parts amorality and loveliness and their various entanglements and disentanglements make up the intricate web of the story. The merry-go-round of he-loves-her-and-she-doesn't-love-him goes round and round, with everyone sleeping with everyone else. Although there's a lot of graphic talk about the act itself, you never get to see any beautiful bodies rubbing up against each other.
Jude Law (Dan) and Natalie Portman (Alice) first make eye contact in amongst a lumpen crowd of ordinary folk and there is immediately the sense that these two recognize each other as being cut from the same cloth. Dan is so transfixed that he watches Alice step into traffic and get mown down. After this rather inauspicious beginning, Dan and Alice embark on a love affair. A few years later, Dan has written a book about Alice's stormy life. He is having his photo taken by photographer Julia Roberts (Anna). After a few bantering words, they're licking each other. This is enough to inspire instant and insane love on Dan's part, and he takes to stalking like a duck to water.
Kiss me you %&$#!
Rather than be repulsed by this, Anna is intrigued. In order to prove his devotion, Dan decides to torment her a little. Cut to dermatogist Clive Owen, (Larry) who is logged on a London porn site and is chatting with an epic titted horny babe who calls herself Anna (actually Dan). It is initially all a forced farce, set to the music of Mozart, the famous quintet from Cosi Fan Tutte, in which two other couples partake of that age old dance of love and deception. The music rears its gossamer head while the two men are talking online about giving and getting other types of head; the scene is funny, if a little unsettling. Unlike the sprightly melodies of Mozart, they're using language that is far more blunt in its depiction of romance. Clive Owen in particular gets to mouth things like, "Fuck off and die, you fucked up slag." Now that's writing!
But ultimately each of the characters is a type. Dan is a mama's boy, Larry is a cave man, and both women are whores of one variety. One is simply more honest about it. The film reserves a level of punishment for its female characters that borders on misogyny. Portman's character Alice is subjected to the most dire humiliation, playing that mangy old cliche, the stripper with a heart of gold. She is also the only one who escapes with a modicum of self-respect. After getting smacked around a bit, of course. The final shot of her striding down a street in New York, leaving a trail of gaping men in her wake, made me question just exactly what Nichols was trying to say; that beauty is a prison, that women are always objectified, or that we are always alone and ultimately unknowable? Even to those closest to us.
Where is love?
Closer takes the traditional notion of romance and attempts to batter it into submission, mostly through the constant application of swear words. It's a little numbing, in the same way as Bridget's relentless perkiness. In a way, both films are anti-romance although they certainly go about it in different fashions: Closer by suggesting that love is an illusion and Bridget by making that illusion the entire point. In one scene in Closer, Larry says, "I hate Central London, it's like a fucking theme park." In Bridget Jones, it is a theme park, entirely CG generated, 100 percent false.
Neither depiction has much to do with true romance -- a concept that is arguably at the heart of Western culture. Romantic love, said to have been invented sometime during the Middle Ages, has gone on to inspire many of the most beloved works of arts. We love famous lovers (Tristan and Isolde, Jane and Mr. Rochester, or Scarlett and Rhett). Romantic loves offers high drama, great tragedy and great farce, but has Hollywood gone so deeply into cynicism and that all that remains of the idea is game playing and sex?
If you watch the work of Neil LaBute (his newest play "Fat Pig" recently opened on Broadway), or the films of James Toback, you might say yes. If you read Helen Fielding, or Candace Bushnell and shed a tear as Bridget Jones waddles off with her prince into the sunset, good luck to you, is all I can say.
If love means never having to say you're sorry, in this case, it should make an exception.
Dorothy Woodend (who found an apartment, thanks) reviews films for The Tyee on Fridays.